[Written by Mikaela Ian Pearman]
It was the name Melba Wilson that lured me into attending the Harlem Meets Bermuda event at Marcus'. I had first heard of Melba when I watched one of my favourite shows – Throwdown with Bobby Flay.
The Iron Chef challenged Melba to a chicken and waffles throwdown on season four and walked away with his tail between his legs. That was enough for me to become a fan.
Now fast forward to Friday night. The scene was the fabulous Marcus' at the Hamilton Princess. The Nate Lucas All Stars from Marcus Samuelsson's Red Rooster Harlem restaurant were the entertainment for the evening and set the scene for a magnificent evening.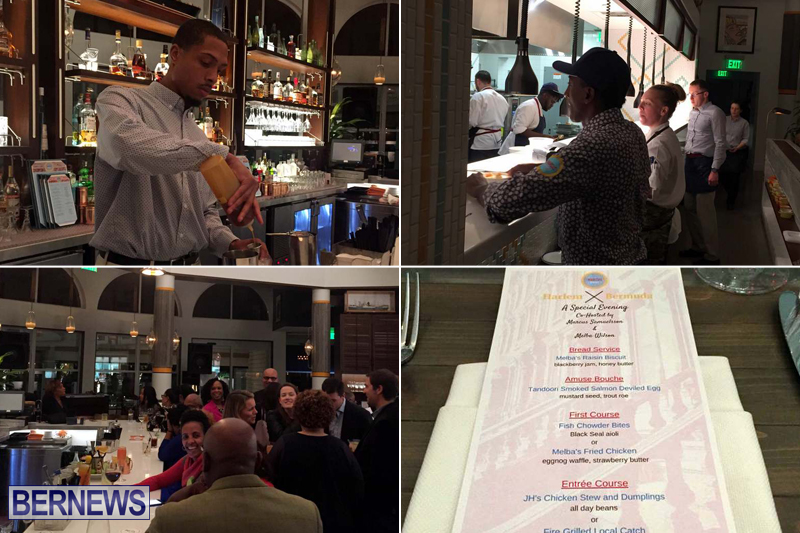 Once seated, the table was given Chef Samuelsson's Cornbread Madeleine's and Melba's Raisin Biscuits with honey butter and blackberry jam. Now truth be told, I don't like raisins at all so I wasn't excited about the biscuit. One bite and Melba changed my mind. These biscuits were melt in your mouth amazing!
Next up was an amuse bouche – Tandoori Smoked Salmon Deviled Egg with mustard seed and trout roe. The egg was smokey with a nice spice from the Tandoori seasoning and the mustard seed.
The first course was a choice of Fish Chowder Bites or Eggnog Waffles and Fried Chicken. As I've eaten Chef Samuelsson's Fish Chowder bites countless times, I opted for Melba's famous Chicken and Waffles.
The chicken was incredibly crispy and full of flavor without being greasy – a difficult feat. The waffle was sweet but paired well with the chicken and the strawberry butter took the dish over the top.
By the time by main came, my belly was full but I vowed to keep going. I ordered JH's Chicken Stew and Dumplings with all day beans. The other choice was Fire Grilled Wahoo with Harlem Chowder, lobster and charred citrus.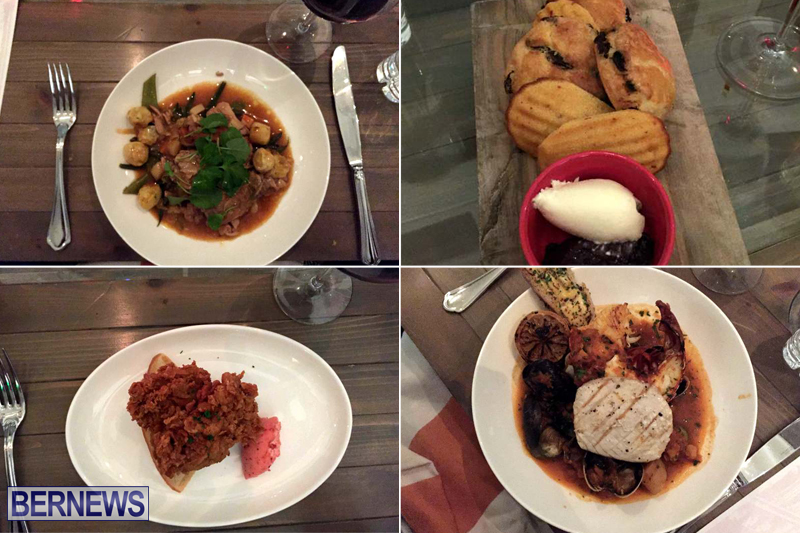 Let's talk about this chicken stew. If my nana was from down south and had a ton of soul in her, I imagine this is what she would cook on a Sunday.
The chicken was fall of the bone tender, the dumplings were cooked perfectly and the broth was quite tasty. At the bottom of the bowl I found the all day beans and kept going in for more. My waiter explained they were cooked in bourbon butter!
My partner had the Fire Grilled Wahoo with Harlem Chowder, lobster and charred citrus and said it was the best thing he's eaten at Marcus'.
Sweet potato pie was the dessert and I wasn't excited until I had a bite. The pastry alone was enough to convert me. It was served with cinnamon whipped cream, a salted caramel and vanilla ice cream.
While decadent, the dish was also very light and wasn't sweet at all. This dish was probably my favourite of the night as it was unexpectedly scrumptious.
If I had to sum up the evening in one word, it would be glorious. The band was as fantastic as the meal. One great moment of the evening came when Clarence "Tootsie" Bean, an 85-year-old Bermudian drummer joined the band. He was a friend of Lucas' late father.
Additionally, Melba and Marcus made a point to go to every single table and chat with diners, which I thought was wonderful. Both seemed thrilled to have a full house. Hopefully Harlem Meets Bermuda will become a regular occurrence.

Read More About
Category: All, Entertainment, News