[Written by Mikaela Ian Pearman]
When Marcus Samuelsson is on Island, he typically hosts an event. And whatever event he's hosting, it's guaranteed to be a good time.
Last time I attended an event with the esteemed chef as host, it was at his signature Bermuda restaurant with Harlem chef Melba Wilson. It was the "Harlem Meets Bermuda" dinner featuring the Nate Lucas All Star Band – a fantastic evening of excellent food and entertainment.
This time around, the event was a cooking demonstration at the fabulous Hamilton Princess Beach Club. Chef Marcus was to show the audience how to grill a whole fish and while he did that, we were to eat a bountiful spread of BBQ and fish fry.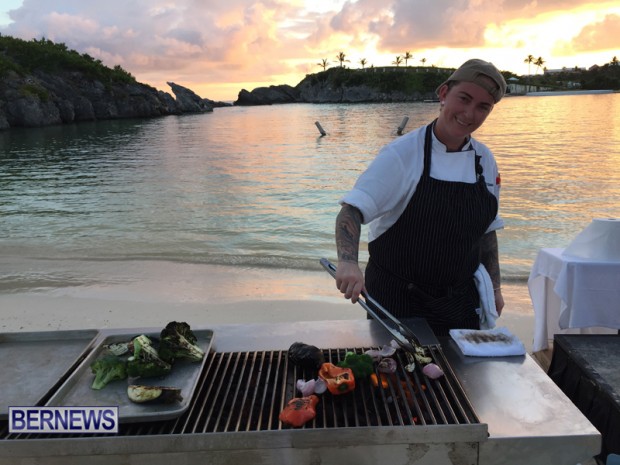 The evening began with a special Bacardi Dragonberry Rum cocktail and then a welcome from Chef Marcus. He talked about how much he enjoys being on the island and hosting cooking demonstrations. The demo was held on the shoreline of the beach with the tide quickly coming in and the sun setting in the background. They couldn't have selected a better venue.
Chef Marcus was joined by Sous Chef Jules while he explained the preparation of the fish. She grilled the veggies and prepped more fish on the grill while Chef Marcus took the audience through the various steps of the fish. He also gave cooking advice and told fun stories.
Chef Marcus also talked about the different ways to grill food to get different flavours, including a Japanese style called Robata, which focuses on cooking slowly.
The fish was seasoned with habanero, scallion, onion, garlic, ginger, soy. Once it was cooked, it was served on the BBQ buffet. Chef Marcus also made a fish soup, complete with fish eyes and fish tail – for the adventurous eaters – and it was offered up as small portions for a handful of guests.
But the night wasn't just about the demo, it was also about the food that we got to eat! If you've ever been to brunch at Marcus', you know it's an incredible spread. Last night was no different.
The buffet was unlike any other buffet in Bermuda. Even if some of the food may be familiar, eating it at Marcus' is very different to eating at other places because the food is a higher level of quality.
The options included mac and cheese, collard greens, jerk vegetables, jalapeno cornbread, mussels, chicken and waffles, deviled eggs, a variety of salads, brisket, fried wahoo, grilled snapper, jerk chicken and pork. It was a bountiful spread, but the difference is the focus is always on the quality of the food rather than the quantity.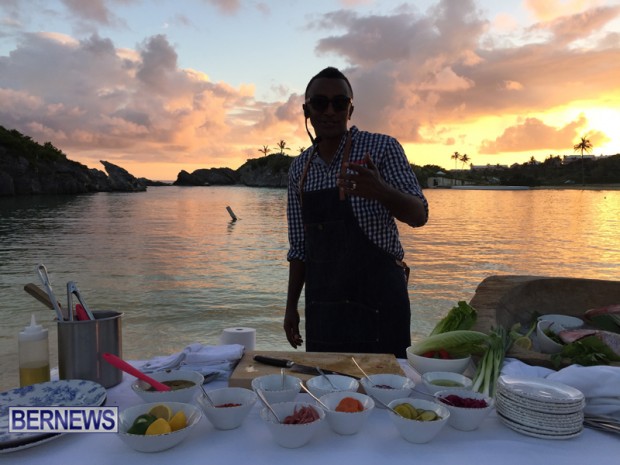 For dessert, diners were treated to peach cobbler, rum cake, cookies and pecan pie bars. I honestly had one small bite because dessert was not needed. The main course was incredibly delicious and left me wanting more.
I thoroughly enjoyed the end of my Labour Day weekend eating fantastic food on the beach with a wonderful celebrity chef. I should note that this event was sold out, so many people missed out. Next time Marcus comes to do a cooking demo, buy your ticket early. I promise you won't regret it.

Read More About
Category: All, Entertainment, News