[Opinion column written by Larry Burchall]
The current impasse with the Bermuda Police Association over matters of pay, regurgitates the whole matter of how Government's personnel costs can actually be reduced.
I first tackled the "how" issue in 2013. This is two years before the well-paid Three Wise Men came to Bermuda and told Government exactly what I've been telling and showing Government.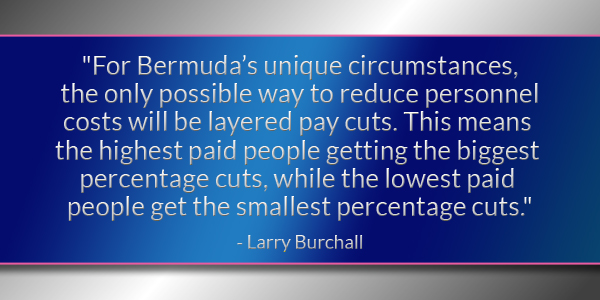 In choosing 'furlough days', the Government chose the worst possible solution. Furlough days resulted in an unfair across-the-board 'cut' of only 4.6%, administrative confusion, bitter wrangling, and was then summarily rejected – and rightly so – by the BTUC.
For Bermuda's unique circumstances, the only possible way to reduce personnel costs will be layered pay cuts. This means the highest paid people getting the biggest percentage cuts, while the lowest paid people get the smallest percentage cuts.
Here is a simple typical example that achieves an overall 24% pay cut:
Civil Servants on $200,000 a year get a 30% pay cut, so their after-cut pay would be $140,000 a year.
Civil Servants on $100,000 a year get a 20% pay cut, so their after-cut pay would be $80,000 a year.
Civil Servants on $50,000 a year get a 10% pay cut, so their after-cut pay would be $45,000 a year.
Assuming just one person in each category, the difference works out like this:
Pre-cut pay total [$200,000 + $100,000+$50,000] = $350,000.
After-cut pay total [$140,000+$80,000+$45,000] = $265,000. Total pay 'saved' = $85,000. This is an overall percentage savings of [$85,000/$350,000] = 24% overall percentage of pay that is saved.
Study the chart. The chart uses numbers that are much closer to reality. However, since the precise number of Government employees seems a closely guarded national secret, you should not take the employee Numbers as absolute. However, you should still see how the Method will work in real life and achieve a 21% 'across-the-board' savings of $92m on Personnel costs.

The only way that Government can achieve the size of personnel cost reduction that it will ultimately have to achieve is by layered pay cuts. That is, and that will remain, the only method by which the overall size of the cuts can be achieved without materially reducing personnel numbers and in the short and shortening timeframe now necessary.
In 2016 and by 2020, the Government needs to slice out about $90m – $100m from its personnel costs. If not done in 2016, then the size of the cut that's needed will simply get bigger.
If layered pay cuts are not used, then there will be a forced reduction in all personnel numbers. This is exactly what happened in Barbados just before Christmas 2013. Precipitated by the interest rate decisions of their foreign lenders, the Government of Barbados was suddenly forced to send out 'pink slips' to 3,000 [13%] of its 23,000 workers.
I have always written and spoken of the need to reduce personnel costs. I have never advocated dismissing Government employees as the primary cost-cutting method.
Unlike the Three Wise Men, I live in Bermuda. I am a deeply interested Bermudian, not someone just zipping through. I am acutely aware of and understand all of Bermuda's unique economy and the social dynamics lying just beneath Bermuda's deceptively smooth national veneer.
Since 2010, I have strongly advocated cuts in Government's personnel costs. Since 2010, those personnel cost and other cuts have not been made. In 2010, the overall savings required was around 10%. This is less than half the size of the reduction needed now. Procrastination is expensive!
Planned spending in FY 2015/16 [$1,151.3m] is actually higher than Government's actual spending in FY 2009/10 [$1,126.4m]. Seven years ago in 2010, we needed to start cutting costs, and didn't cut. Now, seven years later in 2016, the need to cut has increased. That's arithmetic.
New to and just zipping through Bermuda, the Three Wise Men advocated a "restructuring of Government services". The TWM have given excellent advice. But their paid for advice is like advice against unprotected sex that is given seven years too late.
Government has a nasty but not un-solvable problem. However, after seven years of side-stepping and back-loading, in 2016, options have fallen away. There are now only two solutions and the personnel cost cuts now need to be as deep as I show.
It's simple. Chop people! – or – Chop pay!
[This ultimately unavoidable cost-cutting would be made much easier if all Parliamentarians took a 50% pay cut. This would set an excellent example and show true leadership!]
- Larry Burchall

20 Most Recent Opinion Columns

Opinion columns reflect the views of the writer, and not those of Bernews Ltd. To submit an Opinion Column/Letter to the Editor, please email info@bernews.com. Bernews welcomes submissions, and while there are no length restrictions, all columns must be signed by the writer's real name.
-
Read More About