In the 16th edition of Bernews' podcasts, Home Affairs Minister Michael Fahy spoke to us for almost an hour in a wide-ranging interview on issues ranging from immigration to same sex marriage.
The Minister said that perceptions some may have that his Ministry and the Government through immigration policies were anti-black Bermudian "could not be further from the truth" but he did admit Government could do a much better job at communicating with the community.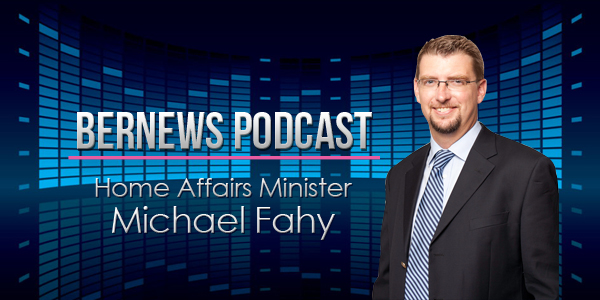 He admitted that the economy was on a tightrope but the reality, he said, was "that things are turning around".
Pushed on what other industrial sectors which had been approached to create jobs he said he was very happy with the work of the BEDC and the Bermuda Development Agency and said Government had received approaches from industries such as a biomedical school.
He has no intention of apologising to the Ombudsman for remarks he made, and he was scathing about PLP MP Walton Brown's call for civil disobedience over immigration policies saying he was "disgusted. I will be as strong as that".
57-minute podcast with Home Affairs Minister Michael Fahy
As long as he is Minister for Home Affairs, Mr Fahy said the idea of commercial immigration would stay off the agenda.
He said overtures had been made to the unions to talk but that he had not heard back from them, and that in the past he had had very good relations with them and had no issue with a union's right to strike.

Bernews' podcasts aim to provide an in-depth look at current affairs and different issues affecting the Island, and the text extracts above represent only a small portion of the full interview.
You can also download the episode in MP3 format here, view past podcasts here, and subscribe via iTunes, or download the Bernews app and enjoy advance listening, with each episode available for download directly to your phone or tablet earlier than it is released on our main site.
Read More About