[Updated: Change of plans...the House is now adjourned until Friday]
The demonstrations regarding the 'Pathways' proposal look set to enter their fourth day as people intend to gather at the House again tomorrow; and MPs are also set to attend the House of Assembly, which is scheduled to be in session starting at 10am tomorrow morning.
Bernews asked officials when the House would be in session again, and they told us, "The House is scheduled to meet on Wednesday, March 15, 2016, at 10.00am for our last meeting, which will make up for the meeting on Monday."
The House of Assembly was supposed to be in session on Monday, however the session was cancelled as MPs could not enter the building as the demonstrators formed a 'human wall' around the entire building, serving to block MPs from entering the House.
Both Chris Furbert and Reverend Nicholas Tweed spoke to the crowd this afternoon, with Rev Tweed telling the people gathered that tomorrow could be a "make or break day" and urging the people to "show up from sunrise and stay as long as it takes until we reach the end that we seek."
30 minute live stream replay of Mr Furbert and Rev Tweed's remarks at around 5.00pm this afternoon:
The withdrawal of labour in protest over the proposed policy began last Friday, and continued again on Monday and today, with public transportation services suspended for the third day, while garbage collection has also been suspended for Friday, Monday and today.
It is unclear when public transportation will resume, with the Transport Ministry saying earlier today that "there will be no bus or ferry service until further notice, as a result of the ongoing industrial action."
There is also a build up at the docks due to the withdrawal of labour, however ten dock workers did go down to the docks and unload essential items earlier today, with Mr Furbert saying it was "the right thing to do."
Containers stacked at the dock with people gathered at House of Assembly showing in the background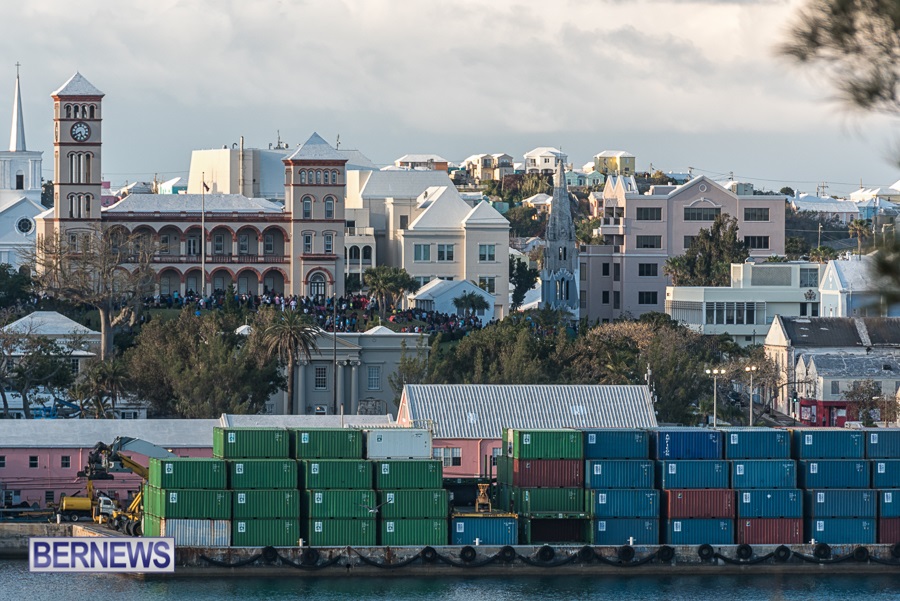 Last night Premier Michael Dunkley said that a Government delegation met with representatives of the protesters to discuss the Pathways Bill, however a resolution was not been reached, with the Premier adding that "we believe we put reasonable proposals on the table to break the impasse but our opposites could not get support from their respective stakeholders."
Opposition Leader Marc Bean also addressed the situation this morning, saying: "With protests and labour withdrawals scheduled to continue, the OBA must withdraw the bill and join with Bermudians in bipartisan comprehensive immigration reform."
You can view our live updates on the matter here..
Update 8.13pm: After confirming earlier today that the House will be in session tomorrow, the Government just sent a notice saying, "The Speaker of the House, the Hon. K. H. Randolph Horton, JP, MP, this evening announced the House of Assembly has been further adjourned until Friday 18 March 2016 at 10:00am."
Read More About