News that Digicel and BTC sponsored youth athlete Tyler Smith, Heather Nova released a new music video, and Bermudian striker Nahki Wells notched his 15th goal of the season were all some of the positive news stories from the past week.
In other good news, local athletes excelled at the Arnold Sport Festival in Ohio, the Bermuda Rugby U18 Girls 7s Squad marked International Women's Day, the Bank of Bermuda Foundation announced two new scholarships, BHCS agreed to sponsor races at the Bermuda Invitational Meet, Chef Michiko Campbell released a 'Chipotle' flavour of his popular rub, and a beautification project got underway on Horseshoe Road.
We also posted various community photo galleries, including coverage of netball action, harness pony racing, International Women's Day celebrations, the roof wetting of the Kingston Bed and Breakfast, World Book Day at St. George's Prep, and the Pirates of Bermuda fundraiser.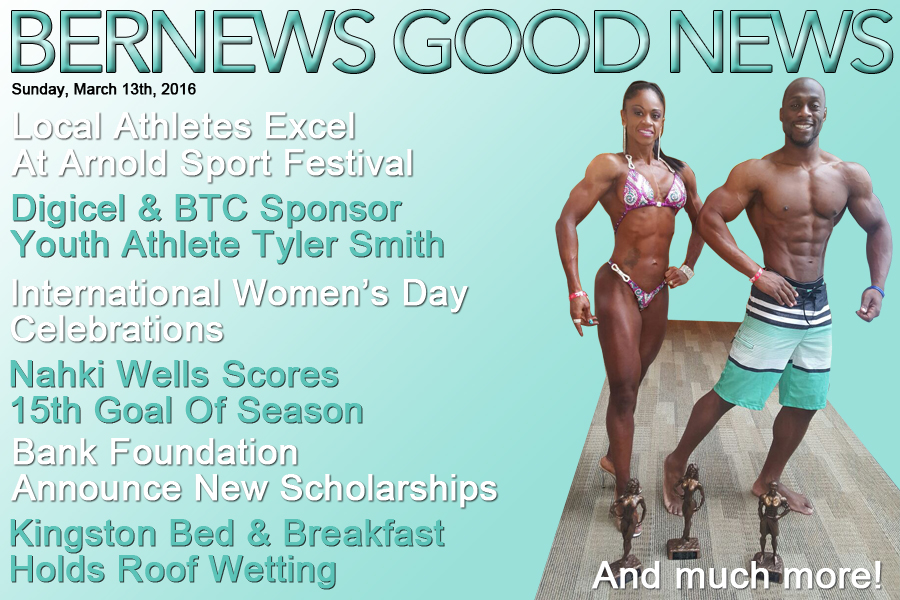 In an effort to highlight some of positive news happening in our community, we supplement our standard morning and evening email newsletters with a special Sunday "Good News" email newsletter edition, which strictly focuses on the positive news from the past week.
You can sign up to have the free newsletter delivered via email here, and/or access the links below. In addition, for those who like positive news, please feel free to visit our sister site ForeverBermuda.com, which seeks to showcase the best of Bermuda as well as provide information and listings for visitor related services.
Links to some of the 'good news' from the past week are below:
Read More About