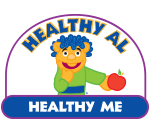 The Department for National Drug Control [DNDC] is advising that five preschool/nursery schools will participate in the fourth annual 'Healthy Al, Healthy Me' celebration tomorrow [Apr 21], with children from Bermuda, Canada, and the United States set to take part.
The aim of the event is to "bring about awareness of the importance of healthy eating and physical activity for young children."
A spokesperson said, "Tomorrow around 118 of Bermuda's young people will join children in the US and Canada in fun activities, games, healthy snack parties, and more to recognize how children can benefit from learning about making healthy choices.
"The Healthy Al, Healthy Me Celebration brings attention to the importance of developing healthy habits at an early age.
"Participating schools tomorrow include the Lyceum Preschool, Southampton Preschool, St. David's Preschool, Heavenly Blessings and Kiddie Academy – the latter both located in Hamilton.
"Al's Pals is a research-based programme which is supported by the DNDC. Partnering with schools, the goal is to help ensure that Bermuda's children benefit from the initiative.
"Al, the puppet character who serves as the main role model in the programme, helps children learn to get along with others, solve problems peacefully, and differentiate between things that are safe and healthy for them and things that are unhealthy or harmful.
"Al models healthy eating and exercise in the Al's Healthy Choices children's book, which advocates that healthy habits not only improve physical well-being, but are also linked to success in school.
"A nutritious diet and regular physical activity have been shown to help children pay better attention, learn and remember more, behave more appropriately, and develop positive self-esteem."

Read More About
Category: All