"The Cambridge Elementary School Checkpoint results provide valid reason for Bermudians to ask, why so many of our young people are struggling academically and are they being prepared for success," Shadow Minister of Education and Training Lovitta Foggo said.
Ms Foggo said, "This also begs the question as to whether adequate and required support, in every aspect, has been provided to our elementary school system. My answer to that would be a resounding no!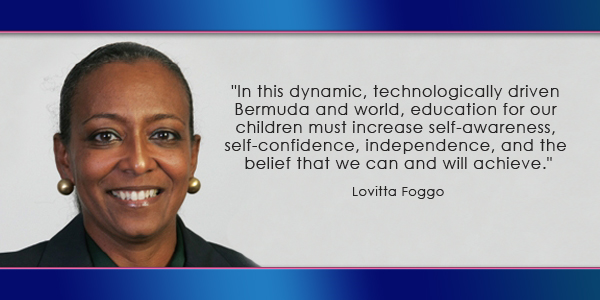 "This budget year in fact, the OBA government failed to provide our schools with the resources, conditions and manpower critical for student success. Yet, there are millions of dollars available for a questionable airport project that the majority of Bermudians don't support.
"Our students sit the Cambridge exams every April. Neither teachers, nor students have the benefit of a full school year of instruction to prepare. This delineates a misalignment and exposes a cultural bias.
"To address this, I have observed firsthand that in our top performing results teachers have provided extra tutoring for students, offering lessons before the normal school start time and during school holiday breaks, without added compensation or in many cases even acknowledgement.
"Have teachers received continued, sufficient and appropriate training in the instructional delivery of the Cambridge programme?
"Are they given ample time to teach it? Is the environment in our schools conducive to student success in Cambridge?
"Too many of the answers to these questions is no and as a result, both our teachers and students are being placed in an unacceptable position.
"The SCORE review team produced scathing truths about our current system at the elementary level. SCORE outlined that adequate resources, professional training and proper staffing is crucial for obtaining the desired student outcomes.
"So, in fairness to our teachers, we can not place the blame at their feet. The fiscal budget for this year does not provide an avenue for principals and their staff to begin to address and rectify those findings.
"The Minister stated that by April 1st 2016 he would update us regarding the status surrounding our elementary schools. This has not happened.
"The public and the educational community alike are still uncertain about the future of some of our schools. This does not help morale and fosters an air of uncertainty. These are not conditions which promote success or confidence. Our teachers, students and parents deserve better.
"I have been and will continue to engage in consultation with some of our educators to address some of the stated issues with the view to creating a better approach for enhanced performance at the elementary level. I wish to thank both those teachers and students who continue to work diligently. We have to do all we can to help them attain more.
"In this dynamic, technologically driven Bermuda and world, education for our children must increase self-awareness, self-confidence, independence, and the belief that we can and will achieve," concluded Ms Foggo.

Read More About