A Bermuda delegation today welcomed the arrival of Bermuda's first Quantum Class cruise ship visitor, Anthem of the Seas.
Led by the Acting Premier Bob Richards, the group dined with the ship's Captain Henrik Sorensen and was taken on a brief tour of the new vessel which had its maiden voyage just a year ago.
The Acting Premier was joined by Acting Minister of Tourism Development and Transport Dr. Grant Gibbons and Minister of Public Works Craig Cannonier.
The Anthem of the Seas is the second of the Royal Caribbean International's Quantum Class cruise ships. It arrived to a water cannon salute and docked at Heritage Wharf at the Royal Naval Dockyard this morning.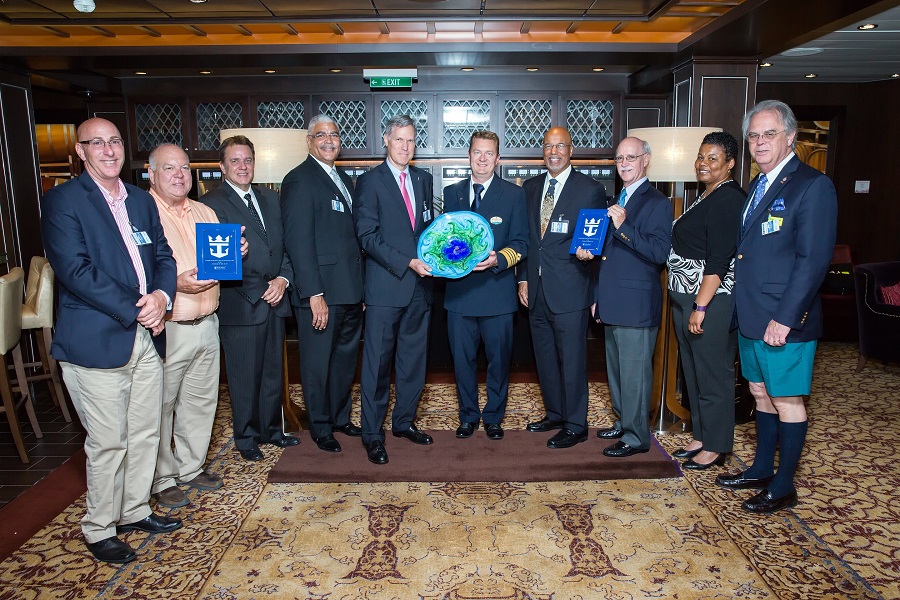 "The ship arrived with a guest count of about 4,500 and a crew of nearly 1,600 representing 65 nationalities," the Ministry said.
"The largest cruise ship visitor to the island – 136 feet wide and 1,141 feet long with a draft of 28 feet – required the dredging and widening of the North Channel between St. George's and Dockyard earlier this year.
"Other local guests aboard the ship for today's welcome ceremony included the Mayor of Hamilton the Hon. Charles Gosling, the Mayor of the Town of St. George Quinell Francis and the Chairman of the WEDCo Board, Raymond Charlton.
"Other stakeholder guests were from the Ministry of Tourism Development and Transport [including Marine & Ports and Public Transportation], the Bermuda Tourism Authority, WEDCo, the Bermuda Chamber of Commerce and RCI's Port Agents, Meyer Agencies.
"Dr. Gibbons provided welcome remarks and presented Captain Sorensen with a plaque. A gift was also delivered by WEDCo."
The Minister addressed the ship's Captain, "On behalf of the Government and the people of Bermuda, I would like to welcome you, your crew and your guests to our island. We hope you will take advantage of all that Bermuda hospitality has to offer.
"Royal Caribbean International and Bermuda have enjoyed a long and mutually beneficial relationship – designed to provide the best in holiday products for individuals and families from around the world.
"We hope this relationship continues for many years to come. We are also pleased to embark on a new relationship with your state-of-the-art vessel – which brings innovative and incredible experiences to the cruise ship industry."
The ship has a multi-use recreational complex, and a number of special activities that include a sky diving simulator, a surfing simulator and an automated or robotic bartender in the Bionic Bar.
The cruise ship industry press described Anthem of the Seas as "the world's smartest cruise ship" and "one of the most technologically advanced cruise ships in the world."
The 168,666 GRT new-build was launched last April by shipwrights Meyer Werft of Papenburg, Germany. The ship has 16 passenger elevators for 18 decks, including16 public decks.

Read More About
Category: All