[Updated] Reggae artist Beenie Man — who performed in Bermuda on July 27th — has apparently contracted the Zika Virus, causing him to miss a scheduled performance in Canada.
During his performance in Bermuda the singer told the crowd he was feeling sick and unofficial reports suggest he was visibly ill backstage following his performance.
In an Instagram post yesterday [July 30] Beenie Man said, "No visa fi mi Canada show [I apologize again to my fans in case you haven't seen the press release] Zika Virus hol' mi. The same Zika mosquito gi mi dengue. Blood test, injections, pills. Wi a hol firm still."
UrbanIslandz reports, "In a statement sent to Urban Islandz Beenie reps told us that the deejay not only contracted the virus but also didn't secure the necessary documents to travel to Canada.
"Beenie Man didn't get his Canadian visa to travel to that country to do the show," the deejay's reps said. "Additionally, he contracted the Zika Virus and is getting treatment for that."
Ticketmaster — which was selling tickets for the show in Canada — said, "Due to immigration issues Beenie Man will no longer be able to perform as part of OVO Fest 2016 on Saturday July 30th at TD Echo Beach in Toronto. In his place we have booked a slew of surprise special guests and of course Machel Montano will still headline as planned, with special guests of his own."
The last official press statement we have from the Ministry of Health on the Zika Virus was on June 28th, which said that Bermuda is "currently Zika free" and "as part of a concerted effort to keep the island Zika free" they would be using new mosquito traps "designed to specifically attract the Aedes mosquito, which is the carrier and vector for Zika."
Update: 7.57pm: The Ministry of Health and Seniors said that Beenie Man contracted Zika before visiting the island, wished him a speedy recovery, said that Bermuda is currently Zika-free and provided advice on how to reduce the risk of contracting Zika Virus.
"The Ministry of Health and Seniors is aware that the performer, Beenie Man, visited Bermuda to perform at a concert on 27 July. He recently reported via social media that he is ill with Zika Virus, which he contracted before visiting the island. The Minister of Health and Seniors, on behalf of Bermuda, wishes him a speedy recovery.
"This unfortunate situation offers an opportunity to remind the public about how to reduce the risk of contracting Zika Virus.
"Zika is often a mild illness, with 80% of those infected having no symptoms at all. Transmission is either through being bitten by a mosquito that has previously bitten someone carrying the virus, or through intimate sexual contact. Zika Virus can cause serious health problems in some babies whose mothers contract the virus while pregnant.
"The Ministry would like to remind all travellers that if they become ill, they should see a physician and outline their recent travel itinerary. If travelling from an area with any mosquito-borne illnesses like Zika, dengue, or chikungunya, travellers are asked to consistently apply mosquito repellent for 2 weeks after returning to Bermuda, to reduce the chance of any onward transmission.
"In addition, precautions should be taken to prevent sexual transmission of Zika Virus to one's partner via body fluids for at least 8 weeks following possible exposure. These precautions should be taken even if one does not have symptoms of illness.
"Special efforts should also be made to protect a pregnant woman from contracting the zika virus due to its serious impact on the unborn child. All pregnant women at risk of exposure to Zika should seek immediate advice from their physician.
"In collaboration with the Department of Customs, travellers arriving at L.F. Wade International Airport are given public health information in a variety of ways, including an announcement over the public address system, an advisory on an electronic monitor, a printed card that outlines what to do if a traveller feels ill, and targeted health questions by customs officers depending on the jurisdiction from which the traveller has arrived.
"Bermuda is currently Zika-free. Bermuda's Vector Control team has an excellent mosquito control programme, but property owners are reminded to clear debris and to take the time to tip out standing water to reduce breeding grounds for mosquitoes.
"For more information on zika, visit www.gov.bm/zika-virus."
Update: Beenie Man has apparently deleted his original IG post after it was up for over 24 hours. A screenshot of the original post is below.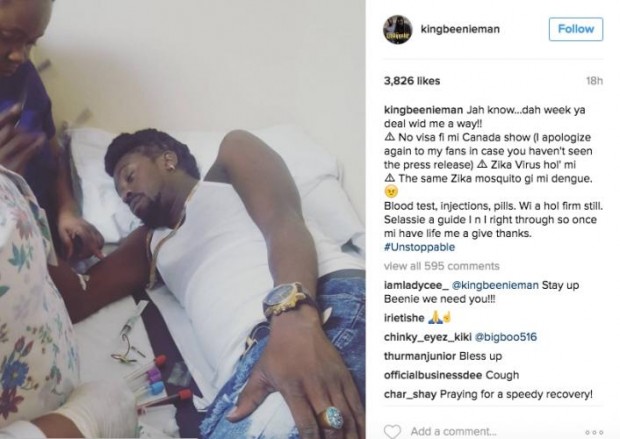 Read More About
Category: All, Entertainment, Music, News