TripAdvisor reviews about Bermuda are on the rise in 2016 and to "keep the momentum going" the Bermuda Tourism Authority [BTA] is asking locals to join in by reviewing their experiences online whenever they eat, shop or explore the island.
"This is an easy way to get the wider community involved in our tourism product," said Glenn Jones, the BTA's director of public and stakeholder relations. "When one of us contributes an accurate, thoughtful review on TripAdvisor it can help the tourism economy, especially in Bermuda where our community is well travelled.
"We're asking people to focus their attention on this for the month of July, but I hope people will consider doing this all the time, all year-round. They can do it right on their smartphone before they leave the restaurant or the shop or wherever they are."
New data from TripAdvisor shows a 67 percent year-over-year increase in the amount of reviews written about Bermuda through the first five months of the year. Between January and May there were 3,460 reviews of Bermuda experiences on Trip Advisor.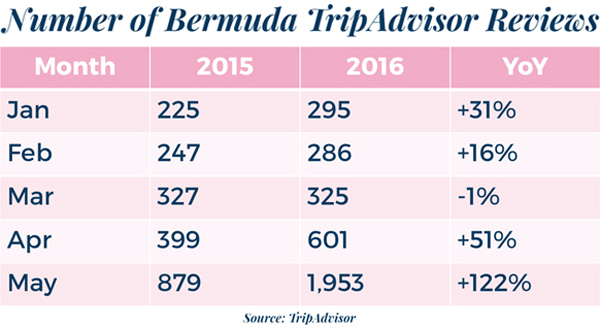 "TripAdvisor attracts 375 million unique visitors each month and is widely considered the most influential travel website in the world. Destinations with the most up-to-date and relevant content attract the attention of travellers looking to make decisions about where to spend their money," the BTA said.
"BTA research shows 49 percent of all air visitors to Bermuda visit TripAdvisor before landing on the island."
"For locals to start reviewing on TripAdvisor here in Bermuda just makes a lot of sense," said Alastair Jack of the BTA, who works with travel sites like Expedia and TripAdvisor.
"If a local reviews a restaurant – like Port O'Call, The Beach or Jamaican Grill – it adds a little more validity and is what travellers are looking for. Visitors want to get in the local culture and having locals tell them where to go – there's no better way than that."
For the month of July, the BTA is asking residents of Bermuda to write about their experiences on TripAdvisor whenever they are out experiencing the island.
Inspiring more online reviews and growing the content about Bermuda on TripAdvisor is stage two of the BTA's multi-phased plan to increase Bermuda's digital presence.
In May, the BTA arranged free TripAdvisor workshops [now available online] for hundreds of tourism industry stakeholders, encouraging them to engage with travellers on TripAdvisor in order to win more business.
Any local tourism business looking to grow their presence on TripAdvisor can collect a free TripAdvisor decal from the BTA office in Hamilton or at the Visitor Information Centre in St. George or Dockyard during normal business hours. The decal – now with new Bermuda tourism branding – is a signal to locals and visitors that a review of their experience is welcomed.

Read More About
Category: All