Social media sensations The Bucket List family have sent their legion of online fans a pair of video postcards from Bermuda after arriving on the island last week.
After he sold his mobile app development company to Snapchat in a multi-million dollar deal, American tech entrepreneur Garrett Gee, wife Jessica and their children set off on what was supposed to be a six-month journey around the world in 2015.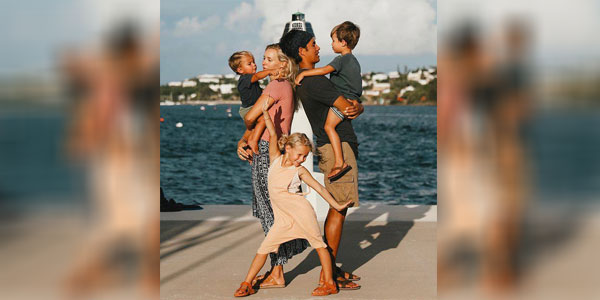 Calling themselves "The Bucket List Family", they are now into the fourth year of their odyssey and have visited more than 70 countries. The Gees chronicle their globe-trotting travels on their blog, YouTube channel and Instagram accounts, which have drawn millions of followers from around the world.
With the money from the Snapchat sale invested, the family sold most of their personal belongings to finance their journey. They now earn additional funds from sponsorship and advertising to support their ongoing travels, with Mr. Gee saying the trips tend to be as "frugally budgeted" as possible.
Luxury trips don't often feature on the family's travel itinerary as their odyssey is primarily intended to be educational and instructive. They also make a point of assisting with charitable or community programmes in every country they visit.
The thinking behind the non-stop around-the-world trip was to allow the Gees and their children, Dorothy, Manilla and Calihan, to experience as many cultures and peoples as possible before the family eventually settles down at its home in Hawaii and the youngsters start attending school.
A short Instagram video showing the family frolicking at a South Shore Beach in Bermuda has been seen by almost a half-million people since being posted on Friday.
A longer YouTube video posted on Sunday [Aug 18] shows the family at the Hamilton Princess & Beach Club, watching the Gombeys perform in Hamilton, diving in the island's waters and volunteering at the Windreach Recreational Village.

Read More About
Category: All, Entertainment, News, Videos