Aiming to fulfill the dream of Jackie [Nichols] St. Peter, who doctors have said has a life expectancy of about 2.5 years due to cancer, an online campaign is hoping to raise $5,000 in order to give her a "birthday she can't forget" aboard a cruise to Bermuda.
The campaign has raised $3,330 of its $5,000 goal, with the GoFundMe page saying, "Jackie [Nichols] St. Peter was diagnosed with Stage IV Colon cancer in the summer of 2012. Unfortunately the cancer was not found before it spread to her liver."
Screenshot of the GoFundMe page: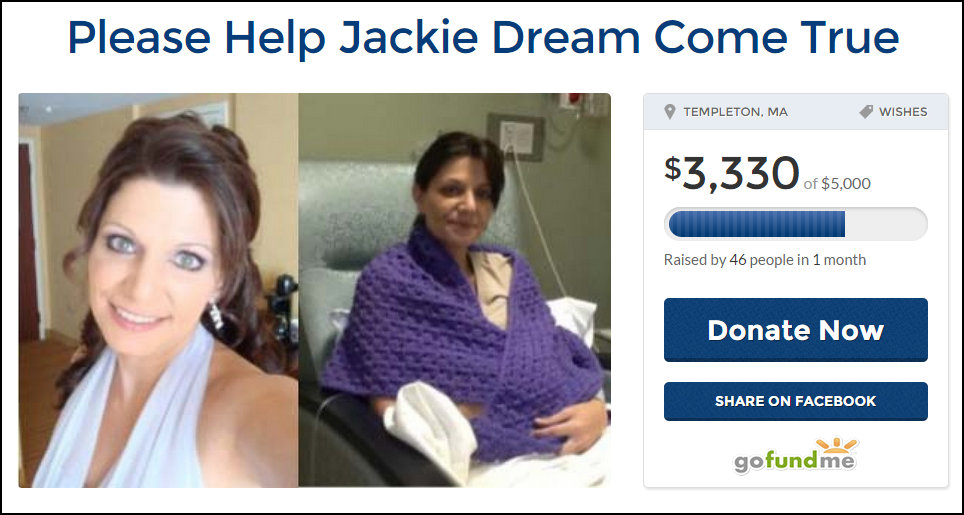 "She is only 45 years old," the campaign said, "The surgeon she had gave her a life expectancy of 5 years, almost 3 years ago, even with treatment.
"Although one never knows when her time will actually come, if the surgeon is right she has about 2.5 years left and no one knows how long she will still feel decent. Her family and friends pray the surgeon is wrong and she will be with us for a much longer time.
"There is a cruise coming up in May of this year departing from Boston going to Bermuda. My hope is that the funds can be raised so she can be on that ship with a little spending cash and enjoy her birthday at sea, giving her a wonderful relaxing, cancer forgetting trip and a birthday she can't forget."
Read More About
Category: All