Saying that "learning is a life-long process," Principals from the island's schools have urged people to "work in a spirit of collaboration" to "foster a culture that enhances the growth and development of all our Island's young people."
The message, released as the island's students prepared to head back to school, was from Dr. Phyllis Curtis-Tweed from Berkeley Institute, Tina Duke from Dellwood Middle School, David Horan from Warwick Academy, Francine McMahon from T. N. Tatem Middle School, Sue Moench from Mount Saint Agnes, Linda Parker from Bermuda High School for Girls, Kalmar Richards from CedarBridge Academy, Carlos Symonds from Somersfield Academy, Ted Staunton from Saltus Grammar School, and Dr. Lois Tucker from Bermuda Institute.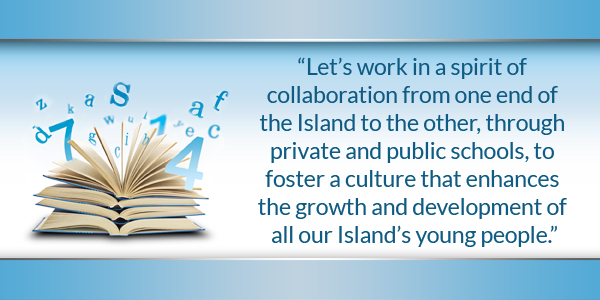 The joint statement said, "I am still learning' – Michelangelo
"As we reflect on the beginning of this new school year, Michelangelo's motto found above, reminds us that learning is a life-long process. While the formal process in our schools is essential, Michelangelo's humility reminds us that there is a broader context involved in education.
"From this perspective we would like to point out that as 'teachers', we are at our best when we are 'students' also; ever expanding our understanding of subject matter and best practices to enhance the learning experience. In this same light, we would like to remind parents that they are their children's first 'teachers'.
"This role of family and other stakeholders, in the development of young people was captured in a quote by Albert Einstein when he said: "Example isn't another way to teach, it is the only way to teach".
"All parents have something to 'teach' their children from their life-experience; notwithstanding their background. The revolution in technology provides a platform for an enlightened perspective on the nature of the divide between 'teacher' and 'student'. We often see parents needing their children to explain features on smart phones and grandparents waiting for young grandchildren to help them to use the internet.
"Extensive research has proven that a person's understanding of any topic is best reinforced with them when they attempt to 'teach' it. In this information age, the new technologies are galvanizing a collaborative approach to schooling and broader education.
"There are numerous free and inexpensive support systems available to all families who have internet access; including Khan Academy and educational support programs freely available to every member of the Bermuda Library. [The Library can also assist those families without internet access]
"So as we begin this school year, we invite all fellow educators, parents and other stakeholders in the community, to reflect on Einstein's reference to the power of example.
"Let's work in a spirit of collaboration from one end of the Island to the other, through private and public schools, to foster a culture that enhances the growth and development of all our Island's young people."

Read More About