The roof wetting ceremony held for Belvedere Residences, Bermuda featured in the fall edition of Lonely Planet Magazine, and the official opening of the TABS flagship store in Hamilton were all some of the positive news stories from the past week.
Other good news stories included Reggie Lambe scoring in a Carlisle United win, Tashae Trott, Rachel Lawrence and Phoebe Barboza receiving Paget Parish Undergraduate Scholarships, and the Fairmont Southampton being honoured with international travel industry awards.
In additional good news, Saltus Grammar School students celebrated their 100 percent pass rate, CedarBridge Academy student Kyle Croke completed his internship at real estate firm Rego Sotheby's International Realty, and HSBC celebrated the 100th birthday of customer Lefroy Brownlow Place.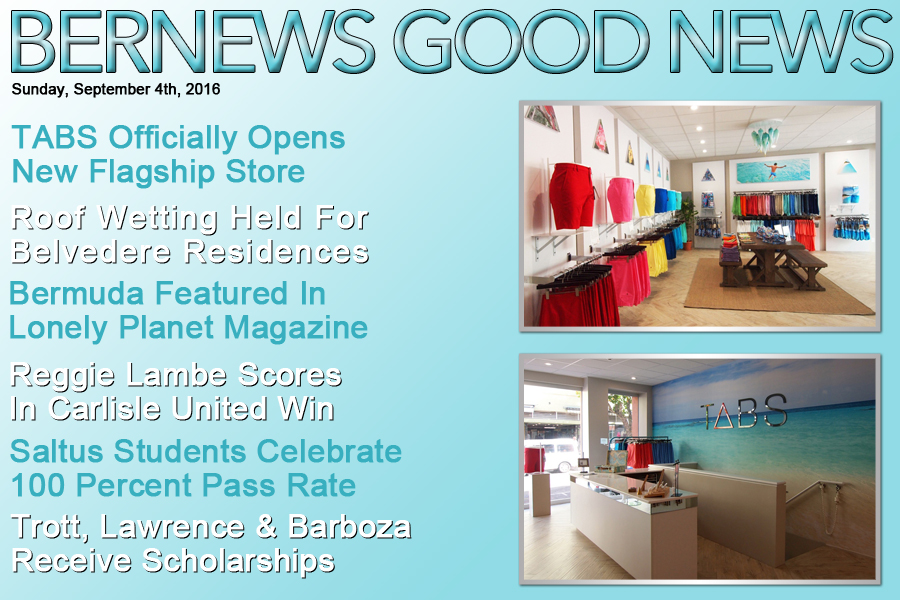 We also posted various community photo galleries, including coverage of the Presidents Cup 65.5 mile cycling road race, the last Harbour Nights of 2016, cricket, the Uptown Taking The Gospel To The Streets event, the Labour Day Banquet, the Black Collective market and book signing, and the City of Hamilton's Back to School fun day.
In an effort to highlight some of positive news happening in our community, we supplement our standard morning and evening email newsletters with a special Sunday "Good News" email newsletter edition, which strictly focuses on the positive news from the past week.
You can sign up to have the free newsletter delivered via email here, and/or access the links below. In addition, for those who like positive news, please feel free to visit our sister site ForeverBermuda.com, which seeks to showcase the best of Bermuda as well as provide information and listings for visitor related services.
Links to some of the 'good news' from the past week are below:
Read More About