Crime, policing, gangs, safety and security and other community matters were topics of discussion when the Minister of National Security Jeffrey Baron recently spoke to a Bermuda College class.
Late last week, as part of the Ministry's Throne Speech awareness engagement, Sen. Baron addressed college students in Dr. Geoffrey Rothwell's Sociology class.
In a wide ranging conversation, the Minister discussed Government's overall efforts to tackle crime, the importance of CCTV cameras, and the intricacies of Bermuda's gang culture. As it was timely, the Minister also touched on the outcome of last week's US Presidential Election.
The discussion lasted for roughly an hour, and following the class, Minister Baron said he was "encouraged at the level of engagement with the students, and was pleased to spend time with some of Bermuda's bright young minds."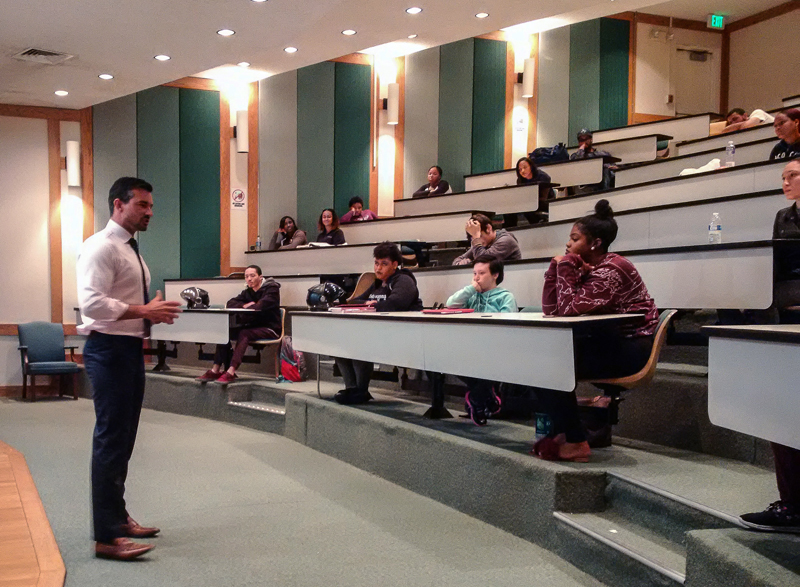 Minister Baron said, "In its broadest sense, sociology studies people's interaction with each other and how human behaviour is shaped. It's also the study of such things as social organisation, culture, social change and other relevant social issues.
"At this stage of the semester, Dr. Rothwell's class was studying criminology, so it was a natural fit in terms of sharing some of the Ministry's information and initiatives with them."
The Minister continued, "More important, these young people are what I would consider community influencers. So by drawing comparisons and parallels to what they're currently learning about and what the Government is seeking to do in addressing crime and violence, it's my hope that they can share our messages and our efforts with their peers.
"Overall, I was appreciative of the opportunity and I want to thank Bermuda College and Dr. Rothwell for allowing me to spend some time with our young people."
A spokesperson said, As the public is aware, last week, the Government unveiled its Throne Speech initiatives for the upcoming legislative session. The Ministry of National Security had at least eight programmes outlined for action in the 2016/17 session. They include:
"Team StreetSafe: This is a critical part of the anti-gang lifestyle initiative in the community. Its intervention and crisis management skills have been used to tackle tensions between rival groups that sometimes turn violent. Much of the positive work done by Team StreetSafe has been drawn from Operation Ceasefire, a community-collaborative initiative that has been effective in curbing gang violence in US cities. Operation Ceasefire pioneered the mobilization of community "moral voices" to challenge people whose actions tear at the fabric of society. The Ministry of National Security will re-engage Operation Ceasefire to conduct an intensive review of Bermuda's anti-gang initiatives.
"Bermuda Police Service: Natural attrition within the ranks of the BPS cannot be allowed to detract from its core policing objectives. The Government will continue to support the recruitment of police officers with an emphasis on adding to the number of qualified firearms officers and sustaining the largely successful effort to provide strong enforcement action, efficient investigative resources and a Service that meets the public's expectations of safety and security. Additionally, the Government will support the Police Commissioner's plans to meet threats posed by cyber-crime as well as the critical training required to meet international standards for the detection and investigation of economic crimes.
"Liquor Licensing Act: Government will extend the effort to combat anti-social behaviour and violent crime to licensed liquor establishments, which often act as magnets for such activity. Accordingly, consultations will be held with the Senior Magistrate and the Bermuda Police Service for amendments to the Liquor Licensing Act to enhance the powers of a senior police officer to temporarily suspend a liquor license when warranted.
"Cash Back for Communities: Government will continue supporting communities, sports clubs and helping agencies through Cash Back for Communities, a programme made possible by the passage of the Proceeds of Crime Amendment Act, which came into effect in September 2015. To date, more than $600,000 has been distributed in support of community organizations and programmes through this helpful initiative.
Bermuda Fire & Rescue Service: The recent fire on Front Street saw the men and women of the BF&RS at their best. Their actions minimized the damage to adjacent buildings and the fire was extinguished without injury or loss of life. The Government will ensure the BFRS has the resources to continue fulfilling its first-responder responsibilities.
"Emergency Measures Organization: The Government, having fulfilled its commitment to appoint a senior Police officer to serve as National Disaster Coordinator, will invite the Legislature to consider a Bill to codify the remit, authority and composition of the EMO and to strengthen its ability to deal with the varying threats to the Island.
"Department of Corrections: In keeping with the philosophy of rehabilitation and preparing inmates to live productive lives in society, the Department of Corrections will conduct an extensive review of all programmes to ensure inmates are best served while incarcerated. Additional officers are being recruited and enhanced security measures for officers will be implemented in the coming months.
"Social Host Legislation: A survey of school-aged children in 2015 found that 53% of Bermuda's young people admitted to having used alcohol at least once. Of those, most reported drinking at social events, at home or at a friend's house. Underage drinking can lead to a lifetime of alcohol abuse and concurrent social and health issues that are too frequently seen in our society. Preventing it requires a whole-community effort. During this session, the Legislature will be invited to debate a Motion on "social host liability laws" which have been used in other jurisdictions to impose responsibility on adults who provide or allow the provision of alcohol to minors. Following the debate and necessary consultation, a Bill will be tabled setting out provisions to address this serious issue of underage alcohol consumption and abuse."
Read More About