[Opinion column written by BPSU President Jason Hayward]
In October 2016, a delegation from the Bermuda Trade Union Congress [BTUC] attended the Quebec 2016 International Summit of Cooperatives.
The event attracted more than 2,500 participants from 93 countries, bringing together managers, decision-makers and leaders of cooperatives and mutual enterprises of all sizes and from all sectors. This summit provided a unique venue for reflection, discussion, cooperation and training on major trends, and current and Future economic and financial issues.
The aim of the BTUC delegation's attendance was to network with cooperative professionals and experts in order to gain knowledge on the industry, build relations that will allow us to capacity-build in regards to cooperatives in Bermuda, and explore options for cooperative business development.
A key component of the summit's agenda was demonstrating that cooperatives are one answer to the major socio-economic issues currently being faced throughout the world.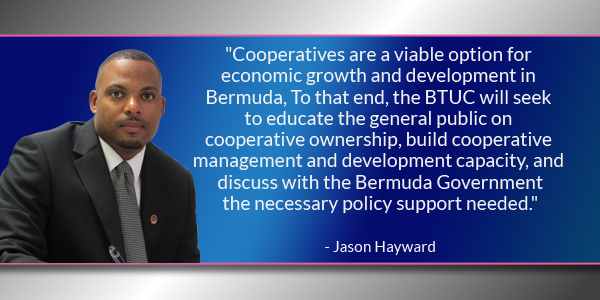 According to the ILO, cooperatives are autonomous associations of persons united voluntarily to meet their common economic, social and cultural needs, and aspirations through a jointly owned, and democratically controlled, enterprise. Cooperatives have several types of ownership models including:
Worker/Employee Cooperatives – members who work in the business;
Consumer Cooperatives – members are consumers of commodities;
Solidarity Cooperatives – multi stakeholder co-operative, members can be both consumers and workers;
Small Business Cooperatives – organizations or businesses that pool their resources in order to compete with larger corporations; members are producers of goods and sery ices.
Regardless of the ownership structure, cooperatives generally operate with common values and principles such as:
cooperative values of self-help, self-responsibility, democracy, equality, equity and solidarity; as well as ethical values of honesty, openness, social responsibility and caring for others; and,
cooperative principles developed by the international cooperative movement. These principles are: voluntary and open membership; democratic member control; member economic participation; autonomy and independence; education, training and information; cooperation among cooperatives; and concern for community.
In Bermuda, our experience with cooperatives has been primarily limited to the businesses established by the members of the Bermuda Industrial Union [BIU], namely the BIU Members Credit Union and the Co-op Supermarket. The Credit Union continues to grow at a slow and steady pace while the Co-op Supermarket met its fate many years ago.
Unlike in Bermuda, cooperative businesses are thriving and are viable business models throughout the rest out of the world. The International Cooperative Alliance reported that cooperatives provide full-time or part-time employment to over 250 million persons worldwide.
In addition, the overall annual turnover of cooperatives exceed $2 trillion annually. Cooperatives are found in a range of sectors including: Banking and Finance, Insurance, Agriculture, Utilities, Wholesale and Retail, Healthcare and Housing.
Cooperatives exist in almost every country of the world. This is because they create value for the economies in which they operate. Cooperatives promote economic development through the formulation of new businesses and the creation of jobs.
Additionally, they allow ordinary citizens to become business owners and managers, are sustainable, and are a healthy alternative to wealth-driven business models. While Bermuda continues to search for a second pillar for its economy, cooperatives will allow for the expansion of current industrial sectors.
Cooperatives are a viable option for economic growth and development in Bermuda, To that end, the BTUC will seek to educate the general public on cooperative ownership, build cooperative management and development capacity, and discuss with the Bermuda Government the necessary policy support needed.
- Jason Hayward

20 Most Recent Opinion Columns

Opinion columns reflect the views of the writer, and not those of Bernews Ltd. To submit an Opinion Column/Letter to the Editor, please email info@bernews.com. Bernews welcomes submissions, and while there are no length restrictions, all columns must be signed by the writer's real name.
-
Read More About