Team BDA — Bermuda's entry into the Red Bull Youth America's Cup – officially named their training boat "CAT-5" at a boat christening held at the team's base on Darrell's Island.
The name was decided by the 11 team members as they sought a moniker to accurately reflect their ultra-high performance foiling GC32: a force to be reckoned with; raced with a crew of five; and is a catamaran.
Peter Durhager, Team BDA chairman, completed the traditional ceremony by pouring some champagne over the boat's hull.
Dr Grant Gibbons, Minister of Economic Development, was also on hand for the ceremony and spoke to the opportunity created by the Red Bull Youth America's Cup.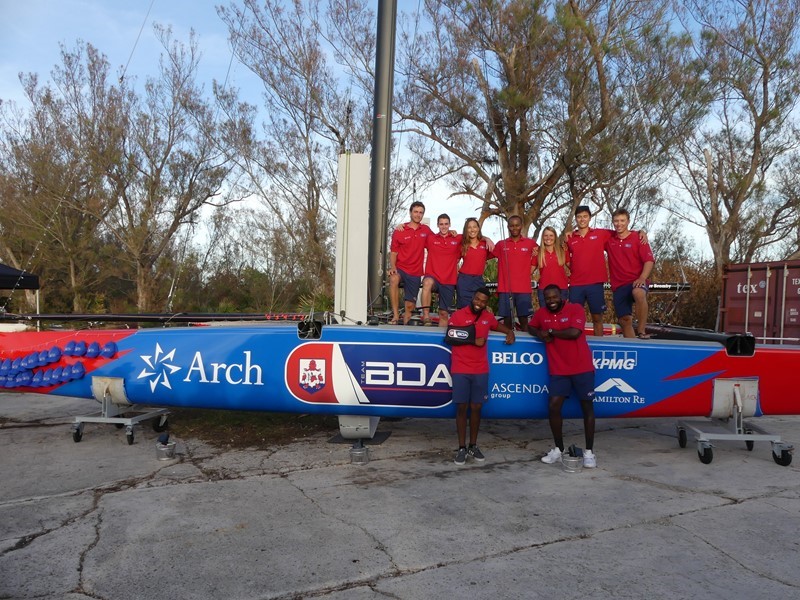 "Having a Bermuda team in the Youth America's Cup is yet another wonderful opportunity that has arisen from Bermuda's hosting of the America's Cup," Dr Gibbons says.
"These young Bermudians have grabbed this opportunity with both hands. The benefits of this experience extend well beyond the racecourse. They are learning what it's like to operate in a professional sporting environment and developing life skills that they will carry into their future endeavours."
The Bermuda team was adopted by ORACLE TEAM USA as its representative in the Red Bull Youth America's Cup. Each of the six America's Cup teams is entering a team in the regatta, with up to 10 other teams from around the world also taking part.
"To me, the Red Bull Youth America's Cup is about opportunity," says Jimmy Spithill, skipper of ORACLE TEAM USA. "Up until now, there hasn't really been a pathway for younger sailors to advance into the America's Cup.
"But since the first Red Bull Youth America's Cup in 2013, we have seen at least five sailors who competed last time, who took the opportunity to showcase their skills, recruited to work with one of the America's Cup teams now.
"My hope is that we'll see some of the guys and girls on Team BDA embrace this challenge and hopefully they'll end up on one of the America's Cup teams next time around."
Also in attendance from ORACLE TEAM USA was Cooper Dressler who raced in the 2013 Red Bull Youth America's Cup and has since earned his way onto the full America's Cup team.
Team BDA is a privately funded enterprise supported by corporate and individual donations, as well as goods and services from a number of local business partners. Corporate sponsors are Arch Capital Group Ltd., KPMG, Ascendant Group, BELCO and Hamilton Re.
Peter Durhager, Chairman of Team BDA, acknowledged the wide range of support the team has received from the community, saying, "Building a team to compete at this level is no easy task, so the support this team continues to receive is greatly appreciated.
"We are also looking forward to hosting approximately 150 young sailors from around the world in Bermuda next year."
The Red Bull Youth America's Cup will take place from June 12–21, 2017, in Bermuda. The teams will compete in AC45s, the same foiling catamarans being used by the America's Cup teams in the Louis Vuitton America's Cup World Series events.
Team BDA will use "CAT-5" as their main training boat as they prepare for the event. Head coach Richard Clarke explained that the AC45, and the GC32, are extremely physically demanding boats to race, which meant seeking some of Bermuda's best athletes, as well as sailors, in putting the team together.
The final team emerged from a grueling series of tryouts and training camps that saw more than 120 young Bermudians originally try out for the team.
"We were sure to put this opportunity out to every young person who could help the team," he said. "These eleven young people emerged from an exhaustive process and continue to impress me with their determination and commitment to represent their country.
"There is a lot of hard work ahead but I'm confident this team is up for the challenge."

Read More About