Auditor General Heather Thomas has taken the time to clarify her office's mandate as defined in the Bermuda Constitution and the Audit Act 1990.
A spokesperson said, "The Auditor General, Ms. Heather Thomas responds to questions about the mandate of the Office of the Auditor General, the audits she conducts and her activities.
"The Auditor General's mandate is derived from the Bermuda Constitution and the Audit Act 1990. Her primary role is to assist Members of the House of Assembly to discharge their responsibilities for overseeing the activities of government and for holding government accountable for its handling and accounting of the taxpayers' dollars."
Ms. Thomas said, "It is the role of Parliament and elected officials to decide on policy. I do not have any role in reviewing or commenting on the relevance or appropriateness of government's policy decisions. As such, the Office of the Auditor General does not report on nor evaluates policies of the Government.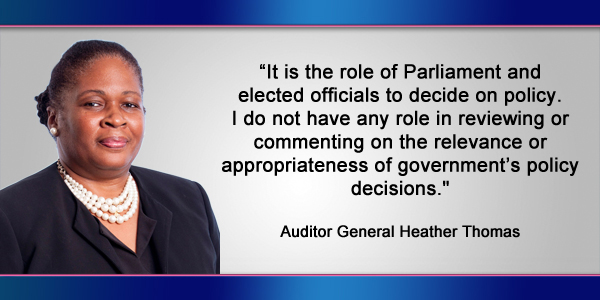 "I am therefore unable and will not respond to topics or inquires which do not relate to my mandate and role. However, as Auditor General, I can report on, at my discretion, how policies are implemented."
The spokesperson said, "As in other parliamentary systems, the public's elected representatives, the Members of the House of Assembly, control the public purse. While it is up to government to develop budgets and spending estimates, it may neither collect nor spend taxpayers' money without the House of Assembly approval.
"After government spends the money entrusted to it, it has to report to the Assembly on how it used those public funds. The Assembly needs assurance that the information reported by government is appropriate, credible and complete and that it accurately reflects the results of the activities of government.
"This is where the independent role of the Auditor General of Bermuda is critically vital to the integrity of our Government's finances. As Auditor General, I provide a link in the chain of accountability and one that is vital to the democratic process of responsible government.
"The Auditor General and her office conduct the independent audit function to provide the assurance to the Bermuda Government, the Members of the House of Assembly, the Bermuda taxpayers, the various credit rating agencies, and the global finance community."
Read More About