[Written by Don Burgess]
The Bermuda Tourism Authority has ended its marketing agreement that focuses on the Italian tourist.
Glenn Jones, director of public and stakeholder relations at the BTA, told the Bernews: "With the launch of the new gotobermuda.com website and the constant review and analysis of our social media channels, it was decided having one social presence in Europe [mostly targeting the U.K.] and one in North America [mostly targeting the US] are sufficient. This streamlining helps us stay true to one brand voice for Bermuda in the markets where most of our visitors come from."
The Ente Turismo Bermuda Twitter account had 7,183 followeras before it was suspended. It was ranked 26th in the Bermuda Twitter rankings. The associated Facebook, Instagram, and Pinterest accounts have also been suspended.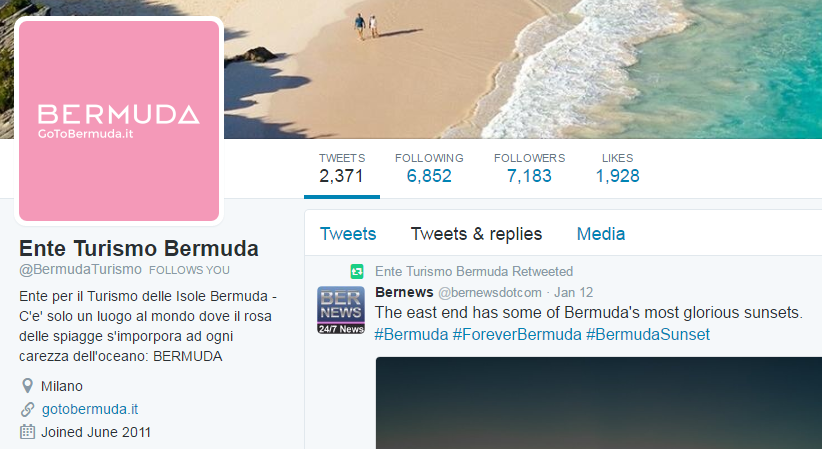 Concetta Rossetti, sales and marketing director at Destination Srl which handled the Italian social media accounts for the BTA, told Bernews the relationship was severed on January 1.
She said it is easier to appeal to the UK and German markets as the weather isn't as pleasant as Italy.
"The Italians already have everything, being a peninsular, has beaches all over, lovely weather, great cuisine, amazing fashion, they can ski at Cortina in the winter and eat an ice cream while walking around the Colosseum etc. so for them to go anywhere you have to have lots more to lure them.
"Bermuda is expensive, that they know, as they compare Bermuda with other islands and most of the other islands have fully inclusive rates and a lot more hotels which allow them to be able to keep the prices affordable."
She added she has no hard feelings and has "heartfelt regards to a beloved island I have grown so immensely fond of."

Read More About