[Written by BEDC Chairman Nick Kempe]
There is still the impression in the community that large amounts of financing will be needed to cash in on the numerous AC35 business opportunities. Far too many are operating under the belief that expensive equipment or guaranteed contracts are required to get in the game.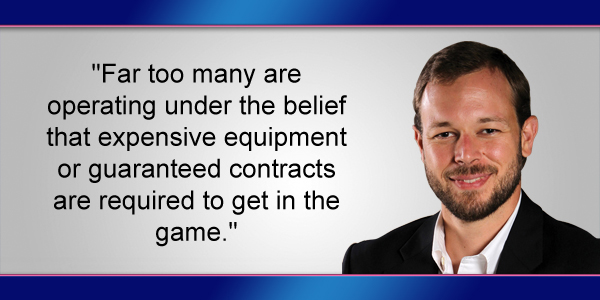 However, there are a great number of small business opportunities that should require minimal overhead. As such, the BEDC has been preaching the bootstrapping approach to entrepreneurship with our Ice House program for the last 2 years.
The Cup will be here for a short window, and it will be here soon. Accordingly, there is a need for businesses to get started with planning and financing. The volume of demand will be eye watering, and businesses will be able to get paid back before the end of the Cup.
The following cases, which came up at the 6 "Local Biz Opps" public meetings held during the last month, can be easily resolved with an entrepreneurial mindset and a bootstrapping approach.
Ice: It is estimated that the need for ice will be something substantial like 160k bags of ice per day. Buying an ice machine to handle this volume would cost a lot, and it would need to be shipped in and probably back out. Why not instead buy a refrigerated container full of loads of pre-bagged ice? People could come to you, or delivery could be added to the business offerings. Other costs may be getting a few electrical plugs installed and renting some space to unload the containers.
Laundry: There are many laundromats that might be interested in servicing the increased volume. They may be interested in offering their facilities to an entrepreneur to lease out to run night shifts. Collection and delivery would be a separate service that could be offered internally or by partnering with another entrepreneur.
On-site services: Many existing businesses or at-home service providers can massively expand their market by offering services to the many yacht and hotel guests: barbers, beauticians, baby-sitters, personal chefs, pet-grooming, etc.
In order to support small business ability to engage in the many opportunity highlighted in the Local Biz Opps meetings, the BEDC has doubled the existing Micro-Loan loan up to $20,000 for America's Cup opportunities, with the following conditions:
The business plan must service an America's Cup market demand.
The business plan must show that the loan/investment can be paid back prior to the end of the Cup. Exceptions may be made if a compelling argument is offered that the business will continue to service a local need at post-AC35 levels of demand.
Take note that many of these opportunities require little to no business experience, capital or equipment to deliver successfully. Once you know you intend to service an AC35 related need, email info@bedc.bm, visit us online at www.bedc.bm or call 292-5570 to start the Microloan process. You can and should also register your interest to service a Cup related need directly with the ACBDA at localbizopps@acbda.bm.
- Nick Kempe

20 Most Recent Opinion Columns

Opinion columns reflect the views of the writer, and not those of Bernews Ltd. To submit an Opinion Column/Letter to the Editor, please email info@bernews.com. Bernews welcomes submissions, and while there are no length restrictions, all columns must be signed by the writer's real name.
-


Read More About