Current Vehicles, who operate a livery of Twizy cars, today announced a competition for Dellwood Middle School students to design wraps for the outside of their rental cars.
The competition was launched this morning at Dellwood Middle School by the General Manager of Current Vehicles, Jerome Overbey, who gave a presentation to students accompanied by a Twizy car, and distributed entry forms for the competition.
At least three lucky students will have their designs chosen and printed onto a Twizy which will help to generate funding for their school. The name, age and school of the winners will be printed on the car. The three winners and two runners-ups will also win a complimentary weekend Twizy rental for their family.
This marks the beginning of a new initiative by Current Vehicles, which aims to have its entire fleet of cars wrapped with different designs done by students from around the island.
Competitions will be rolled out at more schools in the new year. This programme is designed to directly involve students in Bermuda's tourism product, giving them the chance to come up with designs that are truly representative of Bermuda and its people, while raising much needed funding for the public school system and other local charities.
Current Vehicles General Manager Jerome Overbey, with Principal Tina J. Duke and Dellwood Middle School staff and students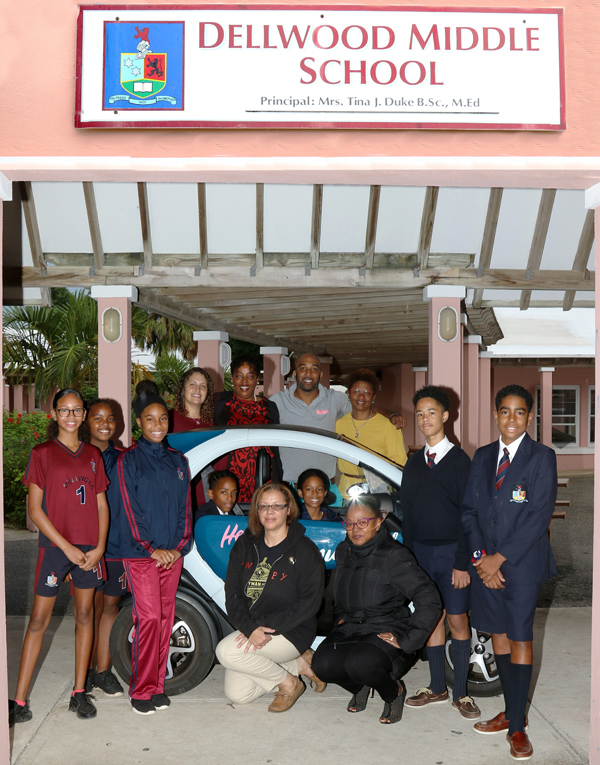 Current Vehicles has connected with local businesses who will generously sponsor each individually designed Twizy, with the proceeds going to the school of that artist, in this first case Dellwood Middle school. Each student designed Twizy will generate roughly $1000 for their school.
Students must submit their designs to their teachers by January 15, 2018 with five finalists being chosen by the sponsors. The finalists will be announced on the companies @currentvehicles Instagram account.
The three winners will be determined by popular vote [likes] and announced on January 21st. Students whose designs aren't selected may still get a chance to see their work on a Twizy in the future as all entries will be kept on file for potential use as the company's fleet grows.
Dellwood students are encouraged to create a design that reflects "My Bermudaful". Words and phrases can also be incorporated. Coloured pencils, pens, paints, crayons, flat collage or a mixture may be used.
The Twizy cars are well known across the island and are seen by thousands of people a day, both in Bermuda and across the world through social media, so this is a great opportunity for a budding artist to have their work seen.
Piers Carr, Chief Executive Officer of Current Vehicles, said: "We are very excited to be launching this competition for Dellwood Middle School students and can't wait to see what creative designs the students come up with. We feel it is crucial to involve our school children in tourism from an early age and give them a chance to be part of this exciting phase in the industry.
"This is just the first step in our new initiative to customise every Twizy with a Bermudian design and towards developing a sponsorship programme, which will enable local businesses to sponsor the designers' school or charity.
"This will allow us to give back to the community, give budding artists a platform to show off their artistic talents and to showcase Bermudian creativity both here and to the social media world."

Read More About