A record number of girls at Saltus Grammar School are taking ICT as a GCSE.
It comes as the school marks International Girls in ICT Day, with a series of events to highlight the ability of its female students.
"There is a perception that ICT is for boys. That simply is not true and we want to use today to showcase the work of our female students, some of which is outstanding," said Head of ICT, Tina Fountain
Ms Fountain highlighted the work of Ellie Dunleavy who recently won a competition, sponsored by Digicel, producing a Safety App.
Hannah Deacon, X'achela Robinson, and Ellen Butterfield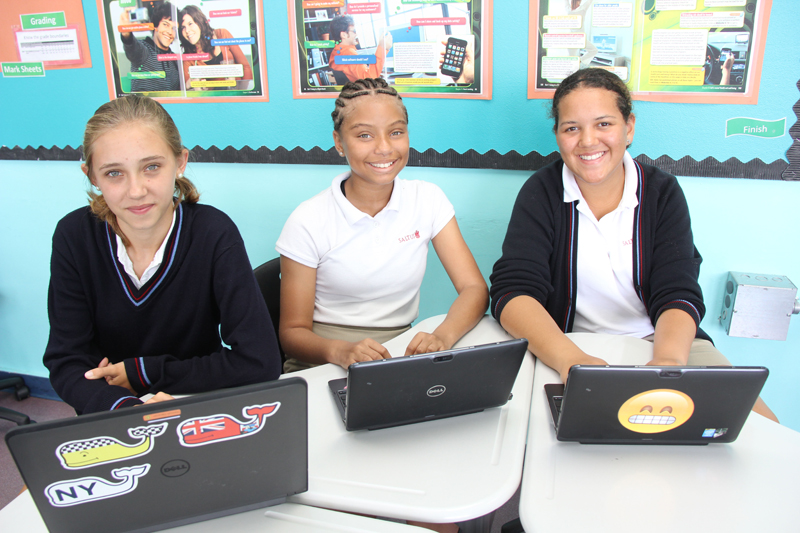 Ms Fountain added: "It did several different things including sending emergency text with your GPS location and tracked your route so you could find your way back if you got lost.
"Three of the four runner-up prize winners were girls: the best eco app Emma Mayor, the best tourist app Maya Malpas and the best concept/idea Isabella Murdoch."
Events at the School include S2 girls at Lower Primary using Stop Motion animation, S7 and S8 girls going to the Primary to share work projects and code with S3 to S6 girls.
In the Primary Department there will also be a S4 Mothers and Daughters session, where the moms are coming in to learn from their daughters about areas such as coding, creating books on iPads and making movies using Stop Motion. The daughters will lead this session.
In Secondary, the S9 ICT 9 groups have been tasked to look at ICT and girls and the gender perspective.
The S11 group are putting together a video based on their discussions on why more boys have traditionally taken ICT and computing at Saltus and what has been done to change the girls' perceptions over the last couple of years to impact positive change.
Hannah Deacon, 14, showed the difference between perception and reality when she said: "I always thought I was not good at ICT and that boys were better, yet I earned a distinction showing me that I am at least as good as the boys."
Ms Fountain added: "With record numbers of girls at Saltus taking ICT GCSE the future does indeed look bright for 'Girls in ICT'."

Read More About
Category: All, News, technology