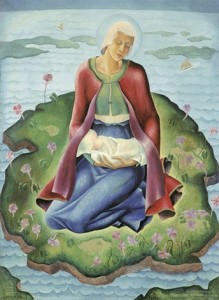 Masterworks Museum of Bermuda Art has acquired a stunning painting painted in Bermuda by renowned Austrian artist Herbert Gurschner.
Gurschner painted the work during a visit he is believed to have made to Bermuda in 1936 and was first exhibited at the Ferargil Galleries in New York in April 1937.
Titled "Madonna of the Island" and signed 'Herbert Gurschner Tucker's Island', the painting depicts one of arts most prolific muses, the Madonna and Child, with the island also having served as a muse to the artist.
At the time he painted in Bermuda, Gurschner was a successful internationally renowned artist and this period marks the height of his career.
Gurschner's work from this time period is very rare to find, but the oil painting on canvas, which will now be part of Masterwork's collection, is in perfect condition.
The "Neue Sachlichkeit" or New Objectivity movement in German art that arose during the 1920s inspired Gurschner's style. The works were executed in a realistic style in contrast to the prevailing styles of Expressionism.
"This is one of the most significant works that we could add to our collection given the nature of the subject matter," said Tom Butterfield, founder and creative director at Masterworks.
"The clouds of war were closing in and Gurschner finds himself in Bermuda and out of the shadows of a crumbling world he depicts this vision of nurturing. It really feels like a foreshadowing of what we are doing here at Masterworks; nurturing art and the world around us," said Mr Butterfield.
He added: "The work is unique and there appears to be no end to the muse of the island and the muse of the Madonna and child. The muse of the island is virtually without end, which is a pretty remarkable thing for a 21 square mile island. This is another great treasure for Bermuda."
The painting, which measures an impressive 152cm x 111cm, will go on full display next year as the Museum celebrates its 10th Anniversary on the opening of its gallery in the Botanical Gardens. For now, it will remain in the library under recent acquisitions where it can be viewed.
The "Madonna of the Island" will join another of Gurschner's paintings that is currently part of the gallery's collection that features a portrait of well-known Bermudian character Claudia Darrell, who owned the Waterlot Inn.
Katarina Hoskins, Honorary Consul of Austria, noted: "The particular style of Austrian art that Gurschner was known for was very dark as he was working during the war and much of his inspiration was taken from the time he was living in.
"However, in his later years he was also well-known for the tourism advertising in Austria and also painted a lot of landscapes due to his country upbringing."

Read More About
Category: All, Entertainment