"For 14 years the PLP failed Bermuda's students. Yet they now claim to have all the answers," Minister of Education Cole Simons said, adding that, "It is shameful that the Opposition is using our children for their own political mischievousness, but this is what we have come to expect from a group that put themselves before the people of this country."
The Minister's comments follow after the PLP held a press conference yesterday, with Spokesperson for Education Diallo Rabain, Spokesperson for Labour & Workforce Development Rolfe Commissiong, and PLP Spokesperson for Disability Affairs & Senate Spokesperson for Education Senator Tinee Furbert all making remarks on education.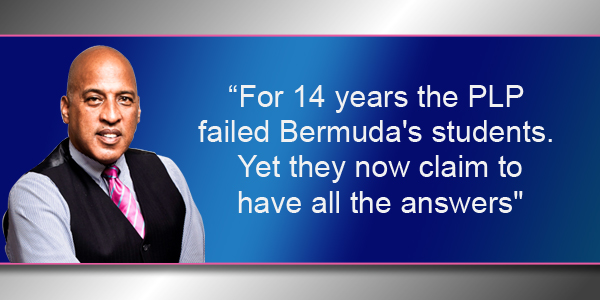 Minister Simons said, "The Opposition clearly has a short memory when it comes to protests against the government.
"May I remind them that prior to the OBA Government's election in 2012, there was a long history of protest and complaint against the PLP Government's record in education. Budget cutbacks, teacher redundancies, lack of consultation, lack of collaboration, protracted contract negotiations and arrogance — all contributed to widespread dissatisfaction and disappointment with the PLP's management of the school system.
"The PLP now want everyone to forget those lost years. They are now in election mode, and so all they say must be seen through that filter, because it is a filter that plays fast, and loose with truth, and reality and tries hard to taint the progress that is happening throughout the school system.
"Let me remind PLP, and the people of Bermuda, that in June, 2008, for the first time in Bermuda's history, every union on the island was engaged in a dispute with the PLP Government.
"These disputes culminated in a march to the Cabinet Office. Protesters were there by thousands. There were police officers, teachers, civil servants and supporters from non-Government unions.
"At the time, the Bermuda Public Services Union President said that "no government has had a worse relationship with labor for 20 to 30 years". It was the first time in Bermuda's history that every union was locked in disputes overworking conditions, staffing and salaries.
"The then Premier, Premier Ewart Brown indicated that "he was disappointed with the frequency of the labour unrest…"
"For 14 years the PLP failed Bermuda's students. Yet they now claim to have all the answers. It is shameful that the Opposition is using our children for their own political mischievousness, but this is what we have come to expect from a group that put themselves before the people of this country.
"As Minister responsible for Education, it will be remiss of me not to respond to the statements made by representatives of the Progressive Labour Party at their press conference held yesterday. I would like to correct and bring clarity around some of the statements made regarding initiatives relating to the Bermuda Public School System.
"However, first let me state that the Ministry of Education is setting in motion reforms to ensure the delivery first class, 21st Century education for our children in Bermuda Public Schools. Our focus is to provide the necessary options for success based on student needs and desires, as we continue to develop the required infrastructure and resources for the System.
"This Government acknowledges the important work that teachers perform on a daily basis. There is absolutely no doubt that teachers and all educators are critical influencers in the development of our children, through providing them with the values, knowledge and skills necessary for future success.
"With that said, let me speak about social promotion. It does not exist in our public school system. I am aware of the complexities that we have in our education system as it relates to student learning. Our students are at various levels in their individual learning continuum, and as such require different services and supports to ensure their success.
"However, moving children along indiscriminately or social promotion is not now nor has it ever been the solution. Our students are not being promoted to the next level without first meeting established minimum requirements. In this regard, we have commenced the implementation of processes and frameworks such as learning support and multi-tier systems of support so that each student has the opportunity to succeed.
"Reference was made to strengthening parental involvement in our schools through the establishment of school Boards of Governors. Parental involvement in our children's education is without saying, a key contributing element to the quality of our education system.
"In 2015, this Government introduced legislation that provided for a framework to strengthen parental involvement in schools which included: the introduction of parent councils for maintained primary and middle schools; the establishment of a parental involvement committee for the Public School System; and, the development of a parental involvement strategy by this committee.
"This framework facilitates the direct involvement of our parents/guardians into the education of their children by working with the school leaders and having a say in the respective school improvement plans. This has much greater impact than the establishment of individual school boards.
"This Government's promise to implement fully integrated technical education beginning in the middle schools is currently in train. The City & Guilds Mathematics and English Arts curriculum will be implemented at the M3 and S1 levels in September 2017.
"This curriculum will provide an alternative path for students who learn best through applied learning. The curriculum will allow students to enjoy their learning through "doing". The curriculum will also assist in providing a smoother transition for students from middle school M3 to senior school S1 level. In short, students will have a choice to enroll in the City & Guilds programme at the middle school level with the understanding of continuing the experience at the senior school level.
"Also at the middle school level, Science, Technology, Engineering and Mathematics, or STEM education, is presently being delivered. At the start of this current school year, the Department of Education implemented a STEM 101 curriculum. Last summer teachers from primary, middle, senior school and the Bermuda College undertook instructors training to become STEM certified. All received the STEM certification and are now qualified as entry level STEM instructors.
"Through this training, teachers will now introduce, inspire and encourage students to further study in the sciences as well as in technical/vocational education starting at the middle school level. Evidence of this was revealed this year when Clearwater Middle School won the BIOS Robotics competition for the third consecutive year. Additionally, as early as MI students are exposed to Design & Technology classes which are delivered in four out of the five middle schools.
"I also want to add that Bermuda History is taught and covered in the public school system through Social Studies strands that include History, Geography and Civics. At the P1-P3 year levels students learn about Bermuda's History and culture through textbooks written by Bermudian teachers to specifically cover curriculum content. There is one text book for each year level aligned to the curriculum content.
"At the P4-P6 year levels students learn about the discovery and colonization of Bermuda from 1505 to the present and cover various aspects of this information as outlined in the text book Bermuda Five Centuries for Young People.
"At the M1 to M3 year levels topics explored in greater detail are:
M1 – The Five Themes of Geography as they relate to Bermuda
M2 – Colonization, Slavery and its Abolition
M3 – Emancipation, Political Parties/Universal Adult Suffrage/Trade Unions/, and Bermuda in the Modern Era, Tourism, International Business and Citizenship.
"At the Senior School level all students are required to take and pass the Bermuda Studies course which covers such topics as:
Bermuda after Emancipation
Political Parties/Trade Unions, etc
Tourism, International Business
Modern Bermuda
"Lastly, the Inquiry Framework is a new initiative that was launched in 2015 with a focus on engaging our youngest learners [preschoolers] in what they do best – noticing, wondering, exploring and sharing what they are learning.
"Significant strides have been made at the preschool level in the delivery of the Creative Curriculum using an inquiry approach. This was quite evident last week as preschool teachers and administrators came together at Victor Scott Preschool to showcase some of their inquiry work as posters, displays and presentations.
"The community partners who attended this celebration commented on the children's questions, knowledge, theories and their critical thinking. They noted the shifts that teachers have made in their practices, and commended teachers on their openness and willingness to change. The goal of the Department of Education is that inquiry becomes an essential strategy used by all teachers to ensure students are engaged in meaningful and authentic learning experiences in all subject areas.
"In closing, let me reiterate that this Government is committed to ensuring that our students are the reason for everything that we do. We value the work of our teachers, our school principals, our educators and Department of Education staff and will ensure that we serve collaboratively in the best interests of our children."

Read More About