Sail Bermuda, a family owned business offering customised private sailing and snorkeling adventures, has recently expanded its service by adding a new catamaran to its fleet.
Originally started by Bobby Zuill in the late 1990's, Sail Bermuda is now being run by son Caleb and his wife Marilyn. The couple count acquiring their new 47' catamaran Wyuna as a "dream come true".
Since the vessel arrived in Bermuda last month, they've hosted Birthdays, Bachelorette/ Cocktail Parties and Private Sunset Cruises on board. They are also gearing up to offer personalized tours on Wyuna during America's Cup, with select dates available from May 26 to June 6, as well as openings during the Super Yacht Regatta from June 13 to 15.
Marilyn Zuill, son Logan Zuill, Caleb Zuill, Rachael Zuill and Bobby Zuill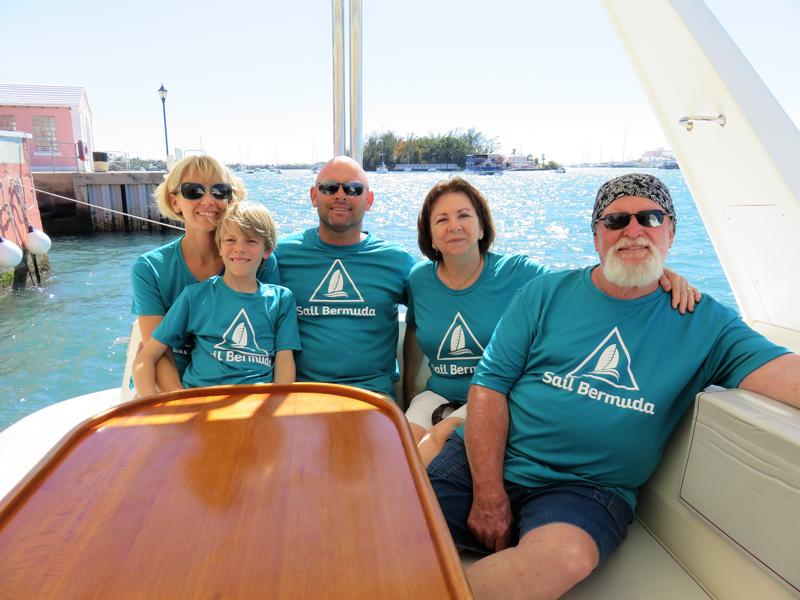 "I've dreamed of owning a boat like this ever since I was a teenager, working on catamarans in Bermuda during my summer holidays," Caleb Zuill explained. "I had talked about it for years and finally my wife, Marilyn, suggested we do it. She told me if there was ever a time to go for it, America's Cup was it, with so many visitors coming to the Island and looking for a unique way to see all that Bermuda has to offer.
"We found Wyuna in November and she arrived in April. It took us a while to get her ready and kit her out with new décor, paddle boards, full snorkel gear and other audio visual equipment, but we're excited to showcase her in all her glory over the warm weather months."
Caleb, a local fireman, is running Sail Bermuda in addition to his full time job with Bermuda Fire Service. In January his wife, Marilyn, left her job in graphic design to handle the business' marketing, branding and bookings going forward.
"It's been a huge blessing to work together as a family," Marilyn said. "It's been exciting, but also a challenge as well, a good one. It has allowed me to use the skills I developed in advertising over the last ten years to build a new brand and learn new skills in social media.
Caleb and Bobby Zuill on Sail Bermuda's newest edition, a 47′ catamaran Wyuna.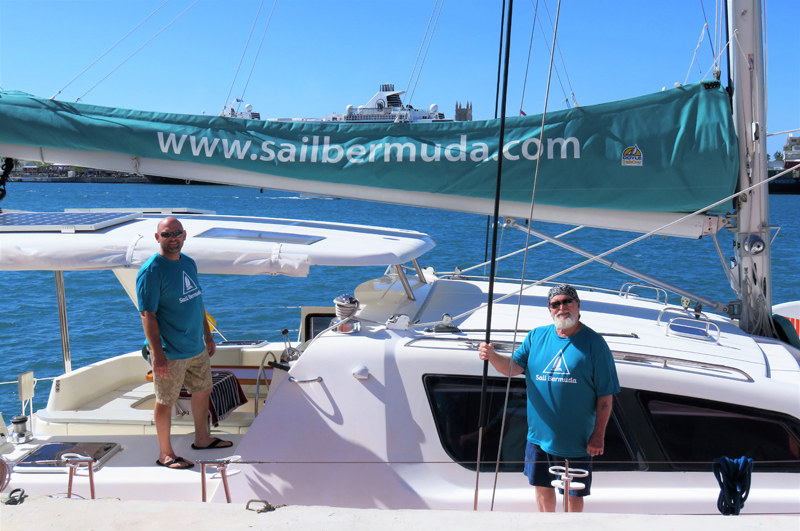 "Our vision is to turn Sail Bermuda into something that's our own. It's been great working together with Caleb and bouncing our ideas off each other. We've changed the logo, branding colours and even created more of a beachy, island feel on board. Our hope is that guests will feel comfortable and relaxed from the moment they step on deck and get the chance to create one-of-a-kind memories with the people they love."
Caleb Zuill said no other charter company on Island offered guests both a traditional sail boat and catamaran experience.
Sail Bermuda's catamaran is a great option for groups with young children or seniors as it provides a level footing and offers easy access to the water. Meanwhile the company's 51' mono hull, Shekynah, is better suited for more experienced sailors or adventure enthusiasts.
"It's exciting to have both options to offer guests," Marilyn said. "We consider ourselves ambassadors of the Island and now we have this unique possibility of showing even more tourists what Bermuda is like from the waterside.
"We are looking to offer a truly unique experience that caters to our guests, whether they want to snorkel or paddle board or visit a more secluded beach – we can plan it. We can even provide catering on board or drop people off on the mainland to enjoy lunch or dinner. It's totally tailored to what people want.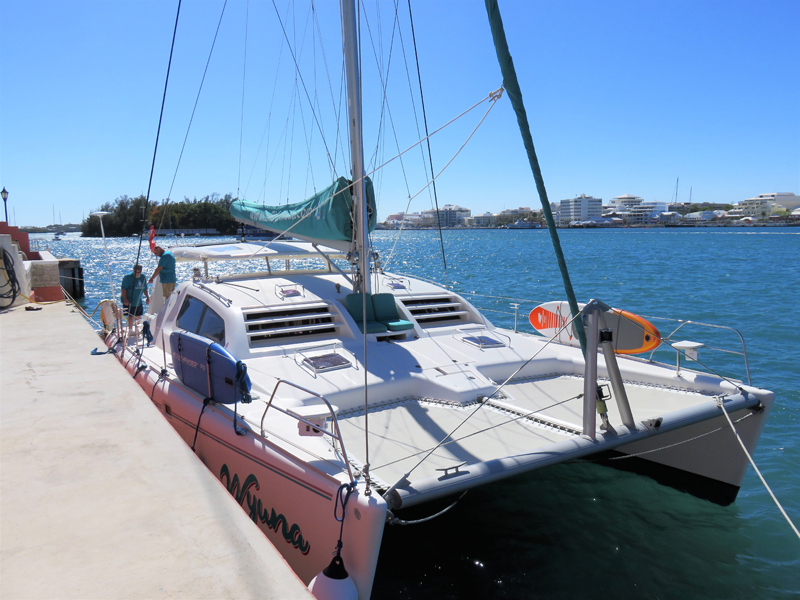 "The best part is when we get out to sea, turn the engine off and people get completely immersed in the beauty of Bermuda. There's nothing else like it. Our waterside pretty much sells itself and people fall in love with all that the Island has to offer."
Over the busy summer months Bobby Zuill will be manning Shekynah, while Caleb Zuill operates Wyuna. They will also have a few young Bermudians working with them on the vessels to ensure smooth sailing for their guests.
"We like to promote local businesses and pride ourselves on hiring Bermudians," Marilyn added. "I believe Bermudians have a lot to offer and if we work together I really think America's Cup will be the opportune time to showcase that to the rest of the world."
To find out more about Sail Bermuda, visit www.sailbermuda.com or to inquire about America's Cup rates and bookings e-mail: info@sailbermuda.com.

Read More About