[Updated with video] Up to 60 additional taxi operators are preparing to offer credit card payment options for their customers, the Bermuda Tourism Authority said today.
The BTA said, "The move is especially welcomed for the island's tourism industry, as Bermuda Tourism Authority research shows most visitors prefer to pay for their ground transport using a method other than cash.
"There are clear benefits to the visitor experience when we add alternatives to cash in our transport options," said Bermuda Tourism Authority Chief Product and Experiences Development Officer Pat Phillip-Fairn.
"While it is obvious visitors will benefit, we expect taxi drivers to benefit as well because, according to the research we've seen, technological advances can lead to increased revenue for drivers and enhanced personal safety because they're carrying less cash."
The Bermuda Tourism Authority presented taxi drivers with Bermuda branded hats to congratulate them on their industry leadership. Pictured are [l to r] taxi drivers Leo Simmons, John Tucker, Richard Jones, Pat Phillip-Fairn [BTA], David Frost and Christopher Dill of Spectropay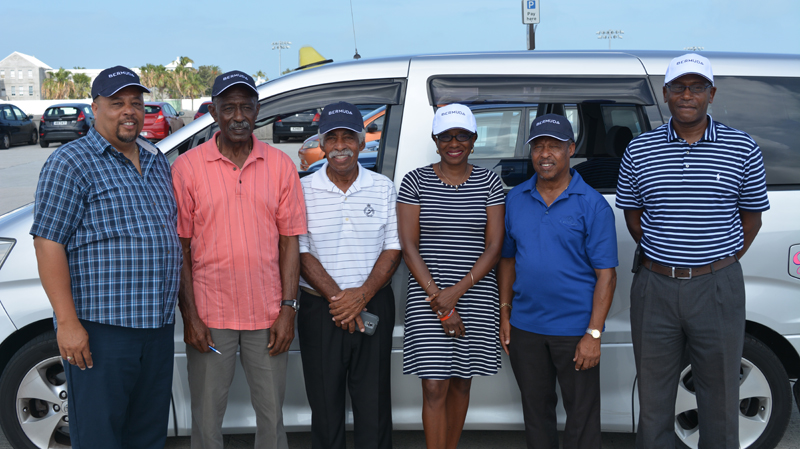 The BTA added, "More than 50 taxi operators have signed on with Butterfield Bank and local card terminal service provider Spectropay and are receiving training.
"Some are already on the road accepting new forms of payment. The Spectropay terminals feature "tap-and-go" technology, which facilitates easy payment and receipt of fares, making transactions effortless for drivers and customers.
Bermuda Taxi Owners Association Board Executive David Frost said: "Taxi drivers are embracing this technology because they understand the need to be responsive to the consumer's desire for convenience. We look forward to realising the increased revenue opportunities that other jurisdictions have seen when non-cash options are introduced.
"Safety and security is also an important issue for drivers these days, and it's easy to see how carrying less cash makes us safer while we're out on the road, especially at night."
Minister of Tourism, Transport and Municipalities Michael Fahy said: "The Government and the Bermuda Tourism Authority thank taxi operators already accepting card payments for their fares and we congratulate those who are now taking this step toward providing customer convenience for locals and visitors.
"It's critically important that we continue to advance our tourism product technologically, especially as we attract a younger audience and work to stay ahead of competing destinations."
"As digital payments evolve, we are always aiming to bring innovative services and convenience in day-to-day transactions to our customers," said Gabriele Zuliani, Head of the Caribbean at Mastercard.
"Enabling contactless technology in Bermuda's taxis is part of an important step toward our goal of helping customers take on what's new and what's next in their business."

Read More About
Category: All, Business, News, technology, Videos