Cricket teams Somerset and St George's put aside their rivalry to take the salute after the Royal Bermuda Regiment Band and Corps of Drums performed at Harbour Night in Hamilton.
Somerset Cricket Club president Alfred Maybury and St George's vice-president Mishael Paynter joined RBR Commanding Officer Lieutenant Colonel David Curley at Wednesday night's musical extravaganza and Beating the Retreat in Hamilton as his guests ahead of next week's clash.
Col. Curley said: "It's that time of the year for the competitive spirit of Cup Match – I reached out to the clubs and said it would be great if we could host senior members."
Game on: Somerset Cricket Club president Alfred Maybury, Lt Col David Curley of the RBR and Mishael Paynter, vice-president of St George's Cricket Club prepare to be entertained by the RBR's Band and Corps of Drums at Harbour Night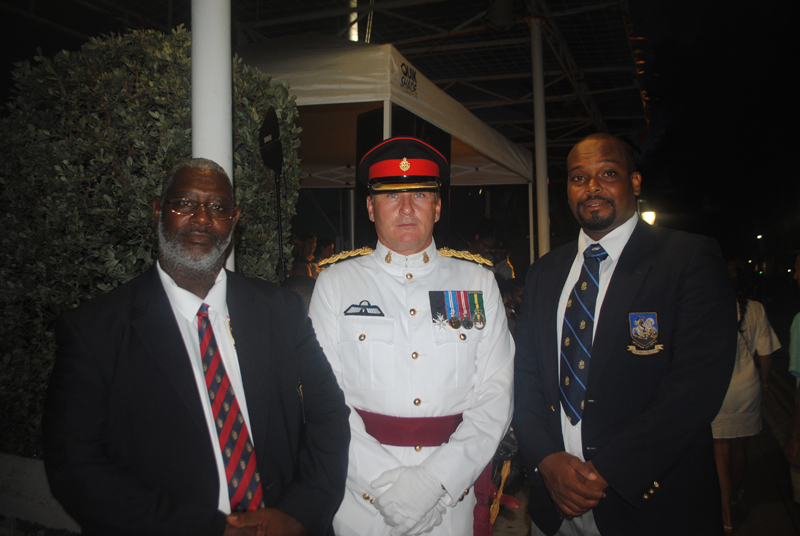 The Colonel – who admitted to being a St George's fan – added: "They got along really well – with a bit of banter, of course, but I was sitting between them to make sure everything went smoothly."
He added: "They were very keen to talk about the upcoming cricket match and I was able to tell them about the format and history of Beating the Retreat.
Col. Curley said: "We're all looking forward to a great and very professional Cup Match which will be held this year in St George's, right here on our doorsteps."
Mr Maybury said: "The rivalry is on the field – off the field, we're partners."
Mr Paynter added: "It's a very good ceremony – it's a part of our culture and history and it's important we continue our culture and traditions."
The Regiment performed with the Bermuda Islands Pipe Band and Highland dancers before the traditional Beating the Retreat ceremony.
Among the spectators who packed Front Street was Scottish visitor and junior bandsman James Grassick, who visited the RBR's HQ at Warwick Camp with mother Lee on Monday to meet the Band and Corps of Drums and watch them tune up for the Harbour Night performance.
Little James watched the band, wearing civilian clothes, practice and tried out some of the instruments.
James said after the Hamilton performance: "I liked the marching best and I liked the uniforms – that made a big difference."
The RBR Band and Corps of Drums will in September travel to Colorado in the US to perform at the massive Estes Park music festival and tattoo.

Read More About