A team of soldiers joined forces with police officers yesterday [Aug 1] as part of a massive safety and security operation at Cup Match.
A total of eight Royal Bermuda Regiment soldiers were deployed alongside the Bermuda Police Service to patrol St George's Cricket Club, this year's host of the annual East v. West cricket match.
RBR Commanding Officer Lt Col David Curley [left] and Regimental Sergeant Major Jason Harrell with tourist Erica Goulet, from Pennsylvania, at her first Cup Match.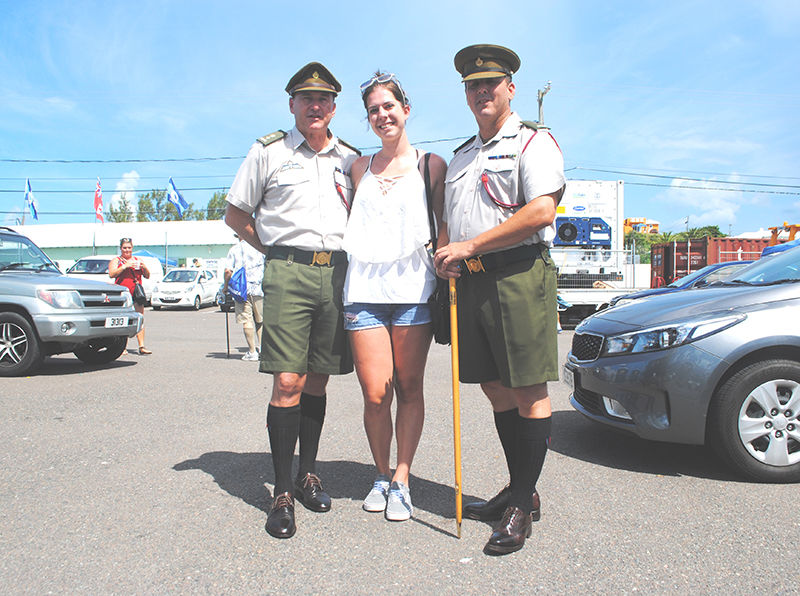 Private Keno Fox, 27, from St George, said: "It's been great. The atmosphere is electric – St George's is trying to prove itself this year."
The kitchen porter at The Loren at Pink Beach in Tucker's Town added: "I have worked with police a lot and we're all trying to enjoy ourselves while doing our job to keep everything safe.
"It's a family event, so it's important to interact with people."
RBR soldiers and police officers get a briefing at the Cup Match command centre before they start their patrols.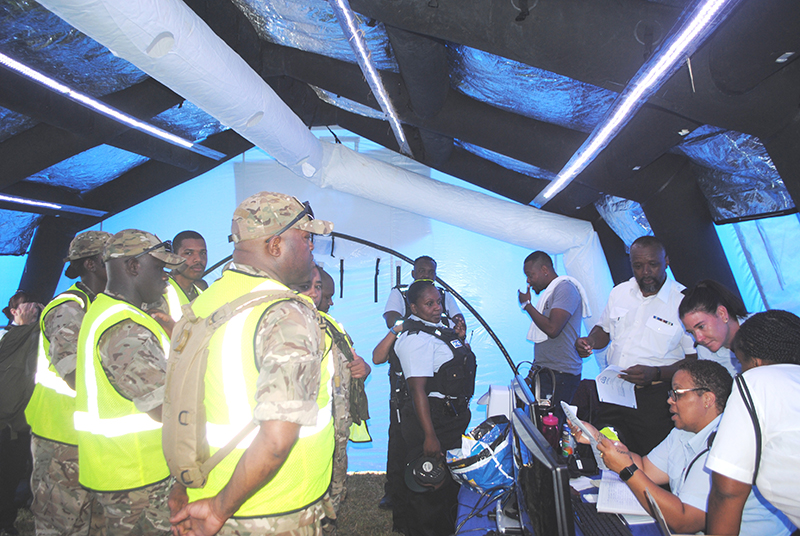 Pte Kirk Wilks, who works for a family catering company, said: "It good to see people celebrate and see people I haven't seen in a while. It's a good atmosphere.
The 20-year-old from Devonshire added: "The police are cool and it's something different for me."
Pte Shanday Tannock, 23, a child care worker from Sandys, said: "It's lovely. You can't complain. It's a bit hot, but we've got to do what we've got to do.
Blue and green: [L to R] RBR Private Tekla Smith, PC Maya Tucker and PC Ian Taitt on patrol at St George's Cricket Club.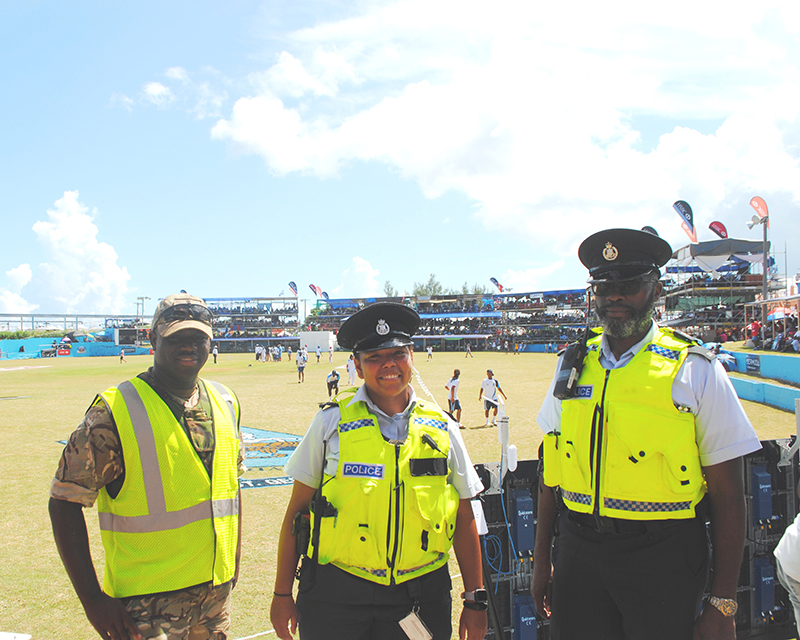 "I've never done Cup Match before, but I have worked with the police previously. It opens your eyes a little bit more and helps you to understand all the work that goes on behind the scenes."
She added: "The crowds are very friendly, but if you have a happy, jolly face, and your tone of voice is good, everything goes well."
On patrol: Pte Shanday Tannock of the RBR talks to members of the private security firm at the SGCC ground.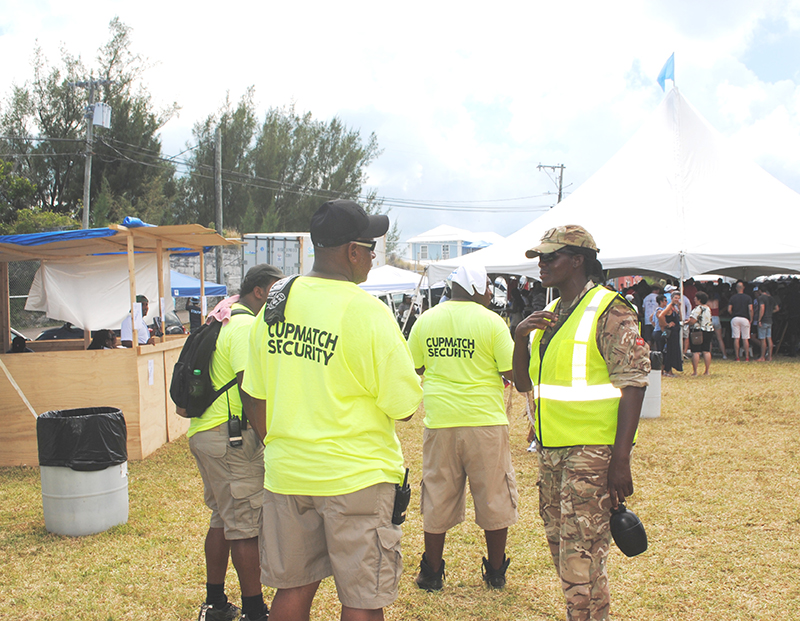 Lance Corporal O'Neil Nelson, 43, a barber from Somerset, said: "It's been nice. It's very relaxed and civilised and I'm enjoying working with the police. It's a pleasure."
Inspector Kuhn Evans, the BPS bronze commander at the ground, said the green addition to the thin blue line was welcomed.
He added: "It's very useful because they will know people we don't and they have that interaction.
"We don't have the manpower we used to have, so they're valuable extra resources."
"It's also advertising for people to join up because they are very visible.
Team spirit: National Security Minister Wayne Caines [fourth from left] with members of the joint police and RBR security team at Cup Match in St George's.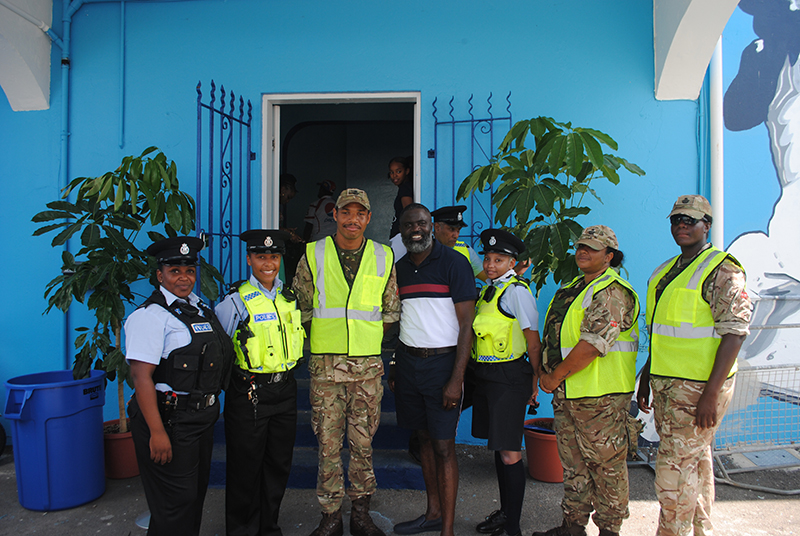 RBR Commanding Officer Lieutenant Colonel David Curley, who visited the match with Regimental Sergeant Major Jason Harrell, said he had walked around the ground with Commissioner of Police Stephen Corbishley.
Col. Curley added he also planned to visit soldiers from Boat Troop, who will be on patrol with members of the BPS marine unit over the holiday.
He said: "Things have gone extremely well. We have made a commitment to support the Bermuda Police Service and we will have joint operations on land and sea right over the Cup Match weekend."

Read More About