Hurricane Irma hammered some of Caribbean with winds of up to 180 mph leaving at least ten people dead, international media have reported.
The island of Barbuda is said to be "barely habitable", officials warn that St Martin is almost destroyed, and the death toll is likely to rise, according to the BBC.
Reported to be the most potent Atlantic Ocean hurricane ever, Irma remaines a powerful Category 5 storm with winds of 180 mph [285 kph], according to the U.S. National Hurricane Center.
Damage to the Dutch side of the Caribbean island of Saint-Martin was said to be "enormous," with roofs torn off buildings. At least eight deaths were reported on the French side of the island.
At least one other death was reported on the island of Barbuda, where the prime minister described a "horrendous situation" of "total carnage."
In Puerto Rico, about 900,000 people were said to be without electricity.
The hurricane is also expected to impact the USA, and the governors of Puerto Rico and Florida declared states of emergency on Monday, South Carolina Gov. Henry McMaster followed suit Wednesday, and Georgia Gov. Nathan Deal declared a state of emergency for six coastal counties later that afternoon.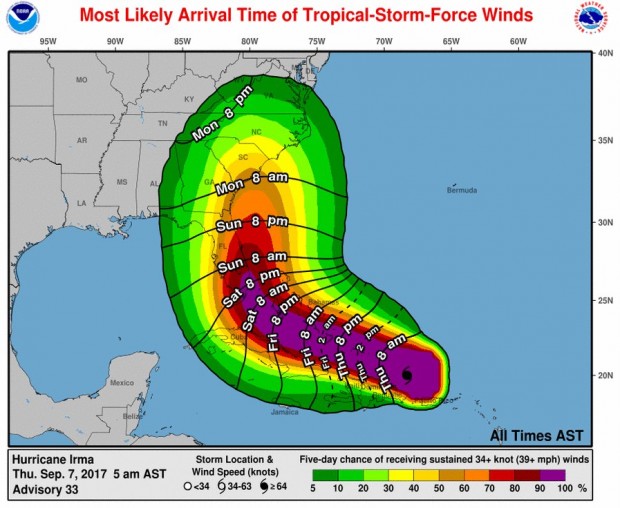 The latest forecast from the U.S. National Hurricane Center said, "Irma is moving toward the west-northwest near 17 mph [28 km/h], and this general motion is expected to continue with some decrease in forward speed for the next couple of days.
"On the forecast track, the eye of Irma should continue to move just north of the coast of Hispaniola today, be near the Turks and Caicos and southeastern Bahamas by this evening, and then be near the Central Bahamas by Friday.
"Maximum sustained winds remain near 180 mph [285 km/h] with higher gusts. Irma is a category 5 hurricane on the Saffir-Simpson Hurricane Wind Scale.
"Some fluctuations in intensity are likely during the next day or two, but Irma is forecast to remain a powerful category 4 or 5 hurricane during the next couple of days."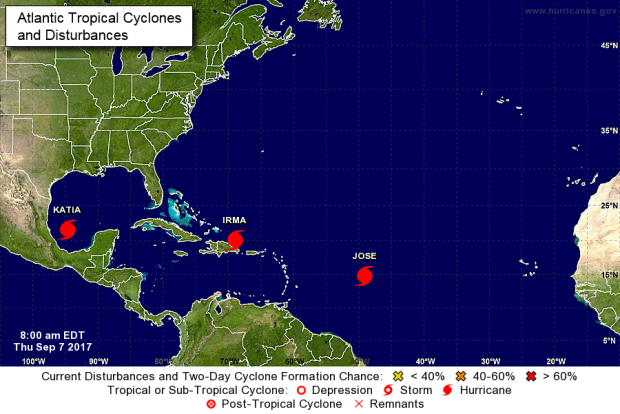 Meanwhile, two other storms ― Jose and Katia ― were upgraded to hurricane status on Wednesday afternoon, marking the first time since 2010 that three hurricanes were simultaneously spinning in the Atlantic.
The Bermuda Weather Service said none of the three hurricanes are a threat to Bermuda at this time.
Read More About