[Updated + Written by Don Burgess]
A new round of attention is being drawn to the #BoycottBermuda hashtag across social media after Governor John Rankin signed the Domestic Partnership Act.
Critics called it a step backwards as Bermuda became the first country to repeal same-sex marriage after a court last year ruled that gay couples had the right to marriage in Bermuda.
A tweet sent using the #BoycottBermuda hashtag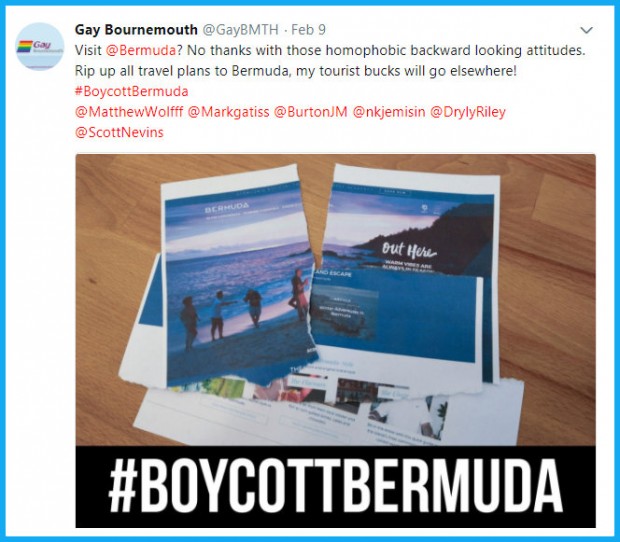 The #BoycottBermuda hashtag first surfaced at the end of last year when Parliament passed the Domestic Partnership Act.
At that time, former US presidential candidate Howard Dean urged people to spend their vacation money elsewhere, and on social media, a few people said they were cancelling their reservations.
A spokesperson for the Hamilton Princess said they are not revealing any specifics, telling Bernews, "While we cannot divulge specifics of guest bookings, Hamilton Princess & Beach Club welcomes all guests and does not discriminate on the basis of race, colour, religion, sexual orientation, or disability. We support any policy that would provide a positive aspect for our guests and for Bermuda tourism."
In December, the Bermuda Tourism Authority asked hotels and guest properties to contact them to let them know how many reservations had been affected by the Act.
Kevin Dallas, CEO of the BTA, told Bernews before the Governor signed the law, "The focus of the Bermuda Tourism Authority remains to promote Bermuda as an inclusive and welcoming destination for all visitors.
"The Bermuda Tourism Authority is working with Government and other stakeholders to track cancellations where the visitor gives the Domestic Partnership Act as the reason for deciding not to come. However, it's far too early to assess the impact of a new law that hasn't fully been through the legislative process yet."
Mr Dallas said while those numbers will have some impact on Bermuda, there is a more significant worry.
"More importantly, cancellations are not the measurement of most concern. Potential visitors who have seen unfavourable media coverage about Bermuda, and decide not to come here, as a result, is a larger concern. Tracking this impact is far more difficult, especially because the affected audience stretches far beyond the LGBT community."
Update 7.33pm: The BTA just posted a link on their social media to a 'FAQ' page on their website; a screenshot of the page is below.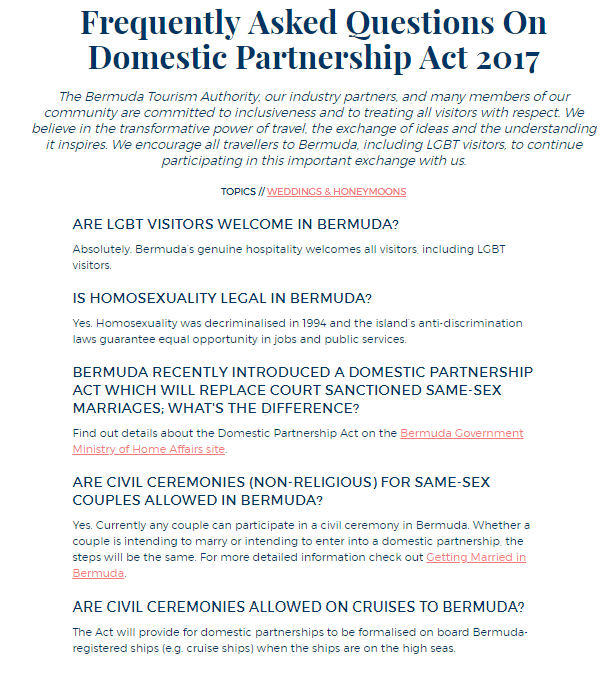 Read More About