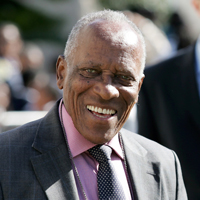 "His career in journalism has been heralded and his professionalism deemed unimpeachable," Lt/Col. David Burch said as he paid tribute to the late Ira Philip, who was laid to rest yesterday.
Minister Burch, speaking at the funeral in his capacity as Acting Premier, said, "Let me first extend my thanks to the family for the opportunity to participate in this way on what is a very public occasion but one which really is for the family to bid farewell.
"Everything happens for a reason and it is especially meaningful for me to be here today as Ira Philip was both a contemporary and friend of my late parents, George and Alice Burch; and so perhaps by design, my full Somerset credentials make me eminently qualified to discharge the duty required in this hour.
"As a life member of the Bermuda Progressive Labour Party – Ira Philip is considered PLP Royalty.
"In the days since Ira Philip passed, we have heard volumes about the power of his pen. His career in journalism has been heralded and his professionalism deemed unimpeachable. All of this is true.
"But lra Philip was more than a journalist and his innate professionalism was more than remarkable. I say this because you cannot comment on the work of the man without some reference to the time and circumstances in which he lived.
"He told the story of black men and women who were upstanding citizens, courageous, hardworking and industrious – who were leaders in this community.
"The pages of the Bermuda Recorder told us who we were, long before we needed role models to combat the negative stereotypes other media still paint of us. While other front pages required black people to be dead or on their way to court to warrant coverage, Ira Philip devoted his pen and ink to what we did best and how we were a people of distinction.
"Whether it was Rev. Charles Vinton Monk or the History of the BIU, Ira Philip wrote with conviction and a determination that the history of Bermuda would mirror the experience of its people. We cannot overstate the significance of his body of work to the empowerment of black people through knowledge of their true story.
"All men are heroes in old age or death. In his prime, Nelson Mandela was deemed a terrorist by most western governments. Before an assassin's bullet struck down the Rev. Dr. Martin Luther King Jr. in Memphis, he was a communist sympathizer whose anti-war message was unpatriotic.
"The causes of these men were always just and right but because they defied the status quo in life, they endured wavering support.
"When the next Ira Philip chronicles our story and speaks as fearlessly as the original Ira Philip did on issues of the day, we ought to embrace the truth of the message, no matter how uncomfortable. All the odds mitigated against a true story like 'From Monk to Mazumbo', but thank God he wrote it because if he hadn't, who would have?
"And so as we assemble today and mourn the loss of this man of letters and learning, I am thankful for his ability and courage to write and publish the history of our people; not for me, but for those generations yet unborn who will, through his work, know who and whose they are.
"On behalf of the Honourable Premier, the Government and the people of Bermuda, I am humbled to extend our heartfelt sympathies to the Family and to assure you that in this hour of bereavement and in the days and months ahead, you will feel our thoughts and prayers as we join you in celebrating the lasting life's work of this Scribe of the Nation."
Read More About