Minister of Education Diallo Rabain spoke about the recent Youth Empowerment Summit and its 2018 Male Outstanding Teen Awardees in the House of Assembly today [May 4], which he called "a testament of the leaders we are developing in the Bermuda Public School System."
Minister Rabain said, "The vision of the Bermuda Public School System is to educate all students to lead personally and professionally, and to compete locally and contribute globally."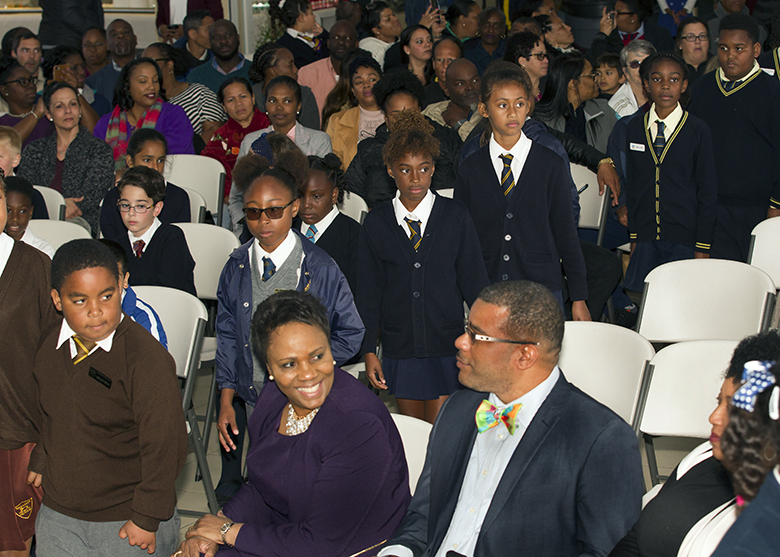 "This morning, it gives me tremendous pleasure to share with my Honourable Colleagues about the Bermuda Public School System's recent Youth Empowerment Summit and its 2018 Male Outstanding Teen Awardees, which is a testament of the leaders we are developing in the Bermuda Public School System.
"We applauded our students for their willingness to stand as leaders in their respective schools, which we know at times, can mean significant personal sacrifice. Students were reminded that it was their conduct, their attitude, their achievements, how they serve other students, and how they demonstrated selfless leadership, that positioned them to be selected as leaders in their schools."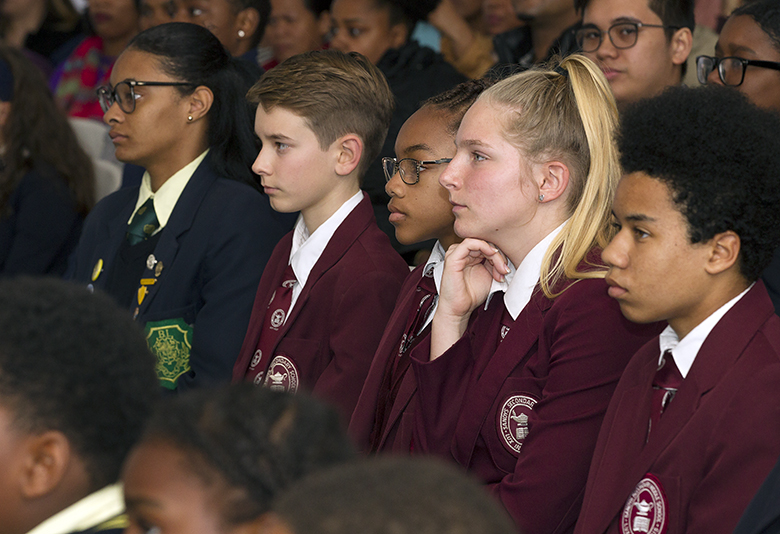 "These are the leadership characteristics can be found in all great leaders. These are leadership characteristics that align with our Plan 2022 vision for public school students.
"In these current times of social challenge, it is critically important to remind our students of the potential that lies within them. It is our intention to do this not just once but continuously throughout their education experience in public school.
"It is a known fact that repetition helps one to internalize. As such, this is what we endeavour to do – constantly remind our students that they are leaders and they have the potential to be great leaders."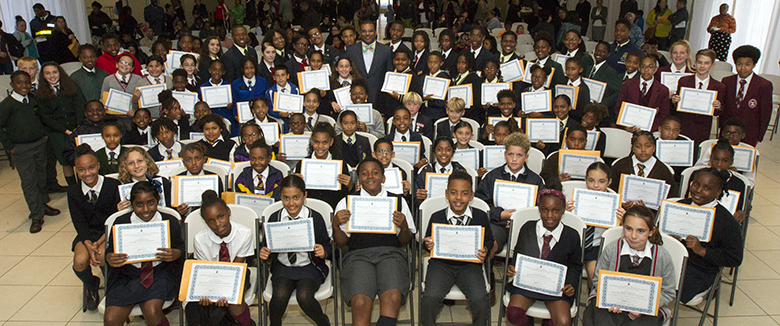 "Let me now shift and bring to the attention of my Honorable colleagues and the Bermuda community, six exceptional S4 male students in our Public School System who won Outstanding Teen Awards at the March 2018 Outstanding Teen Awards Ceremony.
"Although these six young men are diverse in their talents and achievements, they hold in common, the ability to meet high standards and to achieve excellence. Their achievements speak with one voice and send to our community, a very loud and resounding reminder that young male students in the Public School System are engaged in positive pursuits; and they can, and do achieve excellence."
The Minister's full statement follows below:
Mr. Speaker, The vision of the Bermuda Public School System is to educate all students to lead personally and professionally, and to compete locally and contribute globally. This morning, it gives me tremendous pleasure to share with my Honourable Colleagues about the Bermuda Public School System's recent Youth Empowerment Summit and its 2018 Male Outstanding Teen Awardees, which is a testament of the leaders we are developing in the Bermuda Public School System.

Mr. Speaker, On March 27th 2018, the Ministry of Education and Workforce Development held its first Youth Empowerment Summit or what we refer to as Y.E.S. This event was attended by over eighty students, close to two hundred parents and school Principals. The vision of Y.E.S. was to recognize all student leaders – the head student and the deputy head student leaders – in every primary, middle and senior school in the Public School System.

Mr. Speaker, We applauded our students for their willingness to stand as leaders in their respective schools, which we know at times, can mean significant personal sacrifice. Students were reminded that it was their conduct, their attitude, their achievements, how they serve other students, and how they demonstrated selfless leadership, that positioned them to be selected as leaders in their schools. These are the leadership characteristics can be found in all great leaders. These are leadership characteristics that align with our Plan 2022 vision for public school students.

Mr. Speaker, In these current times of social challenge, it is critically important to remind our students of the potential that lies within them. It is our intention to do this not just once but continuously throughout their education experience in public school. It is a known fact that repetition helps one to internalize. As such, this is what we endeavour to do – constantly remind our students that they are leaders and they have the potential to be great leaders!

Mr. Speaker, Let me now shift and bring to the attention of my Honorable colleagues and the Bermuda community, six exceptional S4 male students in our Public School System who won Outstanding Teen Awards at the March 2018 Outstanding Teen Awards Ceremony.

Mr. Speaker, Although these six young men are diverse in their talents and achievements, they hold in common, the ability to meet high standards and to achieve excellence. Their achievements speak with one voice and send to our community, a very loud and resounding reminder that young male students in the Public School System are engaged in positive pursuits; and they can, and do achieve excellence.

Mr. Speaker, Student, Sekai Wainwright, the 2018 Outstanding Teen Awardee for the Vocational and Technical Arts category was recommended to represent CedarBridge Academy. He has completed the NCCER Core Curriculum with a grade of 'A' and Mechanics courses with grades of 'B'. Presently, Sekai is on the President's List at Bermuda College with a GPA of 3.36. He has excelled and thrived in many of the technical courses, gaining 'A' grades. After graduating from the Dual Enrollment Applied Technology program in May 2018 with both his High School Diploma and a Certificate in Applied Sciences and Technology from the Bermuda College, Sekai will further his studies at the New England Institute of Technology, where he has gained acceptance for the fall term to obtain qualifications for becoming a Diesel Mechanic.

Mr. Speaker, Cedarbridge student Kenji Robinson won the 2018 Outstanding Teen Award for Perseverance. Despite dire family issues caused by grave social problems, our winner kept his eyes focused on upward mobility and his future goals. He possesses all of the intellectual acumen and skills that are required to make it academically and to achieve his aspiration of becoming an actuary. Kenji entered high school having already earned IGCE's. He took several IGCSEs in his S1 year, completing the two-year course of study in one year. He has "A" Level courses, in addition to Advance Placement courses. He has achieved passes in five IGCSEs; English, Math, Physics, Physical Education, French, and AS Physics. He also took home the award for Excellence in GCSE Math and received subject prize awards for French III, AS Mathematics II and Citizenship. He is a Principal's Honors student who has maintained an overall average of over 90% for the duration of his time at CedarBridge Academy. Despite his circumstances, Kenji has persevered and excelled academically and athletically as one of the top ten students in his year.

Mr. Speaker, Berkeley Institute student George Frost won the 2018 Outstanding Teen Award for Most Progress. It was an initial experience with failure, combined with a challenge given to him from one of his teachers that caused him to change his personal philosophy about academic achievement. George was singled out for having an overall average 92% and for being a student who sets goals and competes against himself. His efforts have enabled him to maintain Principal's Honours through hard work, dedication and his commitment to excel.

Mr. Speaker, The 2018 Outstanding Teen Leadership Award was won by Yesser Baia. Yasser is a Berkeley Institute student who holds several leadership roles inclusive of Grade 12 Representative, Head Male Student and Chief Officer in a virtual business run within the school. Yesser has played a pivotal role in competitive debating tournaments on the local and global circuit resulting in much success and notable accomplishments. Yesser Baia has had the distinct honor to represent Bermuda at the 42nd Regional Commonwealth Youth Parliament Summit to pass a motion with respect to the new US Immigration Policy. This young leader has also participated in The Global Young Leaders' Conference and Presidential Inauguration Delegation for Change in 2016 and 2017. He has developed his creative capacity through the establishment of a fledgling clothing company, LiT Gala, which has enabled him to develop an impactful medium through which he can convey bold messages.

Mr. Speaker, One of Bermuda's most talented performing artists, Berkeley Institute student Angelis Hunt, won the 2018 Outstanding Teen Award for Performing Arts. Angelis was a runner–up for the Bermuda Idol Competition. He was also given the distinct privilege of being the opening act for the 2013 Natwest Games hosted in Bermuda. He won Troika Bermuda's Best New Male Artist Award in 2015 and under the wings of Troika Bermuda, Angelis took on an ensemble role in the 2016 and 2017 production of The Color Purple: The Musical. Later that year, Angelis received a partial scholarship to attend camp with 'Up With People' in Virginia over the summer where he was as a member of Cast B 2017. In the fall of 2017 Angelis secured the role of the Wizard in The Wizard of Oz under the organization of Gilbert and Sullivan, Bermuda.

Mr. Speaker, Berkeley Institute student Jay-Quan Dill won the 2018 Outstanding Teen Award for Academics. Jay-Quan was one of the first students on island to be invited to the Stanford University High School Summer College Chemistry course in the summer of 2017 and he completed the course with a B- grade. Currently, his GPA is 3.89, one of the highest in the school, while being enrolled in Advanced Placement courses. At the age of fourteen while still in middle school, Jay-Quan took the extended [IGCSE] examination in Mathematics, two years before his designated time and earned a grade [A]. He is also the youngest student at the school to write AP Calculus and earn a grade [4]. At the end of his S3 year he took the AS and "A" Level Mathematics examination and earned a [B] and [D] respectively. He currently holds nine IGCSE certificates with 3 A*, 4 A's, 1 B and 1 C and he completed seven of these IGCSEs in one year. His SAT score is over 1300 – making him a well sought after candidate for established learning institutions. He is Head Boy and a Bronze Award member of the Duke of Edinburgh society.

Mr. Speaker, These accomplishments should reassure parents and the community that we have male students who do achieve at high levels in the Bermuda Public School System; and that our senior schools provide opportunities for our male students to grow, develop, thrive and achieve in their areas of strengths.

Mr. Speaker, I take my hat off to their parents, principals, teachers, and to all staff for the commitment, the hard work, the contributions, and the support provided to our young male students. Let me extend my heartfelt congratulations to: Sekai Wainwright, Kenji Robinson, George Frost, Yesser Baia, Angelis Hunt and Jay-Quan Dill. Well done! We anticipate hearing about great accomplishments from each of you and extend best wishes for a successful future.

Thank you, Mr. Speaker

Read More About
Category: All