[Opinion column written by MP Chris Famous]
Exactly 5 years ago I wrote a piece in the then Bermuda Sun to speak about our Portuguese-Bermudian community. Many in the Portuguese community reached out, resulting in long lasting friendships.
"Often we get bogged down in the never ending Black vs White discussions and arguments. Yet we often forget there are a myriad of cultures living in Bermuda. Today I will talk about our Portuguese community.
As a child I attended Elliot Primary School, many of the children were from the Azorean community.
Next to Elliott Primary School there lies Sousa Estate, an Azorean enclave. Many times, we used to see mothers of our class mates coming to pick them up. Often grandmothers were dressed in full black.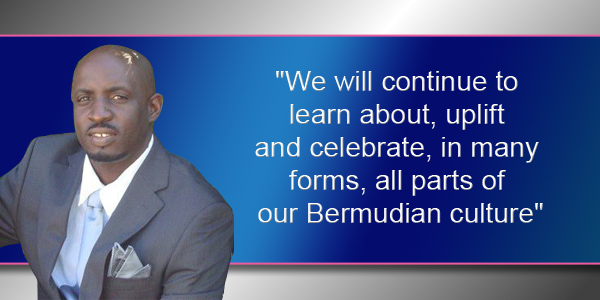 The unfortunate norm in most cases we always learned the curse words of a language first. I won't go so far as to repeat it in this column.
One particular friend of mine used to always state how proud he was of his Azorean heritage and often bring in books written in Portuguese and bring baked goods from his mom. Damn that "Egg Bread" was addictive.
Many times, I went over to Sousa Estate to hang out. Over there I noticed a similarity to growing up in Pond Hill:
Most folks were related in some way or the other
Many of the men worked in farming, fishing or construction
Many of the mothers stayed at home and cooked and cared for the children whilst the men worked
Most were very humble and proud of their modest homes
The children knew the meaning of the word "No".
Essentially, apart from the language and pigmentation, the communities seemed to parallel each other in many ways.
At age 12, I left Elliot and attended Berkeley, there I saw zero Portuguese students.
At age 19 I began to pump gas at Flatts gas station. There many Azorean persons became my customers. They often took five minutes to teach me a new word every time they stopped by.
Often, at times I see some of my former class mates and shout out to them with a few Portuguese words. Often, they are shocked that I know the words and some even confess their own knowledge of Portuguese is limited as the language is spoken less and less with each generation.
Personally, I always felt we would have been better off learning Portuguese rather than French or Latin. With such a significant portion of our population speaking Portuguese why not learn how to communicate with them?
Where am I going with all of this? Simple. We must all broaden our horizons and learn about other cultures, whilst being proud of our own culture. We have much to teach each other."
Representative
Fast forward 5 years I am now the MP for C 11 Devonshire East. Roughly 40 percent of my constituents are of Portuguese heritage. Devonshire East is full of persons with surnames such as:
Lopes
Moniz
Sousa
Corriea
Coehlo
Encompassing areas such as, but not limited to; Devon Heights, Poinciana Estate, Collectors Hill and Sousa Estate, Devonshire East is not just my constituency, it is my neighbour hood.
Simply put, the constituents are my friends and neighbours.
Recognition
The thing about friendships is that there will be times that friends agree and other times that they disagree. What is paramount is that friends and neighbours seek to learn more about each other and show each other respect.
So, it was with that in mind that Premier David Burt JP MP made an announcement on Friday June 1st, 2018 that the 170th Anniversary of the arrival of the first Portuguese Immigrants will be celebrated with a one-time National Holiday on November 4th, 2019.
These lines from the Premier stood out to me.
"Mr. Speaker, this is consistent with the ideals of the founders of the Progressive Labour Party who, when Portuguese people in this country did not have a voice, spoke on their behalf, never more powerfully than on the issue of long term residency."
"Observances, such as the one we will recognise next year, should sharpen the focus on our own legacies and challenge us to refresh our existing holidays, commemorations and education to ensure that our children know the full history of our island home…"
The facts are that prior to the Progressive Labour Party was elected as Government in 1998 hundreds of persons and their families were forced to return to the Azores as the former United Bermuda Party [UBP] had no intentions of letting them remain in Bermuda.
It was the PLP, under the guidance of then Attorney General Dame Lois Browne-Evans and then Home Affairs Minister, Paula Cox who introduced the concept of Long Term Residents [LTR], thus giving persons of Azorean decent a permanent home in Bermuda.
Indeed, they were forward thinking in their actions.
In the year 2018, mixed relationships, mixed marriages and mixed children are on the rise. As such, many persons can proudly say that they are of mixed heritage and must celebrate all their cultures.
As a government and as a people we have a unique opportunity to redefine how we view ourselves and each other. We will not follow the centuries old status quo of ethnic inequality. We will continue to learn about, uplift and celebrate, in many forms, all parts of our Bermudian culture.
- Chris Famous, a PLP MP, can be contacted via email at Carib_pro@yahoo.com, Twitter at @ryderz777 or via Whatsapp on 599-0901

20 Most Recent Opinion Columns

Opinion columns reflect the views of the writer, and not those of Bernews Ltd. To submit an Opinion Column/Letter to the Editor, please email info@bernews.com. Bernews welcomes submissions, and while there are no length restrictions, all columns must be signed by the writer's real name.
-
Read More About