The island's changing laws on same-sex marriage can be attributed to the Bermuda Triangle according to the Daily Show with Trevor Noah, with the comedian saying that legislation gets passed in Parliament and then lost in the Triangle before being retrieved again.
The segment on the popular television show begins with a clip of a news anchor proclaiming that "Bermuda has now legalized same-sex marriage for a second time. The island's Supreme Court overturned a gay marriage ban that was signed into law just four months ago."
Video below:
Tonight at 11/10c, let's take a minute to acknowledge the progress that's been made worldwide in LGBTQ rights. pic.twitter.com/bS5MxHoA85

— The Daily Show (@TheDailyShow) June 29, 2018
"The Supreme Court first legalized same-sex marriage last May. Then, in February, Bermuda became the first national territory in the world to repeal its gay marriage legislation," the news anchor said.
Mr Noah said, "Yeah, that's right. Bermuda legalized same-sex marriage twice. I know that seems weird, but that's just how legislation works in Bermuda.
"See, what happens is, you pass it in Parliament and then it goes to the Triangle, where it's lost. Then, a deep sea diver finds it and takes it back to Parliament."
Screenshot from the broadcast: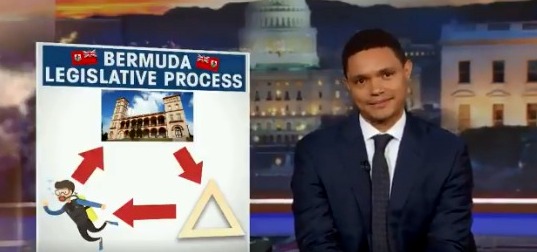 Read More About