A total of 23 new soldiers passed out of the Royal Bermuda Regiment's first summer recruit camp last night.
The soldiers were cheered on by friends and family as they marched on to Warwick Camp's parade ground to be presented with their rank badges – and prizes for the outstanding recruits and instructors.
The newest RBR soldiers march on to the Warwick Camp parade ground for their passing out parade.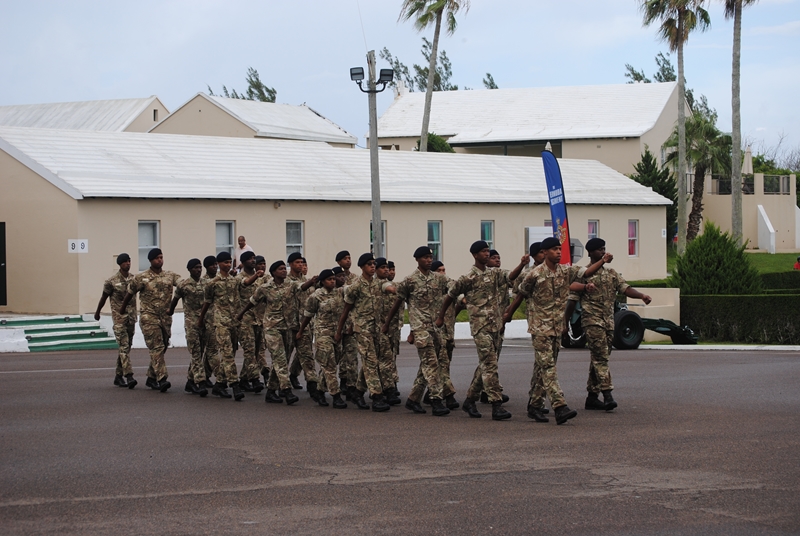 Private Carl Simmons-Albuoy, 22, from Warwick was stunned when he was told had won the medal for top recruit.
But the chef at Flanagan's Irish bar in Hamilton said: "I was kind of aiming for it. It was a tough competition and I'm excited and ecstatic to win.
"But I know I will be held to a very high standard when I come back in September."
Regiment Commanding Officer Lt Col. David Curley hands out rank badges to the new recruits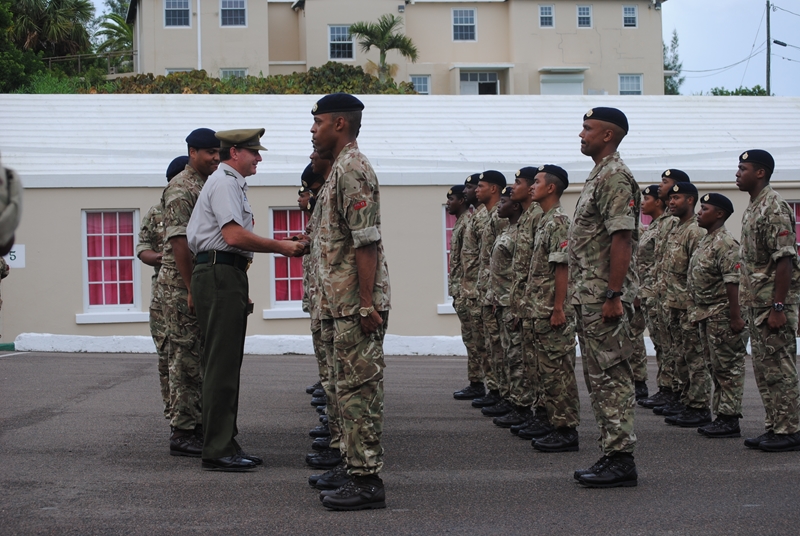 Private Simmons-Albuoy added that he had tried to his best – and encouraged other members of his section to do the same.
He said: "All round, I've been trying to keep the camaraderie up and push everybody to do their best."
Pte Simmons-Albuoy added he was keen to apply to join Boat Troop or "work my way up the ranks to Drill Sergeant."
 RBR Privates Norman Sharp, James Greenfield, Chaiquon Smith and Stevontae Somersall prepare for their passing out parade.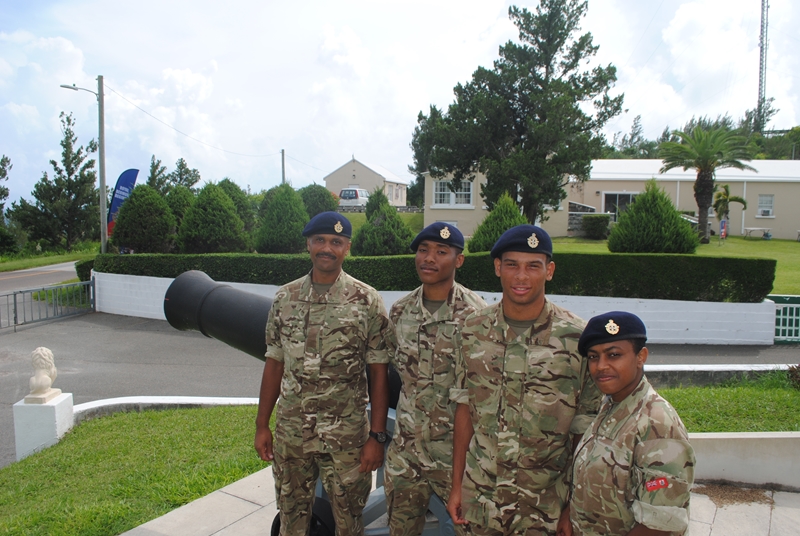 He said: "Drill was one of my favourite parts and the highlight of the camp for me."
Sergeant Kenton Trott, Platoon Sergeant for the recruits, added new and streamlined instruction techniques had paid off.
He explained the schedule had been changed to allow more time for core military skills to make best use of the time.
Sergeant Trott, 24, seconded from his job as full-time diplomatic driver for the Governor John Rankin, said: "We will perfect it to where the Regiment and its role is perfected so we can better serve the country. I'm looking forward to that – and being a part of it."
he RBR's new recruits parade at the end of two weeks of Recruit Camp.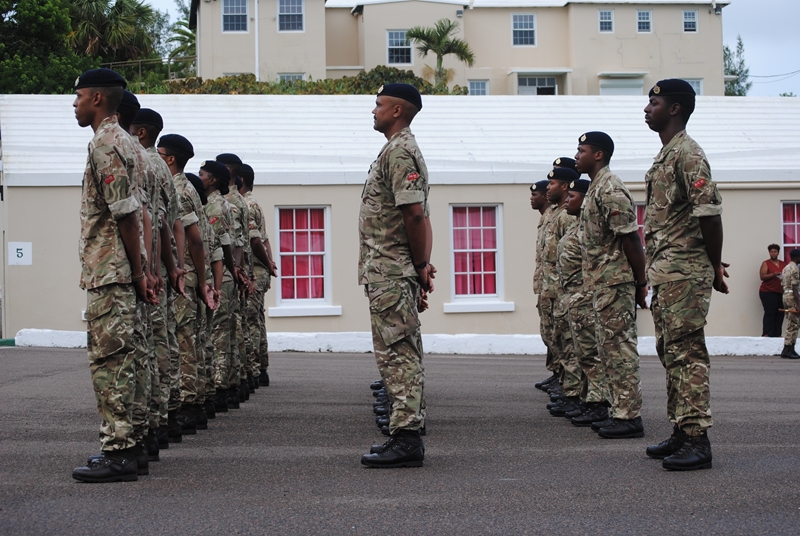 Private Stevontae Somersall, 24, from Pembroke, added: "I feel great – I feel an improvement. I just hope everything I've gained out of here continues."
Private Norman Sharp of Southampton, originally from Kenya, said he was looking forward to getting home.
But he added: "There are mixed feelings because we've all become very close over these two weeks. Everybody has 22 more friends than they had and there's also the officers, Corporals and all the trainers – and the chefs. In fact, the chefs are the best."
The 40-year-old software engineer said: "It's brought out my potential – I never knew I could do all these push-ups, sit-ups and running. I'm still shocked at myself."
Soldiers celebrate after their passing out parade.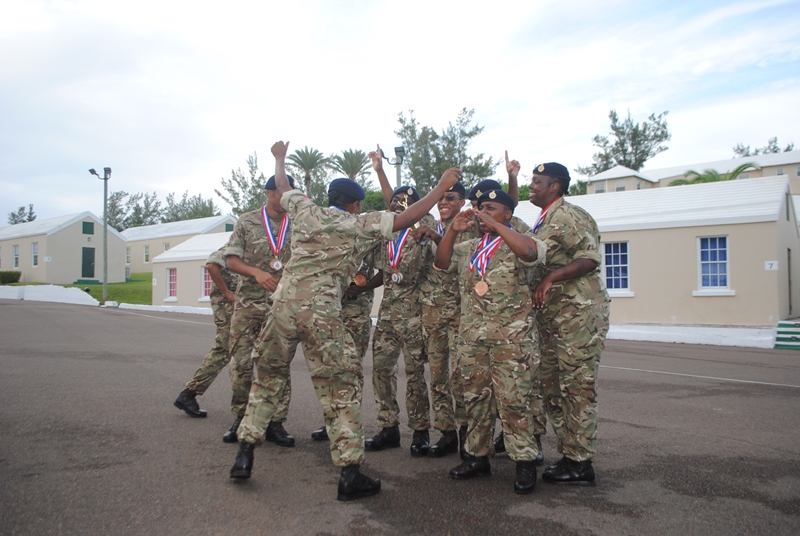 Lance Corporal Vaughan Smith, 22, a construction worker from Warwick, picked up the award for best section commander.
But he said: "It's not something you can put down to an individual – once you get everyone working as a unit, working to each others' strengths, everything becomes easy. I'm proud of my babies."
Regiment Commanding Officer Lieutenant-Colonel David Curley said the modern RBR was developing and that the training methods had been adapted to give "more time undergo less training in order to attain a higher standard."
He added: "With the support of the Ministry of National Security and Government House, the next 12 months will see big changes. A restructure will be undertaken this fall to maximize operational effect in the areas of assisting the civil authority, disaster response and in the martime domain.
 Pte Carl Simmons-Albuoy relaxes with his son at the end of Recruit Camp.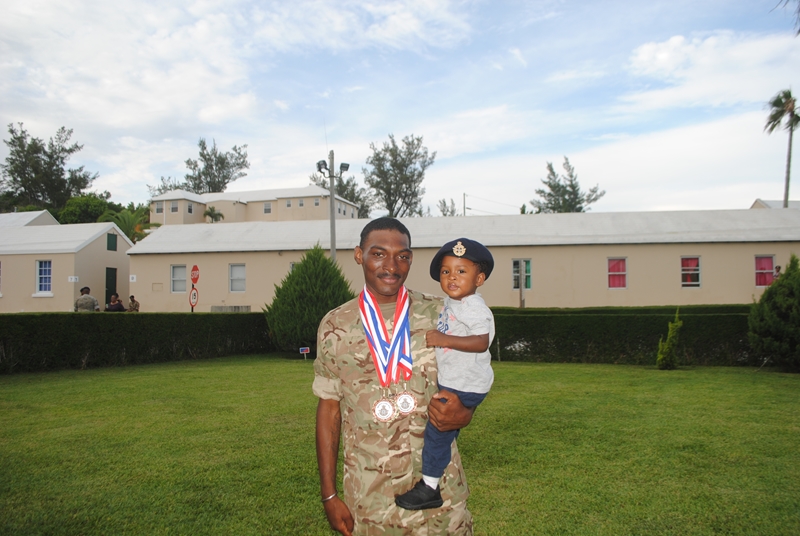 "We will work even more closely with our partners in Bermuda and overseas and we will increase our investment in the training and education for our soldiers."
"This recruit class plus all ranks of the men and women of the Regiment – and the people of Bermuda – will be the beneficiaries of these changes.
"As they serve in our Regiment we demand the best of them and they have been challenged to uphold our values of selfless commitment, discipline, courage, integrity, loyalty and respect for others. It is these values that they will need to fall back on when the times get tough and they are forced to make difficult decisions."
Sergeant Kenton Trott with his family after he steered 23 recruits to success in Recruit Camp.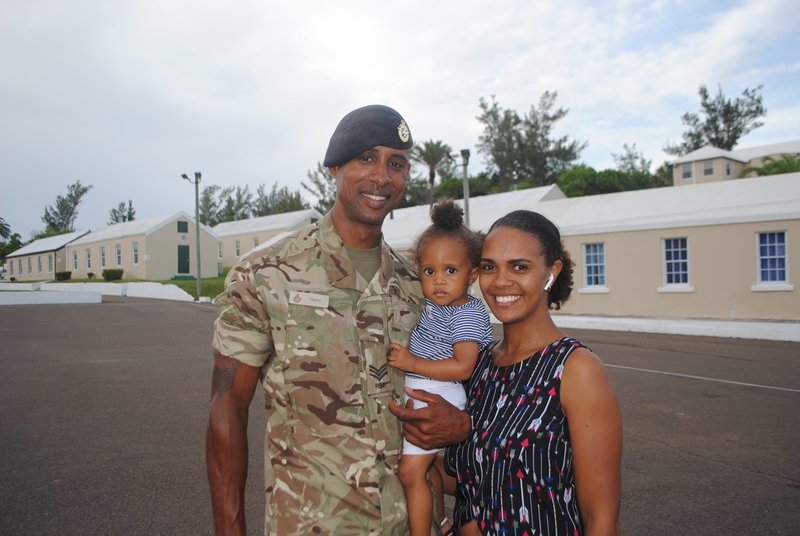 Acting Governor Ginny Ferson told the troops they should be proud of their efforts over "two weeks of gruelling, hard work and activities."
She added the recruits had accepted "a major challenge."
Ms Ferson said: "I hope what you have found going through that two weeks is that you have grown – grown and developed as individuals. You have learned to work as a team and begun to learn about leadership skills. These are very important things, here in Warwick Camp but also in life generally."
Top recruit Carl Simmons-Albuoy with his son after two weeks of training.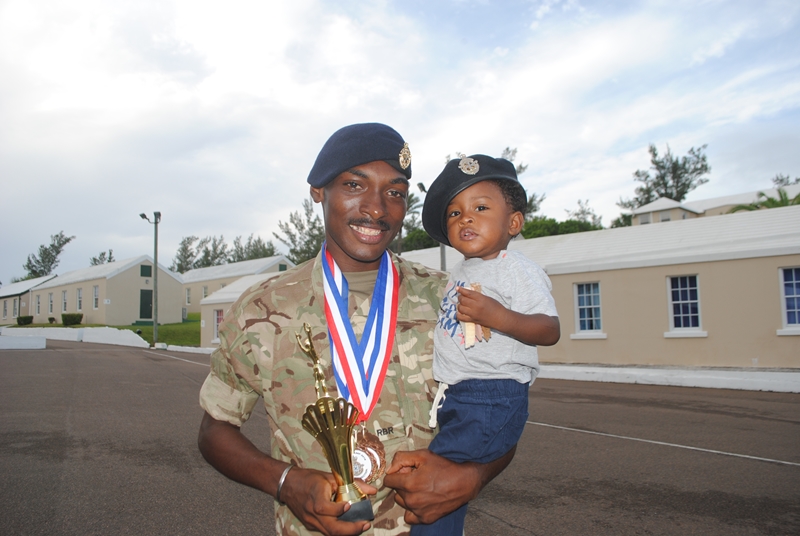 Minister of National Security Wayne Caines spoke about the camp in the House of Assembly on Friday and his full statement follows below:
Mr. Speaker, over the past two weeks the Royal Bermuda Regiment [RBR] has been training its second recruit intake of 2018. This is the first time the Regiment has run two recruit intakes in a calendar year and demonstrates that the RBR is willing and able to adapt to an environment that is changing. As such, I wish to provide this Honourable House with an update.

Mr. Speaker, 23 people volunteered to serve our country and join the July recruit class. Of these, eight were women and three were non-Bermudian. This second recruit camp brings the recruit intake for 2018 to 65 soldiers, which compares to 60 in 2017 and 65 in 2016.

It should be noted that five recruits were recruited through the Junior Bandsman Program, a program that allows student musicians to practice and perform with the RBR band and receive compensation. The Band has conducted numerous engagements with schools to support this initiative.

Mr. Speaker, this RBR cohort's conversion to military life is like no other before it. Recruits have been given more time to undergo less training in order to attain a higher standard. Training has being assessed by the training team and validated by recruits on an ongoing basis. More time has been dedicated at the start of recruit training to teach the RBR's values and standards, its equality and diversity policy, service complaint and disciplinary processes, as well as terms and conditions of service so that soldiers are well aware of the expectations of them and their fellow soldiers.

Mr. Speaker, in consultation with the Ministry of National Security and Government House, the next twelve months will see great changes at the Royal Bermuda Regiment: The Regiment will restructure and train so that it better delivers operational effect in assisting the Civil Authority in the area of Humanitarian Aid and Disaster Relief, and in the Maritime Domain; it will work more closely with its partners in Bermuda and overseas to ensure interoperability; and it will increase its investment in the training and education of its soldiers so that as their capability increases so will the capability of the Regiment. This recruit class, the men and women of the Regiment, and the people of Bermuda will be the beneficiaries of these changes.

Thank you, Mr. Speaker!

Read More About