News that the Bermuda U/21 Netball Team went undefeated to win a tournament in Florida, Dockyard won a 'Top Cruise Destination' award, Flora Duffy was featured on the cover of Triathlete Magazine, CBS This Morning featured Rodney Smith Jr, and Stephen Davis is flying high in his job as a JetBlue in-flight crew member were all some of the positive news stories from the past week.
In additional good news, Hamilton town crier Ed Christopher won a Town Crier Competition in the UK, twelve students received BPSU scholarships, Bermuda College maths lecturer W. Troy Ashby claimed a national record for memorisation of pi to 6,200 digits, the Mirrors Programme thanked volunteers, and the Generation Next Youth Movement Series featured 24-year-old Bermudian Sean Stapley.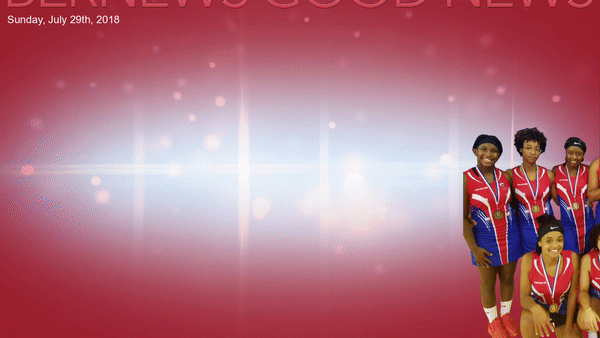 Other good news stories included LeFroy Brownlow Place celebrating his 102nd birthday, Bermudian poet Nancy Anne Miller releasing a new book entitled Boiling Hot, Noah Browne and Micah Franklin winning a CAC Games medal, Bermudian writer Dr. Mandy-Suzanne Wong winning the Eyelands International Flash Fiction Competition, and the Bermuda team making a strong showing at the World Lacrosse Championships in Israel.
In more good news, Bermuda athletes won medals in North Carolina, Sean Trott won the Sun Olympic Park 10K in the UK, Nahki Wells scored in a pre-season friendly, the Scaur Community donated to the Bermuda Lupus Association, and a reggae dance raised $1,000 for medical expenses for Maria Caisey, who is battling a rare form of cancer
We also posted various community photo galleries, including coverage of the annual Mini Cup Match and the Natural Blessings Hair & Beauty Expo.
In an effort to highlight some of positive news happening in our community, we supplement our standard morning and evening email newsletters with a special Sunday "Good News" email newsletter edition, and also produce a highlight video and article which strictly focuses on the positive news about Bermuda and Bermudians from the past week.
You can sign up to have the free newsletter delivered via email here, and/or access the links below. In addition, for those who like positive news, please feel free to visit our sister site ForeverBermuda.com, which seeks to showcase the best of Bermuda as well as provide information and listings for visitor related services.
Links to some of the 'good news' from the past week are below:

Read More About