[Written by Don Burgess]
One of the great privileges I have had over the years is being in the living rooms and kitchens of Bermuda's sporting elite.
And such is the case of Jim Woolridge. On several occasions I sat in his home to interview him, the last time was in 2014 for his biography for the Bermuda Sports of Hall, which is presented below.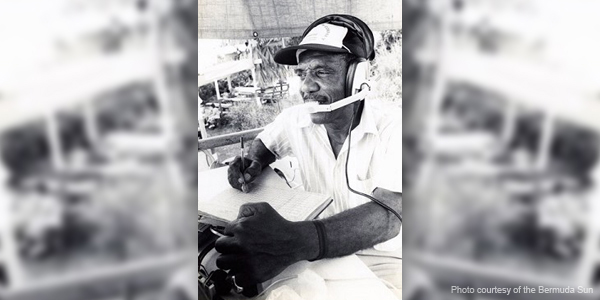 There is perhaps no figure that embodies the spirit of Flatts more than Clarence Vernon 'Jim' Woolridge. Born and raised in Flatts, Jim always considered it "one of the most attractive parts" of Bermuda and one of the most close knit communities.
He attended The Berkeley Institute and became a champion in track and field. He also played midfield for the football team.
Mr Woolridge grew up a stone's throw away from the Flatts' Field and cricket would be a lifelong love affair for him.
Mr Woolridge is fond of saying "Cricket is the finest character-building sport of all. If you can adopt and master the game of cricket, you are ready for life."
Although he would play the game and captain 'The Mighty Flatts,' his greatest contribution would come as a cricket commentator.
He started as a commentator in 1965 for the Bermuda Broadcasting Company. During his long tenure as commentator, Mr Woolridge would pick up the well-deserved moniker 'The Voice of Summer' because he covered County Games as well as Cup Match.
He said, "It is quite an attractive name and something that stuck. I still get called that in the supermarket."
It is because of Mr Woolridge that Bermuda has full-day coverage of Cup Match and County games. Previously, Cup Match was only broadcast for two hours a day – one in the morning and one in the afternoon.
His first radio partner was Ronnie Evans and he would later share the microphone with Bunkers Bean, Laurie Pearman and Sean Tucker.
In a Royal Gazette article, Mr Woolridge said there were doubters that a full-game commentary would go over in Bermuda. He said "Some folks thought it would not gel because it would take away from it."
But Mr Woolridge would be proven correct as it enhanced Cup Match as he gave flavor to the event.
Broadcast partner Sean Tucker said "He had an amazing ability to describe not only what was going on the field, but was going on around the field. He had a natural ability."
He said Mr Woolridge's booming voice "would shake the stands and the ladies would melt."
In his book The House That Jack Built, Mr Woolridge wrote, "Doing a live commentary is not as easy and simple as it may seem. You have no script, as every action is instantaneous.
"There are times when the game is a little slow and you are obliged to keep it interesting for the radio audience. Naturally, you have to measure your words continuously, because you cannot take back again what has all been said – it is all live."
His legacy will be forever remembered by those who were unable to attend the game, whether they were at work, in the hospital or unable to leave their home.
In 1984, Mr Woolridge moved his cricket broadcasts over to VSB – a tradition he carried on through 2012. He said it was "difficult" for not being able to call to the 2013 game.
Mr Tucker said "He is a larger than life person – he is a legend. I can't think of anyone in the broadcast category in Bermuda more deserving than Jim to be in the Sports Hall of Fame."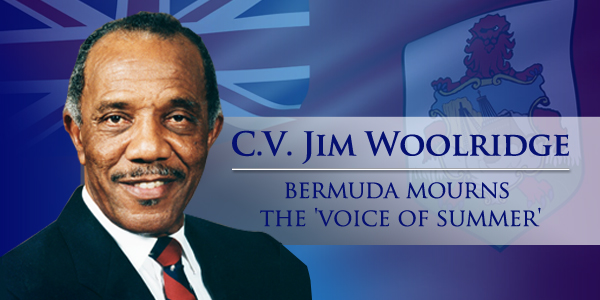 Mr Woolridge, a former Cabinet Minister and Member of Parliament, who was well known as the 'Voice of Summer,' passed away at the age of 92.
The Cabinet Office advised that a Book of Condolence for public signing will be available at the Cabinet Office on Front Street between the hours of 10am and 4pm, from Thursday, 30th August, until the day before Mr. Woolridge's funeral.
Read More About