Effective August 27th, the road from Clocktower Parade around the Clocktower Mall in the Royal Naval Dockyard will be partially pedestrianized in a move WEDCO says aims to "make the area more attractive and safer."
"From Monday, August 27, the road from the fountain outside the Mall along the North lawn to Diamonds International will be vehicle-free and traffic will be re-routed along Apprentice Lane and Smithery Lane," WEDCO said.
"It is a temporary move until the end of the year when the impact will be assessed, although it is hoped that people will welcome the plan which could then become permanent.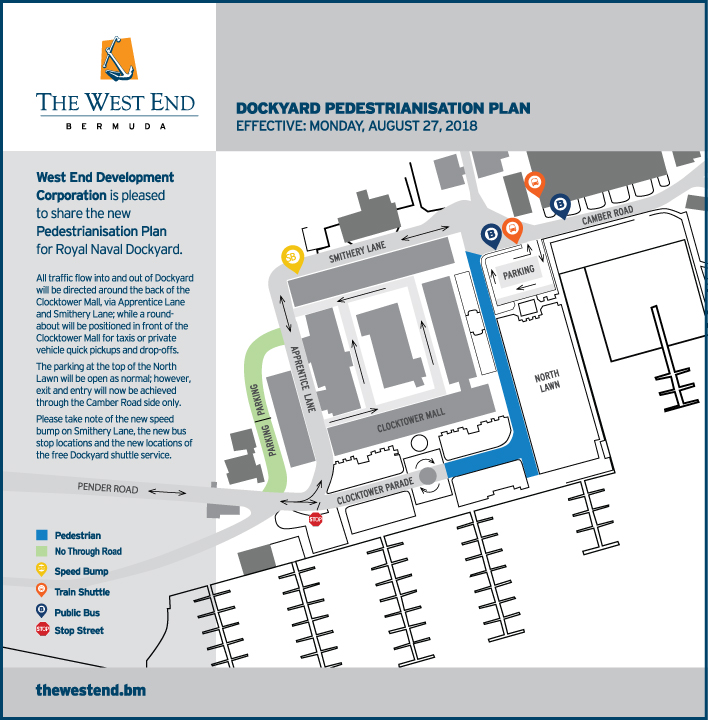 Joanna Cranfield, the Business Development Manager at the West End Development Corporation [WEDCO], said: "Dockyard is becoming busier with more people and more traffic, more cars, more buses, more mini-buses and we have to be aware of people's safety. We also wanted to create a more leisurely and family-friendly feel.
"This is a pilot project for the remainder of the year. After that we will have further discussions with our stakeholders and if there are no major hurdles it could be made permanent."
Under the plan, the bus stops, and shuttle train areas will be moved to Camber Road and the parking flow for Northrock car park will be reconfigured. One speed bump will be created, opposite Dockyard Canvas.
Ms Cranfield added: "I hope people like the pedestrianization. If it becomes permanent we will look to landscape the area and add attractions, such as giant games and sitting areas which will create a great vibe in Dockyard."
Read More About