[Updated] Bermuda College is holding a 'Stop the Violence' event this afternoon [Oct 24] as part of their Spirit Week activities, with everyone invited to wear red and gather to listen to speeches with an anti-violence message.
The initiative is being led by the male-connect Registered Student Organisation MenSpeak, and is aimed to providing male students with a leading opportunity to get involved with projects "on the ground and address the issue of gang violence", according to MenSpeak Coordinator, Lyndon Jackson.
A spokesperson previously said, "Anti-violence campaigner Desmond Crockwell and Antonio Belvedere, anti-violence activist, BC alumnus and former Student Government Council President will give short speeches about gang violence, and a moment of silence will be observed to honour the memory of those killed as a result. Several Government ministers are expected to be in attendance to show support."
"Although this event is driven by male students, gang violence is something that connects with all students," said Mr. Jackson. "This is a symbolic gesture to stop the violence. It's a time of coming together."
Update: The live broadcast has concluded and the 30-minute replay is below
Update 4.18pm: A Government spokesperson said, "Today the Minister of Social Development and Sports the Hon. Michael Weeks JP MP attended an anti-violence gathering at the Bermuda College, where he gave a poignant speech about the vital role sports play in our community with regards to re-routing negative behavior. Minister Weeks was joined by his colleague the Minister of National Security the Hon. Wayne Caines JP MP.
"The initiative was organised by student organisation MENSPEAK as part of the college's Spirit Week and saw many of the campus community donning red as a symbolic gesture to protest gang violence on the Island. During the event, a moment of silence was observed to honour the memory of those killed as a result of violence in the community.
"MENSPEAK creates opportunities for students to develop leadership skills by encouraging their active involvement in the planning and execution of events on and off campus and is committed to raising student awareness of issues that impact our community.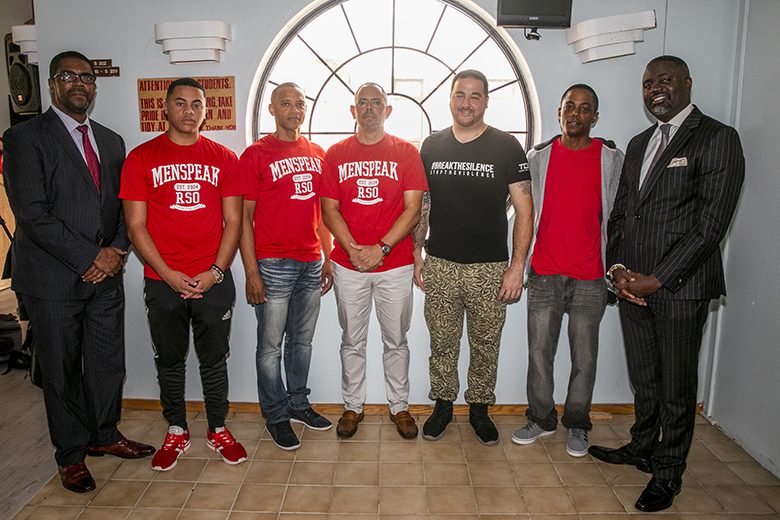 Minister Weeks said in his speech, "As the Minister responsible for Sports, I am here to talk about the vital role sports play in our community with regards to re-routing negative behavior. For starters, sports clubs and sports teams provide youth with positive role models.
"One thing I hear a lot in Bermuda, which upsets me greatly, is that we don't have enough positive male role models. I can promise you that they are out there. And I can also promise you that you will find many of them in coaching roles in sports clubs across the island.
"I have seen many a young man – and woman for that matter – lifted up from a bad place by a coach, given a chance on a team, offered a kind ear to talk to – one that does not judge. And to those individuals out there, I want to say "thank you"; you are and continue to be the change agents that young people need to navigate those often tricky adolescent years.
"Sports also provide a physical outlet for an individual's emotions and pent-up frustrations. A ticking time bomb eventually has to go off. Sports provide a sense of achievement, teamwork and comradery to an individual.
"There is a sense of belonging…and a sense of belonging is very important. As humans we crave that…to find our 'tribe'. Unfortunately, many young black men in Bermuda turn to a life of gangs to find that community. That is the wrong community. Or, perhaps they turn to drugs – to escape the reality of their situations. Or violence – to make them feel in control.
"Sports makes you the master of your own body, the master of your own emotions and, if you let it, the master of your own future. It teaches you discipline, restraint…to be a humble winner and yet also gracious in defeat.
"That is why, as the Sports Minister, I wholeheartedly support the work of my team the Department of Youth, Sport and Recreation who has the responsibility for advancing amateur sport, recreation, and youth development in Bermuda. I am proud of the work that they do and I pledge to you to continue to support them as best I can, as Minister, to ensure all Bermudians – especially the youth – have access to the potentially life-changing world of sports."
Read More About