[Updating] Multiple unofficial sources are indicating that there are further issues with education today [Dec 10] with suggestions many of the staff may not have come in to work, and an Education Ministry spokesperson confirmed that "a number of schools have been affected," adding that they will provide a full statement as soon as able.
This follows after para educators called in sick on December 6th, with Education Minister confirming that "para educators throughout our system" called in sick, while a subsequent statement from the BUT President said the situation "is a direct result of a lack of action by Government to address the needs of schools and teachers that we highlighted."
The week before almost all the teachers at West Pembroke School called in sick after agreeing to go on work-to-rule last month, School Principals are also engaging in work-to-rule and last month the BUT confirmed that teachers "voted to take 'appropriate action' over issues they say are negatively impacting schools."
We will update as able.
Update 8.10am: Unofficial reports continue to come in, indicating this is widespread and numerous staff have not come in at multiple schools.
Update 8.29am: While we await official statement, we have visited three schools ourselves, and none of them appear to be open at this time.
Update 8.38am: Official statement is now in confirming that "due to an island-wide industrial action by teachers, all public schools will be closed today."
The statement said, "The Ministry of Education regrets to inform the public that due to an island-wide industrial action by teachers, all public schools will be closed today.
"The Ministry is working diligently to attain a swift and amicable resolution to this dispute to insure the safety and educational security of our children.
"The Ministry apologies to Bermuda's parents and students for the inconvenience."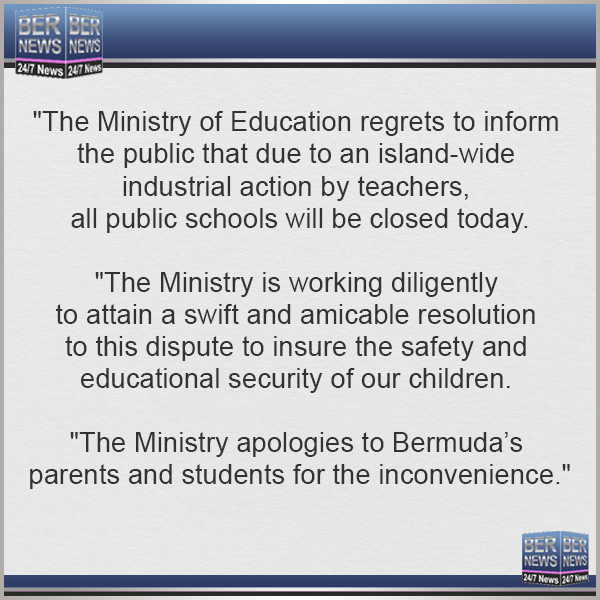 Update 9.37am: President of the Bermuda Union of Teachers [BUT] Shannon James said, "Teachers – and Principals – have shown how strongly they feel about the issues within education.
"While the actions teachers have taken have very regrettably affected students, they feel that the issues that remain outstanding have an even greater impact on our young people.
"We need to get this resolved and I would invite the Minister – and the Premier – to sit down with us and find a way forward.
"No teacher wants to harm the education of our young people and all teachers want to resolve this situation so they can do what they love doing – helping Bermuda's young people."
Update 9.54am: Bermuda College would like to clarify that they are open, and "exams are on as scheduled today."
Update 4.17pm: Commissioner of Education Kalmar Richards released a statement, which can be read here.
Update 5.18pm: The BUT had a press conference, where they explained some of their main concerns.
The BUT said that 'schools will be open tomorrow' and 'teachers will be at their positions and they will remain in their position as long as discussions with the Ministry, BUT & Labour Relations Dept are going successfully.'
The 15-minute replay is below

Read More About