The latest report by Bipartisan Immigration Reform Group "will soon be considered by the Cabinet," Minister of National Security Wayne Caines said, adding that "we believe that we will have key elements of our immigration reform debated and passed in the House of Assembly before the end of July 2019."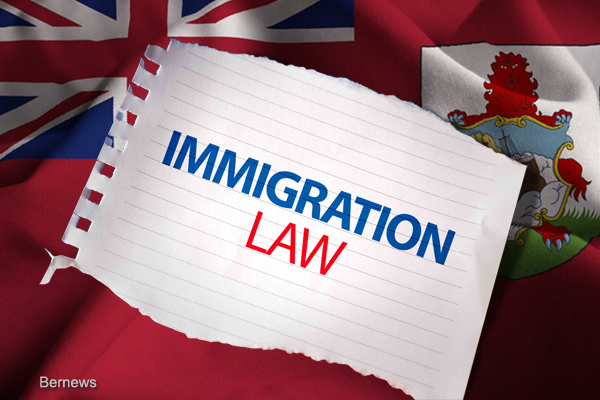 Minister of National Security Wayne Caines Statement
In a post on social media, Minister of National Security Wayne Caines said, "Over the last 3 months I have been working diligently on Comprehensive Immigration Reform.
"Comprehensive Immigration Reform has been a work in progress for a number of months. It must be noted that Comprehensive Immigration Reform was also considered by the previous Government.
"There have been quite a few reports on Comprehensive Immigration Reform. We are collating the reports and analyzing data and recommendations.
"The latest report by Bipartisan Immigration Reform Group was submitted to me on December 11th. We have turned the report into a Cabinet Memorandum that will soon be considered by the Cabinet.
"After the Cabinet and respective Parliamentary stakeholders opine and make recommendations, our immigration reform plans will be set out publicly which will include, and not be limited to, key recommendations and implementation steps.
"We will then allow the public, including key stakeholders to share their thoughts and provide feedback. We believe that we will have key elements of our immigration reform debated and passed in the House of Assembly before the end of July 2019. [As articulated in this year's Throne Speech]
"What I must make clear, I know that immigration reform is pivotal to the success of our country. I believe that we must have a balanced approach to immigration reform.
"I am aware of all of the nuances and complexities facing many families living in Bermuda. I meet with families everyday. I hear the stories, I hear the pleas. My inboxes [Facebook, email, Instagram] are filled with people sharing their plights and concerns.
"Immigration is a a hot-buttoned topic, there are people that have legitimate concerns of how immigration reform will affect the social homeostasis on our island. There are others who want direction and a clear and defined roadmap.
"I am available to talk and listen to all. In Bermuda there is a natural inclination to make everything acrimonious and vile! I do not believe we have to be cantankerous to work through Comprehensive Immigration Reform."
Shadow Minister of Home Affairs Sylvan Richards Statement
In response, Shadow Minister of Home Affairs Sylvan Richards said, "We must provide a route to status for those long term residents who are 'Bermudian' in every sense of the word, some who have known no home other than Bermuda, but who do not currently have an avenue to obtain Bermuda status.
"This will assist in stemming the tide of residents leaving the Island seeking greener pastures elsewhere thereby further decreasing our resident population.
"We must then provide a measured liberalization and streamlining of our immigration policy to encourage job creators currently not operating in Bermuda to consider Bermuda as a domicile of choice. This will facilitate job creation for Bermudians.
"In addition, an effective PR campaign should be put in place to broadcast to the world that Bermuda is not only open for business but that we welcome job creators and companies not currently domiciled or present in Bermuda to consider Bermuda as their domicile.
"Finally the public consultation should be allowed to occur without the rancor and obstructionist activity that occurred when the prior government attempted to engage the public regarding our attempts to discuss Comprehensive Immigration Reform. The various unions and other groups such as the People's Campaign must commit to allow this discourse to occur so that all voices can be heard.
"Reform is well overdue and if the legislation does come before MPs in July, that will be two years after this Government won the election. While Minister Caines appears to have pushed this issue forward, it is a shame it was so delayed under his predecessor. It must not be delayed further.
"On a final note, it appears there is a new protocol where official statements are released via Facebook instead of formal channels used to inform the electorate of decisions taken by Ministers. I hope this does not become the norm."

Read More About