Tickets to the upcoming Bermuda Fashion Festival are now on sale, including the 'Runway Tour' and 'VIP Experience' packages.
A spokesperson said, "Fashion lovers, influencers, bloggers, and die-hard fans of the Bermuda Fashion Festival will have the opportunity to enjoy everything they love about the Bermuda Fashion Festival for one set price.
"The hottest tickets this summer, the Bermuda Fashion Festival Passports to Fashion, will grant you the full fashion experience. Celebrate all aspects of the 10th anniversary Bermuda Fashion Festival."
Executive Producer and Savvy COO, Danilee Trott said, "There have been numerous occasions where people come up to me and asked if there was a way that they could pay one set price and experience everything. We have done the Passport to Fashion passes in the past but never like this.
"This year there are more shows and some unique elements and experiences incorporated into our social events. We couldn't be more excited."
Passport to Fashion – Runway Tour
4 Runway Shows Only
Price: $165
"If you're interested in all the fashion but don't need the VIP experience, you can see all four runway shows for one price. This package includes general admission seating at all four runway shows.
Passport to Fashion – VIP Experience
4 Runway Shows, the Soiree and the Sail
Price: $300
"Want the full VIP experience? Dying to mingle with the international guests? This one pass will give you exclusive access to Bermuda Fashion Festival social events and VIP entry to all four shows.
"All Bermuda Fashion Festival event tickets can be purchased now at ptix.bm. All runway show general admission tickets are $45. All runway show VIP tickets are $60. Tickets for the soiree are $35 and sail tickets are $45.
"The Bermuda Fashion Festival is proudly produced by Savvy Entertainment and its sponsors, and partners include title sponsor of the Bermuda Fashion Festival the City of Hamilton, Maybelline, L'Oréal, iHope Global, Salon Pink, JaKoMa, Great Sound, Evian, SJD World and C & C Beauty.
"For more information, please email info@bermudafashionfestival.com."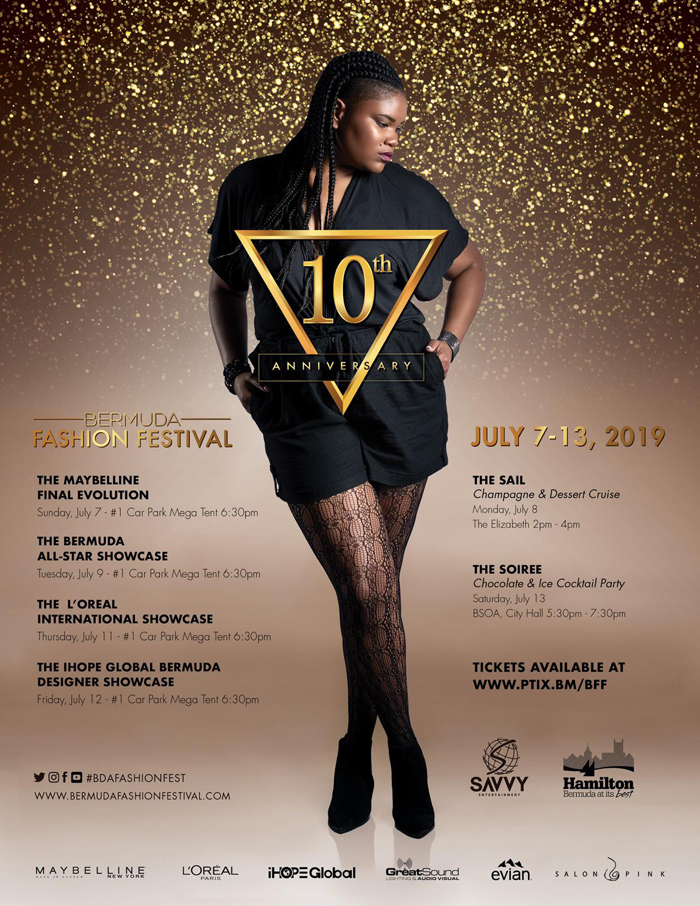 Read More About
Category: All, Entertainment, Style & Beauty