[Updated] Horizon Communications, which aims to provide internet service, said they are "one step closer to launching," as they have "attracted the capital required to launch and operate its business" and are "awaiting the necessary application form to apply for an operating licence."
Horizon previously announced plans to raise funds from an Intial Coin Offering [ICO] with an aim to launch internet service in June 2018, and in explaining the change of plans, the company said, "Horizon was intending to raise our initial capital via an ICO in 2018. During that process we applied for and awaited to receive an ICO license from the Government.
"We continued during that time to meet with possible equity investors and we were able to secure financing from a Bermuda based Investment Fund. We are not yet able to share our investors, but they are a household name in the Private Equity world. We hope a fast resolution to our ICOL license application will come soon, allowing us to fully announce our plans and investors."
In a statement yesterday, the company said, "Horizon Communications, a Bermudian company that will provide internet service using fixed wireless technology, is one step closer to launching its competitive offering that will benefit Bermuda's consumers and businesses.
"Horizon has attracted the capital required to launch and operate its business, from a Bermuda based investment fund. The next stage is for the business to be granted an operating licence from the Regulatory Authority before it can acquire and test equipment to launch its service of fast, reliable wireless internet. The equipment Horizon has sourced is proven in other markets and will be tested and validated locally for the Bermuda topography."
Ross Barkwell, Elizabeth Schaefer, and Gilbert Darrell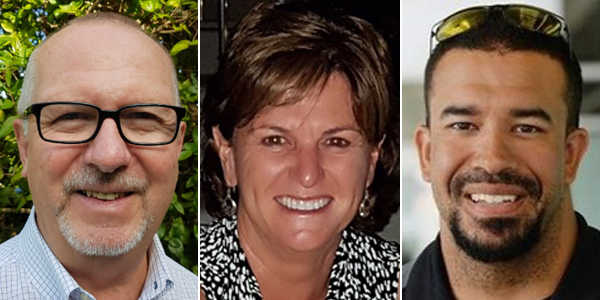 Horizon Founder and CEO Gilbert A. Darrell formed the company in 2017 in response to what he "considered sub-standard internet service in Bermuda," with Mr Darrell saying, "Over 90% of Bermuda's consumers now purchase their services from two providers. Effectively a duopoly, this limits choice and product offerings and increases costs for consumers. We're pleased to be working with the Regulatory Authority toward being licenced to operate and we're eager to provide a service that will benefit local consumers and business."
Mr Darrell said, "In March this year the government opened up the electronic communications market to competition by lifting a moratorium on licences which was welcome news. We participated in the consultation process and now eagerly await the opportunity to submit our application for a new licence."
The company said they are "awaiting the necessary application form to apply for an operating licence, known as an ICOL or Integrated Communications Operating Licence, to be issued by the Regulatory Authority."
"The regulator has published a draft version of the form on their website, however no new providers can apply until a final version is published and no timeline has been communicated on when they can apply or when new licences will be issued," a spokesperson said.
"When Horizon deploys its technology using established telecommunications towers, it will provide high speed connections of up to 200 Mbps to home customers, and 1 Gbps to businesses, without the hassle or unreliability of cable installations.
"The company has worked for the last two years to source technology partners, secure funding and is now building a strong local team, ready to launch services using next generation wireless 4th and 5th generation technology [4G and 5G].
"Horizon executives include industry expert Ross Barkwell, with 30 years telecommunications senior management experience who was the principal behind the growth of cellular and internet businesses in Canada and Brazil, was the acting CEO of Digicel Panama and has held senior positions with both Digicel and One Communications in Bermuda. Mr Barkwell is Horizon's Chief Business Development Officer.
"Elizabeth Schaefer, Horizon's Chief Operating Officer also held a senior management position with CellOne [now One Communications] and comes with 20 years experience in telecommunications billing operations, retail and customer support.
Horizon said that "once the licence is issued, Horizon anticipates that it will employ 30 people in the next three years, mostly Bermudians."
Update 6.11pm: The Regulatory Authority [RA] has today stated that "no decision has been made regarding the deployment of the Fifth Generation [5G] technology in Bermuda."
"This statement is in response to a press release issued today from Horizon Communication, indicating that if they are successful in obtaining an Integrated Communication Operating Licence [ICOL] from the RA, they will launch services using 4G and 5G technology in Bermuda," the RA said.
Denton Williams, Chief Executive of the Regulatory Authority commented: "We are disappointed that Horizon Communication chose to publish their intent to deploy 5G based technologies, as the RA very recently advised them that there would be no consideration given to 5G at this time.
"Our position is that deploying 5G will result in a significant change of technology and its use. To make a comprehensive assessment of its viability for Bermuda will require the input of the public and our stakeholders, through our normal public consultation process. Until such time, 5G will not be deployed in Bermuda."

Read More About
Category: All, Business, technology