The Bermuda Post Office has issued its latest commemorative stamp series featuring the 150th Anniversary of the Bermuda Floating Dock.
A spokesperson said, "Bermuda's location as a half-way point of call between British colonies in the Western Atlantic and Great Britain itself, was considered an important location for a Dockyard, and especially a dock capable of lifting large war ships to avoid having to make the journey back to England or to the often ice-bound Dockyard at Halifax.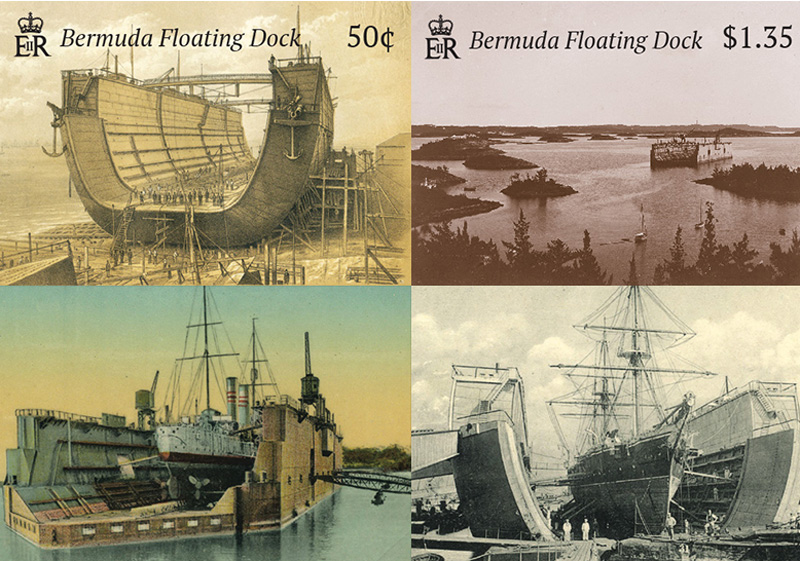 "In the early 1800's the idea of constructing such a dock of stone was seriously considered, however, because of the porous nature of Bermuda stone, this scheme was abandoned. Instead, ships were tilted to one side, allowing the scraping of the underwater section to clear it from barnacles etc., and make minor repairs.
"It was Colonel Clarke, Director of Works of the Royal Navy shipyard, who suggested the construction of a floating dock according to the invention of Messrs. Campbell Johnstone and Co. and it was this shipyard that built HM Floating Dock Bermuda in North Woolwich, England. Employing as many as 1,400 workers, construction commenced in August 1866 and was completed in May 1869.
"The floating dock's overall length was 381 feet and its overall breadth 124 feet and the inside dimensions were 330 feet long by 84 feet wide. Overall depth was 74 feet, inside depth 53 feet and the total weight, including the caissons, was 8,600 tons.
"On June 24, 1869, HM Floating Dock Bermuda began its 3,985-mile journey from England to Bermuda. Being towed by HMS Northumberland and HMS Agincourt, assisted by HMS Warrior and HMS Black Prince, with HMS Terrible guiding the stern, the epic journey took until July 27.
"In April 1870, H.M. Floating Dock Bermuda was moved into the Camber and served the Royal Navy until 1904. By then it was realized that H.M. Floating Dock Bermuda was too small for a new generation of war ships and it was sold to a German company. Having been partly dismantled, the Dock broke loose in a squall while being towed away and ended up at Spanish Point.
"What remains 100 years later are just rusting iron plates and frames. Many Bermudians are unaware that this was once the largest floating dock in the world with a lifting capacity of some 10,000 tons, serving the Royal Navy well from 1870 to 1906.
"With the dimensions of warships increasing substantially during this time, the British Admiralty in 1900 placed the order for a new Bermuda Dock – Admiralty Floating Dock 1 [AFD 1] – with the firm of Swan, Hunter, Wigham & Richardson at Wallsend. 545 feet long and 126 feet wide, it was to have a lifting capacity of 17,500 tons.
"When AFD 1 was launched in February 1902, it became the largest floating dock in the world. As a test, AFD 1 had to lift the heavy battleship HMS Sans Pareil before being towed to Bermuda. Having successfully completed that task, AFD 1 left Sheerness on June 16, 1902, to be towed to Bermuda by two Dutch tugs – Zwarte Zee and Oceaan.
"The voyage from Sheerness to the Azores the voyage took 21 days in mostly bad weather. After a four-day stop the voyage continued on to Bermuda, which, after encountering more bad weather and heavy cross seas, took 28 days.
"On reaching Bermuda, the 6,500-ton floating dock was taken to the Great Sound and moored securely in Boss's Cove. Once the extension works at H.M. Dockyard were completed, AFD 1 was placed in position on June 6, 1905.
"Technical Details on the stamps:
Designer Keno K. Simmons – Department of Communications
Printer – CARTOR Security Printing
Process – Lithography
Stamp size – 42.58mm X 28.45mm
Perforation – 13.33 Per 2cms
Pane – 50 [2 X 25]
Paper – CASCO Crown Watermarked
Values – .50c, $1.00, $1.15 and $1.35
Release date – 18 July, 2019″
Read More About