The Bermuda Pilot Gig Club was officially twinned with its Lyme Regis counterpart on Sunday [Aug 18] to further cement historic links between the island and the English Channel town.
Lyme Regis was home to the 17th century English mariner Admiral Sir George Somers, whose vessel Sea Venture was shipwrecked in Bermuda following a 1609 hurricane while en route to Virginia.
The eventual escape of the Sea Venture party aboard two vessels they constructed in Bermuda, Deliverance and Patience, led to the island's permanent settlement in 1612.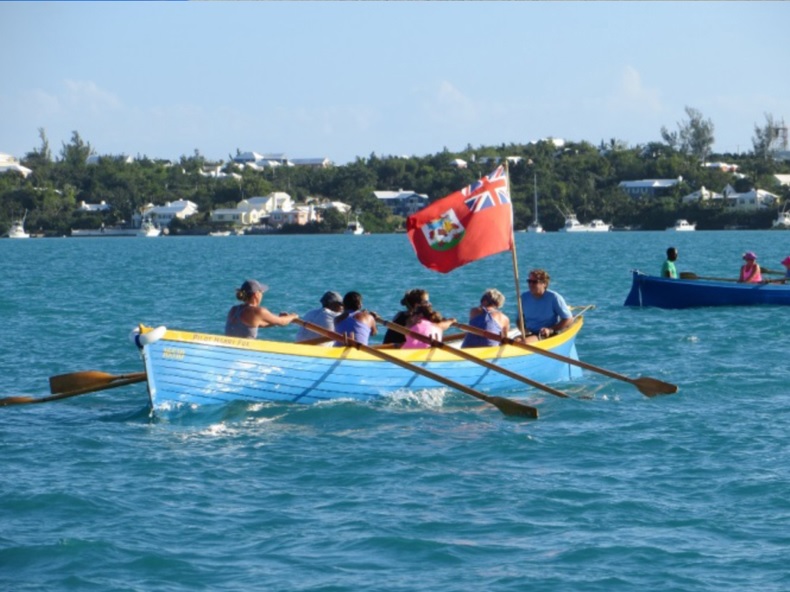 "Members of Bermuda Pilot Gig Club visited last week for Lyme Regis Gig Club's annual regatta, which unfortunately had to be cancelled due to stormy weather conditions," said a report at the Lyme Online news website. "But the poor weather was perhaps appropriate for the official twinning, as it was a great storm that brought these two communities together when Sir George was shipwrecked in 1609.
"A reception was held at Lyme Regis Sailing Club on Sunday evening, where declarations officially twinning the two clubs were signed and gifts were exchanged between members."
Lyme Regis has been officially twinned with St. George's since 1996. Every year, a party from Lyme Regis travels to St George's to take part in its annual Peppercorn Ceremony, and every July delegates from St. George's make a reciprocal visit to take part in the Somers Day Parade commemorating Sir George, a one-time mayor of the English town as well as its Member of Parliament.
Bermuda pilot gigs are traditional pilot rowing boats which played a vital role in the island's maritime history for three centuries, ensuring the safe passage of visiting ships through our treacherous reef system.
The Bermuda Pilot Gig Club says its 32-foot long, six-oared rowing boats "are sea-going and are almost exactly the same design as the ones used in Bermuda for hundreds of years."
Each of its pilot gigs is named after well-known pilots from the island's history: Stephen B. Richardson, Jemmy Darrell, Robert Kennedy, Jed Lamb, James Forbes, John Simmons, Harry G. Fox, James T. Griffiths, and John A. Cann.
You can read the full Lyme Online report here.

Read More About