The Trade Development Board, forerunner to the later Tourism Ministry and today's Bermuda Tourism Authority, recognised US network television's potential as a valuable new marketing tool for the island in the early 1950s.
It threw its weight behind the establishment of a TV and movie production facility on Darrell's Island, where the old flying boat hangers built in the 1930s were converted into soundstages.
The most fondly remembered of the shows and films made there is Crunch & Des, a 39-episode series which ran on NBC in 1955/56.
Joanne Bayes, co-star of the Crunch & Des TV series made in Bermuda in the 1950s, poses in front of Gibbs Hill Lighthouse in this promotional shot for the show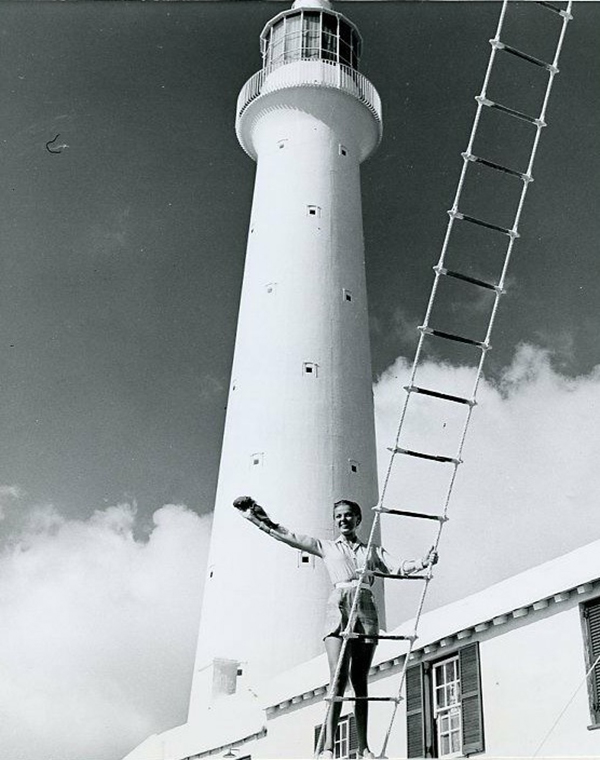 Based on popular American writer Philip Wylie's short stories about charter boat skipper Crunch Adams and his mate Des, while filmed in Bermuda the show was in fact set in Florida.
The series starred Hollywood veterans Forrest Tucker and Sandy Kenyon in the title roles. Film and TV newcomer Joanne Bayes was cast as Sari Adams, the wife of Mr. Tucker's character.
While some relatively well-known guest stars were flown to Bermuda to appear on the show, supporting roles were played by an in-house stock company of professional actors, often heavily made up as they portrayed different characters in different episodes.
Among them were American husband-and-wife performers Don and Elspeth Gibson.
A number of episodes of Crunch & Des have been uploaded to YouTube, in recent years; this video features four of the shows
The couple remained on the island after the Darrell's Island studio folded and went on to become fixtures of the Bermuda entertainment scene in the 1950s, '60s and '70s.
Their credits include the Holiday Island Revue, which appeared at different nightclubs around the island and launched the careers of Gene and Pinky Steede, among other noted local performers.
Calypsonian Hubert Smith, best known for composing and singing the unofficial national anthem Bermuda Is Another World, provided music for the TV series.
Production designers Gene Callahan and Richard Sylbert were responsible for a remarkable full-scale standing set of a Key West fishing village built at Darrell's Island for the show.
Both men went on to become two-time Academy Award winners, Mr. Callahan for director Elia Kazan's America America and the 1961 Paul Newman classic The Hustler, and Mr. Sylbert for Who's Afraid of Virginia Woolf? and Dick Tracy.

Read More About
Category: All, Entertainment, Films/Movies, History, News