[Updated with video] More than 100 soldiers returned home at the weekend after a tough two-week exercise in the UK designed to test their public order and internal security skills
The Royal Bermuda Regiment troops were based at Lydd training camp in Kent, where they used realistic villages to hone their public order techniques against opposition proved by professional soldiers from the Royal Anglian Regiment.
A Company soldiers at the end of a two week exercise designed to boost their public order and internal security capabilities.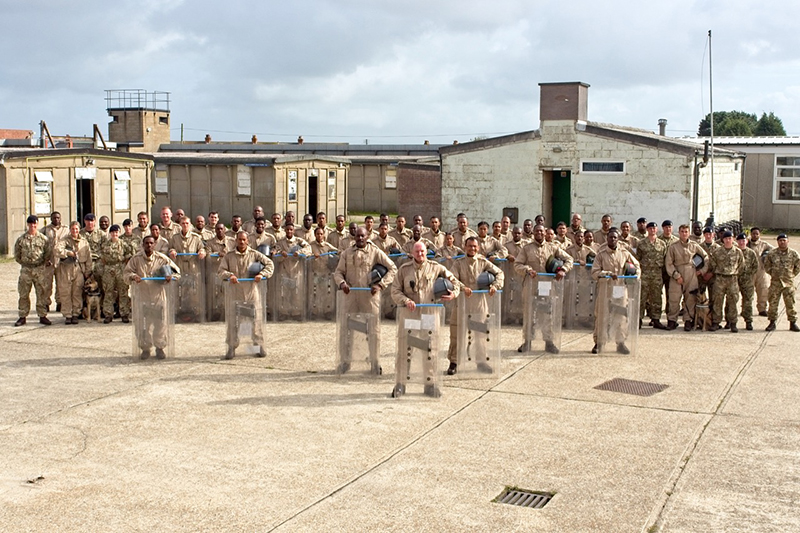 The RBR contingent also worked with Royal Army Veterinary Corps dog handlers and their specially-trained protection dogs and spent time on hi-tech British Army firing ranges.
Corporal Dijon Arruda, 31, from Warwick, said: "Active Shield was different – I learned a lot of new things. I'm a basic public order instructor and I learned a few tips and tricks.
"It was interesting having the dog unit involved and seeing how things changed because of that."
RBR soldiers hone their shooting skills on hi-tech British Army ranges in Kent.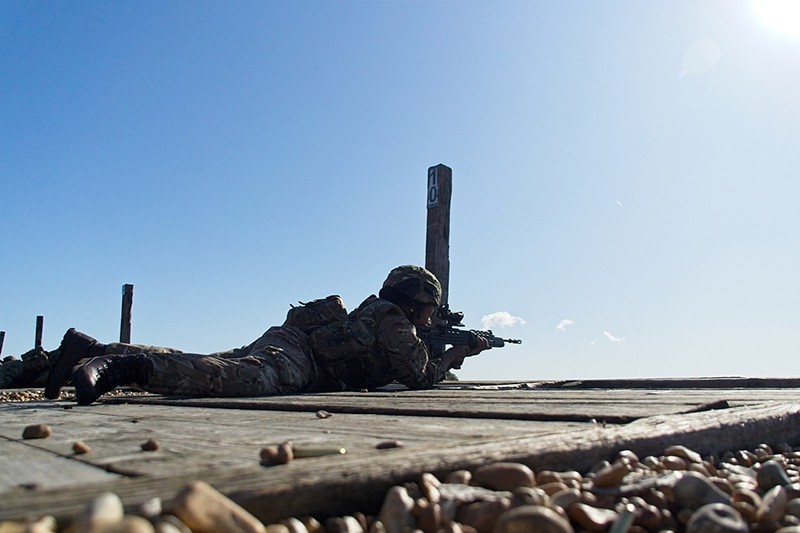 Cpl Arruda, who works in purchasing at the Hamilton Princess, added: "I've enjoyed it very much. Being able to be in the village in an urban setting really opens up your eyes and we learned a lot of things we can bring back home.
"Based on the feedback, my group did very well on Active Shield and achieved what we set out to achieve."
Private Owen Chisnall, 25, from Southampton and a project manager with air conditioning firm BAC, said: "The exercise was great. There were a lot of good experiences out there. We definitely learned some new skills
"The public order training was really fun and you can't go wrong spending a couple of days on the ranges."
RBR soldiers hone their shooting skills on hi-tech British Army ranges in Kent.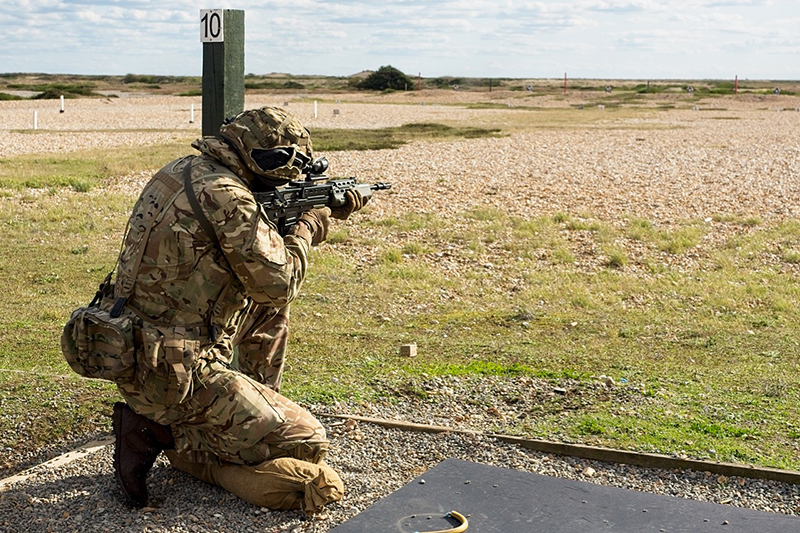 Pte Andrea Burrows, 21, from Pembroke and at 5ft 1in the smallest and lightest soldier on the exercise, held her own against repeated onslaughts by the Royal Anglians during the public order phase
Pte Burrows, who works at hardware store Gorhams, said: "I'm taller than my shield when it's resting on the ground – but not by much.
She admitted: "I was nervous at first because because it was something new to me, but once I got used to it, it became second nature and I enjoyed it.
"I got first hand experience of what it's like on the front line and got to see what soldiers and the police do to protect their country.
"I was part of something bigger than myself, but I'm looking forward to the nice warm weather at home."
An RBR soldier protects the perimeter of a key point as part of Exercise Active Shield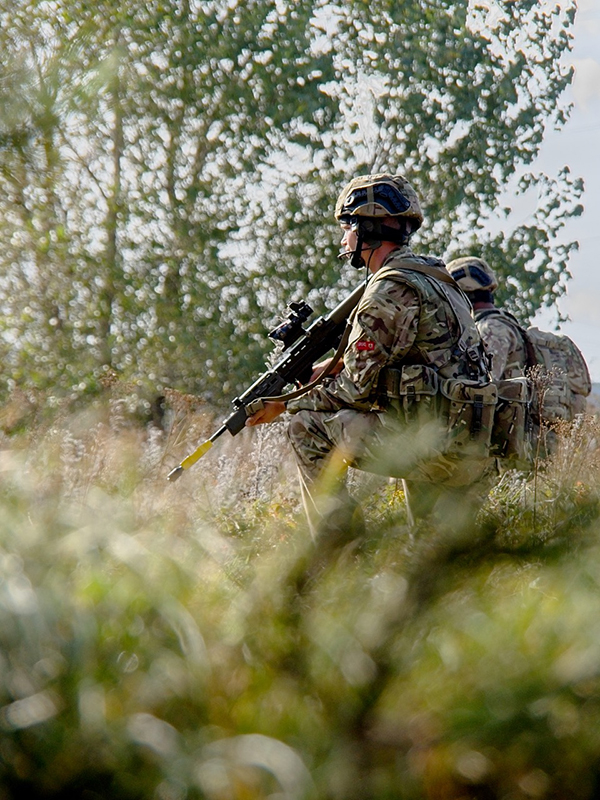 Lieutenant Travis Stevens, an information risk manager at professional services firm KPMG, who commanded an Operational Support Unit platoon, said: "Some of our soldiers came in to the RBR as late as February and they were able to pick up skills, drills and tactics you would expect to see in more senior soldiers.
"I was very pleased with their performance and, more importantly, with their ability to self-motivate in sections and platoons. I have never seen morale so high on an exercise like this.
"When they were getting hit with Molotov cocktails or rubber bullets from as close as ten metres away, they showed a level of maturity that really impressed me. This was a very worthwhile exercise."
Lt Stevens highlighted the support shown by his own firm and others to soldiers who commit their time to the RBR.
He said: "They are good corporate citizens and Regiment service helps to develop individuals and their companies as well.
"Good employers recognise the benefits of having individuals who are immersed in an environment that forces leadership – that translates into the workplace as well."
Sergeant Major Chauncey Durham, a 32-year veteran of the RBR, was Company Sergeant Major for the exercise, in charge of discipline, standards and administration.
Sgt Maj. Durham, a Customs officer in civilian life from Southampton, said: "The soldiers worked very well out of their comfort zone, got stuck in grasped the training.
"They learned professionalism, and learned the job of a soldier is not fun and games. It's hard work, but it's rewarding hard work."
Major Preston Gill, who had overall command of Active Shield, added: "The Royal Anglian Regiment said that, in comparison to the British Army Reserves, we can hold our own.
"Our troops were rated competent in public order and we are now the only Reserve unit that has been assessed for public order duties and assessed positively."
Maj. Gill added: "They gave us an indication of areas where we can develop and equipment we could acquire.
"It was extremely valuable and not the kind of thing we could do at home. The British soldiers were very tough on us and that's hard to replicate in Bermuda."
Read More About