A press conference recognising World Mental Health Awareness Day was held this afternoon [Oct 10] at City Hall in Hamilton.
At the event, Mayor Charles Gosling said, "It's an honour to welcome you all to City Hall this afternoon as we recognize and celebrate World Mental Health Day, not just here in Bermuda but across the globe, and I'm honoured that different community partners are joining us in the City of Hamilton to recognize the importance of this day.
"Research shows that one in four people will have a mental illness at some point of their lives. That equates to more than 15,000 of us here in Bermuda – a figure that we must combat.
"The most effective way to treat a mental illness is early detection and intervention. We all need to make it okay to talk about how you are feeling and thinking. When you are not feeling okay, sharing those feelings is the best way to get help when you need it.
"The stigma that is attached to mental health illness can make the difficulties worse and the road to recovery that much harder. We must educate instead of speculate so that those in need can reach out to get the help they deserve."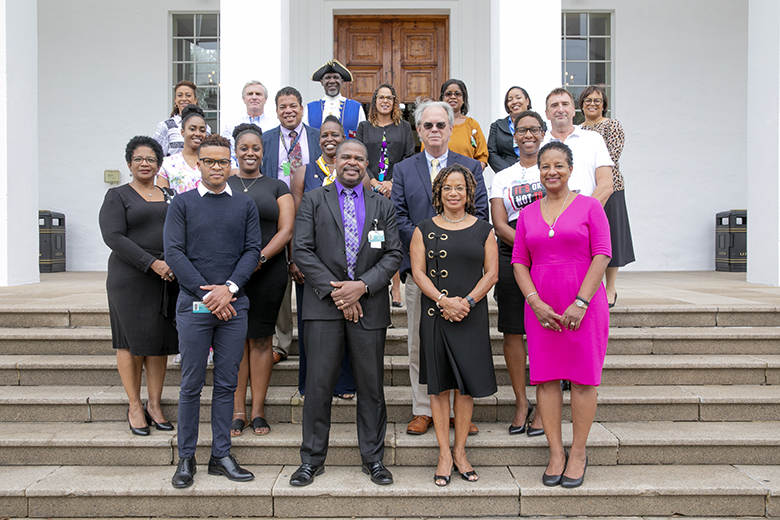 "I'm encouraged by the community coming together and making mental health the focus of today. Thank you again for coming, welcome to City Hall and it's now my privilege to welcome Minister Wilson to the podium."
Minister of Health Kim Wilson said, "Today, October 10th, is Mental Health Awareness Day. Today we focus our attention on mental health, but as many of us know, one day of the year is not enough. We need to start seeing every day as mental health awareness day.
"While it is important to stop and recognize the international observance, there are things that we can do every day for ourselves and others to promote mental health.
"The theme of mental health awareness week 2019 is mental health promotion and suicide prevention.
"The World Health Organization has found that globally, suicide is the principle cause of death among people aged 15 to 29.
"But it is not something that only impacts young people.
"Suicide rates among individuals 65 and older are still the highest for both men and women in almost all the regions of the world."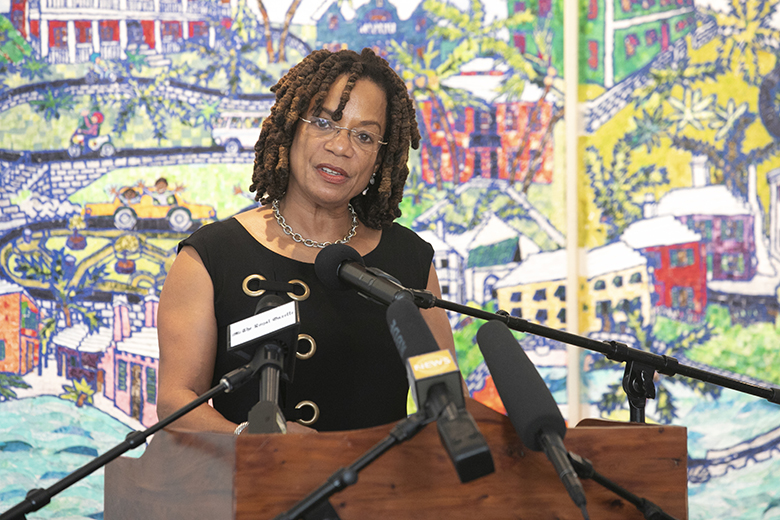 "And it is something we deal with her in Bermuda too. Although by international comparison our suicide rates are among the lowest for high-income countries, based on figures from the Bermuda Hospital Board, over the last 17 years there were between 15 and 39 discharges from King Edward per year after an attempted or suspected suicide attempt. And between 2006 and 2015 there were 16 known suicides.
"These events frequently don't happen out of the blue. And to develop a suicide prevention strategy, we need to look at the opportunities there are to intervene.
"Ninety per cent of people who die of suicide have a clinical mental illness according to the World Health Organization.
"On inpatient wards, suicide can be prevented by having good observation on the wards, comprehensive staff training, safe staffing levels and encouraging adherence to treatment to more effectively treat symptoms of mental illness.
"The Mid-Atlantic Wellness Institute includes an assessment of suicide risk during all new admissions, and has developed a crisis safety plan which assists services users to access support when they notice the emergence of their self-identified warning signs.
"In the community, the World Health Organization found that 75% of people who complete suicide had contact with their GPs in the last 12 months. More importantly, suicide prevention training for GPs is effective at reducing the risk of future suicide by 50%.
"One of the continuing medical education training sessions at BHB this week was specifically for community physicians – the topic being 'Suicide Prevention in Primary Care: Screening and Treatment.'
"BHB also offers a one day training for businesses wanting to improve employee understanding of mental health. In addition, MWI staff also respond to requests for awareness presentations and education in the community."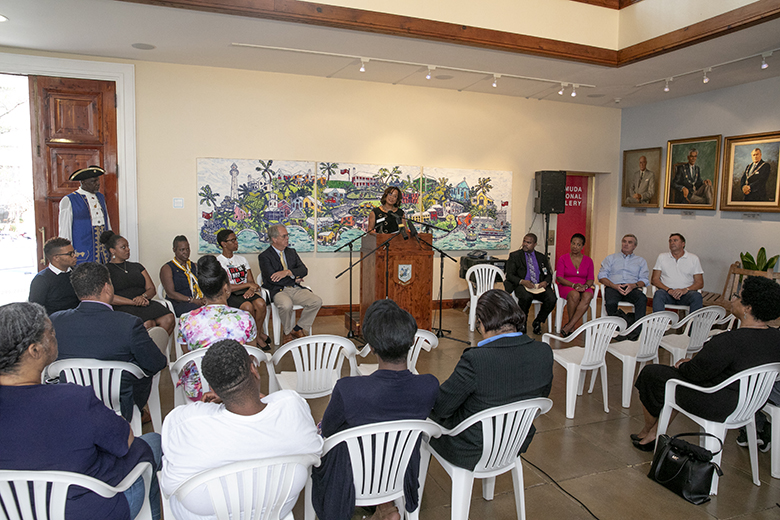 "Individually, there is more we can do and must do to support our own mental health and that of our loved ones.
"One of the WHO recommendations on suicide prevention is improving mental health literacy in the community so people can identify mental distress and mental illness earlier, helping individuals get more effective help.
"Warning signs can include:
Verbal signs such as "I can't go on", "nothing matters any more" or "I'm thinking of ending it all" – take these seriously if you hear them.
Becoming depressed or withdrawn.
Marked changes in behaviour, attitudes or appearance.
Getting affairs in order and giving away valued possessions.
Suffering a major loss or life change.
"These may or may not indicate someone is suicidal – but the key highlight is that if you are worried – ask. That can be the opening that someone needs to talk.
"And know there is help you can access. You can speak to your GP. There are employee assistance programmes provided by many companies that offer counselling. There are private counselling and psychotherapy services available in the community.
"The Mid-Atlantic Wellness Institute offers a wide range of services and therapies. MWI also provides a walk-in service for people in crisis Monday to Friday 8am to 5pm, and a mental health crisis line – 239-1111 – that can be called around the clock if you are in urgent need of help.
"So today, if nothing else, start with the simple questions about how we are feeling and managing in our lives. Think about this for yourself. And ask someone else in your life – especially someone you might be concerned about. And if the answer is 'not so good…' then take some time to make a difference."
Vice President, Clinical Operations [MWI], Preston Swan said, "I would like to thank and recognise our partners here today.
"From the Bermuda Hospitals Board: Venetta Symonds, Chief Executive Officer, Bermuda Hospitals Board; Scott Pearman, Chief Operating Officer, Bermuda Hospitals Board; and Shanay Scott, Chair of the Mental Health Awareness Committee.
"From the Bermuda Mental Health Foundation is the Chair, James MacDonald; Rosina Hardtman is representing Alpha Nu Omega Sorority; Jonathan Jervis is representing the Bermuda Counsellors Association; and Chris Gibbons from Losing Someone to Suicide.
"It will take a community effort to increase our understanding and responses to mental health, reduce discrimination, and help prevent suicides. Every person in Bermuda can be a partner to the effort to improve mental health in Bermuda.
"From the efforts of the Mental Health Awareness Committee, stronger relationships are creating new opportunities for us to spread the word.
"The Alpha Nu Omega Sorority and Fraternity whose mandate is mental health awareness, have become great partners; they funded and organised a mental health scavenger hunt at the end of September, and are sponsoring weekly interviews on Sunday evenings through November on the Strength for the Journey radio show on Hott 107.5FM.
"We are just starting out exploring what is possible with the Bermuda Football Association – a BFA official took the mental health first aid training this month and, as the Minister mentioned, we will be at the Bermuda vs Mexico game tomorrow evening helping educate with a fun pre-football match game.
"I would also like to mention the Bermuda Mental Health Foundation 'Steps to Mental Wellness' walk this Saturday. Please join in! It starts at MWI at 1pm with a press conference and the walk will commence at 2pm. The Bermuda Mental Health Foundation help to raise funds to support education about mental health and have funded group homes for people recovering from mental illness.
"This is a great opportunity to come out, support Mental Health wellness, and make a difference.
"In closing, I will repeat the Minister's message. Every day we should be aware of mental health wellness. Not just today. It will make a true difference in our lives and in the lives of those, we love and work with. Let's not let stigma get in the way of us seeking help; no one has to suffer in silence."

Read More About