[Updated] Norma Wade-Miller, Wayne Perinchief, Lynda Milligan-Whyte, Quinton Stovell, Frederica Forth, Maxine Binns, and Jonathan Starling will serve on the Commission of Inquiry which will look into "historic losses in Bermuda of citizens' property."
Speaking in the House of Assembly today [Nov 1], Premier Burt said, "Honourable Members will recall that I advised this Honourable House on 31st May of my intention to establish a Commission of Inquiry to fulfill the mandate of this House as expressed in its Resolution of 4th July 2014.
"Honourable Members will similarly recall that this now forms part of the legacy of the late Honourable Member, Walton Brown who was its champion. It is in our late colleague's honour that I am pleased today to advise this Honourable House of the members appointed to this important Commission.
Seated: Premier Burt, Justice Norma Wade-Miller, Mr. Wayne Perinchief. Standing: Ms. Maxine Binns, Mr. Jonathan Starling, Ms. Frederica Forth, Ms. Lynda Milligan-Whyte. Missing from photo – Mr. Quinton Stovell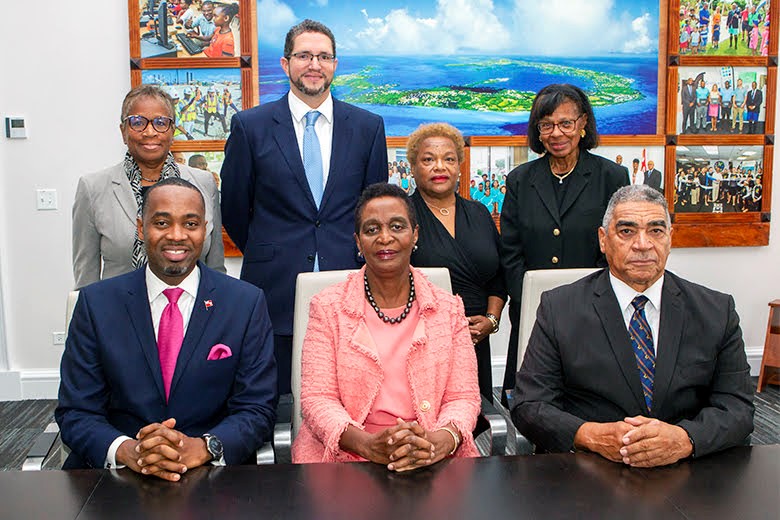 "Bermuda is privileged to have lured out of retirement Mrs. Justice Norma Wade-Miller who has agreed to serve as the Commission's Chairman. Members appointed are as follows:
The Hon. Wayne Perinchief, a former Member of this House, Minister of National Security and Assistant Commissioner of Police;
Ms. Lynda Milligan-Whyte, senior counsel practicing at the Bermuda Bar;
Mr. Quinton Stovell, a prominent quantity surveyor;
Ms. Frederica Forth, a former banking executive and an experienced realtor; and
Mrs. Maxine Binns, consultant legal counsel with the Business Development Unit; and
Mr. Jonathan Starling, Economic & Cooperative Development Officer with the BEDC
"Mr. Speaker, I am also pleased to advise the House that senior civil servant Ms. Marva-Jean O'Brien, most recently Permanent Secretary in the Ministry of Legal Affairs, has been seconded as Secretary to the Commission.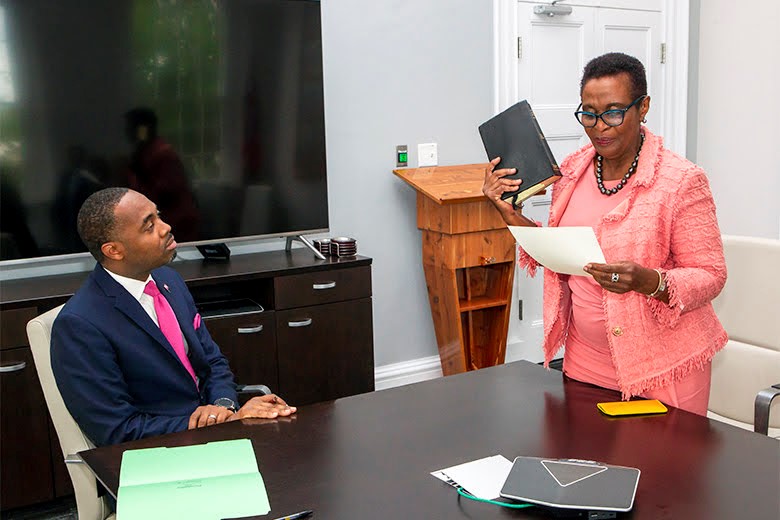 "Mr. Speaker, now that the Commission has been appointed, Honourable Members and the public will be advised of the location of the Commission's offices, their contact details and the Commission's procedure next week.
"On behalf of the Government and the people of Bermuda I am extremely grateful to the Chairman and members for agreeing to serve and conduct this important work.
"My comments in May bear repeating: '.. truth can be uncomfortable. Unearthing historic wrongs may be inconvenient for some … [but] it is never too late for justice."
Update 6.18pm: The relevant section from today's official notices:
IN EXERCISE of the powers conferred on me by section 1A of the Commission of Inquiry Act 1935, I, E. DAVID G. BURT, Premier of Bermuda, do hereby appoint

THE HON. JUSTICE (RET) NORMA M. WADE-MILLER, OBE, JP (Chairman)
THE HON WAYNE N. M. PERINCHIEF, CPM, JP
QUINTON STOVELL
LYNDA M. MILLIGAN-WHYTE
FREDRICA FORTH
MAXINE BINNS
JONATHAN STARLING

(hereinafter, "the Commission ")

to inquire into the following matters, which are, in my opinion, for the public welfare:

Having regard to the Motion of the Honourable House of Assembly of 4th July 2014 whereby the House of Assembly approved a Motion in these terms:

"THAT this Honourable House take note of historic losses in Bermuda of citizens' property through theft of property, dispossession of property and adverse possession claims; AND BE IT RESOLVED that this Honourable House calls on His Excellency the Governor to establish a Commission of Inquiry into all such known claims and to determine, where possible, the viability of any such claims and make recommendations for any victims of wrongful action to receive compensation and justice", to:

Scope of Inquiry

1. Inquire into historic losses of citizens' property in Bermuda through theft of property, dispossession of property, adverse possession claims, and/or such other unlawful or irregular means by which land was lost in Bermuda;

2. Collect and collate any and all evidence and information available relating to the nature and extent of such historic losses of citizens' property;

3. Prepare a list of all land to which such historic losses relate;

4. Identify any persons, whether individuals or bodies corporate, responsible for such historic losses of citizens' property;

References to other agencies

Refer, as appropriate, matters to the Director of Public Prosecutions for such further action as may be determined necessary by that Office.

AND I DIRECT that the inquiry shall commence as soon as is practicable from the date of this appointment and shall be conducted in Hamilton, Bermuda or any other locations(s) which the Commission may consider necessary or appropriate in furtherance of the inquiry, and at such times as they may deem appropriate.

AND I FURTHER DIRECT that the Commission shall submit findings and recommendations to the Premier within forty weeks of the date of appointment or such longer period as the Premier may from time to time direct.

AND I FURTHER DIRECT that, without prejudice to the powers granted to the Commission under the Commissions of Inquiry Act 1935, the Commission shall conduct such parts of the inquiry that it may deem appropriate in camera.

AND I FURTHER DIRECT that the Commission shall exercise all such powers as may be necessary for the purposes of this inquiry and as may lawfully be exercised by the said Commission.

GIVEN under my hand this 31st day of October 2019.

HON E. DAVID G. BURT, JP, MP PREMIER
Read More About